Enjoy the beauty of fall in Westport, on the Rideau and at The Cove! 
Labour Day Weekend has done come and gone already and it's time to start coming inside to think about cozying up with a beautiful bottle of wine, a delish hearty meal and some of the most compelling musical artists to be seen in the whole area!
Music and the Party.
The fall just gets better around here with music when things slow down! We have a great lineup for Blues on the Rideau this season. It's shaping up to the be the best season yet! Before the decade closes, you will see Harrison Kennedy, Hogtown Allstars, Samantha Martin and MonkeyJunk! Music continues weekly from Wednesday to Sunday with Rack 'n Tunes + The Open Mic, Jazz Night, Head over Heels and more! Speaking of Head Over Heels, you will love when they come on Fri.Sept.27 with their Allstar backup BLUE MONDAY BAND! Check out our Events Calendar for September OR online http://coveinn.com/index.php/events/
Food and Drink.
Enjoy our weekly food specials…Ribs every Wednesday. Roast Beef Buffet every Saturday Night. Enjoy our summer menu while it lasts. New menu for fall and winter coming after Thanksgiving! Keep an eye out for seasonal wine/beer dinners, great daily specials and more!
Just a reminder, buy 10 lunches, get one free! Ask your server to get your card! Gift Certificates to The Cove available all the time too!
Stay Social.
Check us out online.
Facebook thecoveinn
Instagram + Twitter @thecoveinn
Follow our kitchen on Instagram! @thecovekitchenchronicles
WE HAVE A NEW EMAIL thecoveinnwestport@gmail.com
Thanks.
As always, we thank you for your interest and support and interest in our place!
SEPTEMBER 2019 EVENTS
Fri.Sept.6 HENRY NORWOOD & SHAWN McCULLOUGH (Country, Westport) 8-11pm www.facebook.com/henrynorwoodartist www.reverbnation.com/shawnmccullough
Sat.Sept.7 DAVID ALLEN JAMES (Folk/Rock, Picton) 5:30-8:30pm www.davidjamesallen.ca
Fri.Sept.13 CLAUDIO VALENTINI (Classical Guitar feat. Jazz, Classical, Folk, Pop Classics, Ardoch) 11:30am-3pm www.claudiovalentini.com & Blues on the Rideau with HARRISON KENNEDY BAND (Soul/Blues, Hamilton) 7-11pm Buffet, Show + Charity $70 + HST www.bluesontherideau.ca www.harrisonkennedy.ca
Sat.Sept.14 TERRY TUFTS (Acoustic Folk/Fingerstyle Guitar Master) 5:30-8:30pm www.terrytufts.com 
Fri.Sept.20 ROB MOIR (Folk/Rock, Toronto) 5:30-8:30pm www.robmoir.com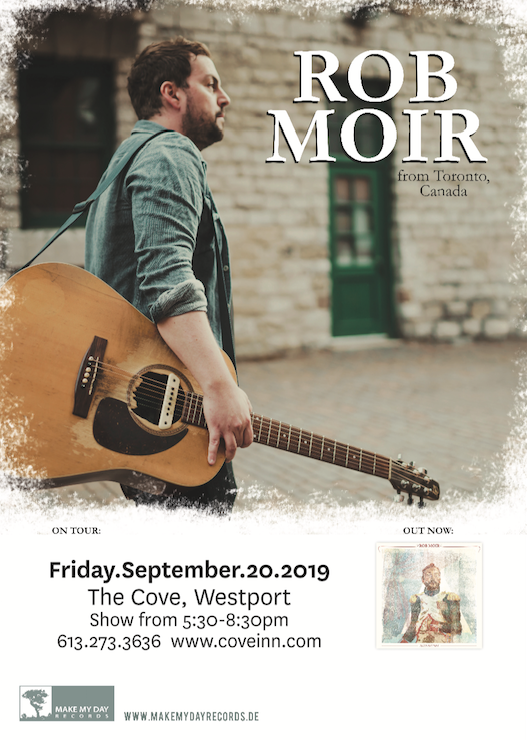 Sat.Sept.21 DAVE BALFOUR & JAMIE CAMPBELL (Folk/Rock, Westport/Rideau Ferry) 5:30-8:30pm
Fri.Sept.27 HEAD OVER HEELS with THE BLUE MONDAY BAND (Blues/Jazz/Rock, Gananoque/Kingston) 7-11pm $50 + HST Buffet, Show + Charity $20 Show + Charity www.kevinheadmusic.com St. Edward's School Music Program Fundraiser
Sat.Sept.28 MARIO FRANCO (Cuban Guitar, Kingston) 6-9pm www.facebook.com/Mario-de-Cuba-106697324032652/
WEEKLY ENTERTAINMENT!
Every Wednesday RACK 'n TUNES + OPEN MIC with SHAWN McCULLOUGH 7-10pm
(Country/Rock, Westport) Sing & Win a guitar!  www.reverbnation.com/shawnmccullough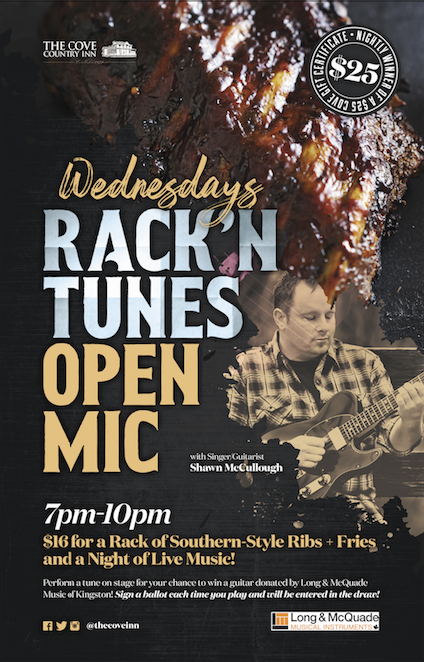 Every Thursday JAZZ NIGHT with SPENCER EVANS TRIO (All Styles of Music!) 8-10pm $5 Until Sept.12 SPENCER EVANS SOLO 8-10pm Until Oct.10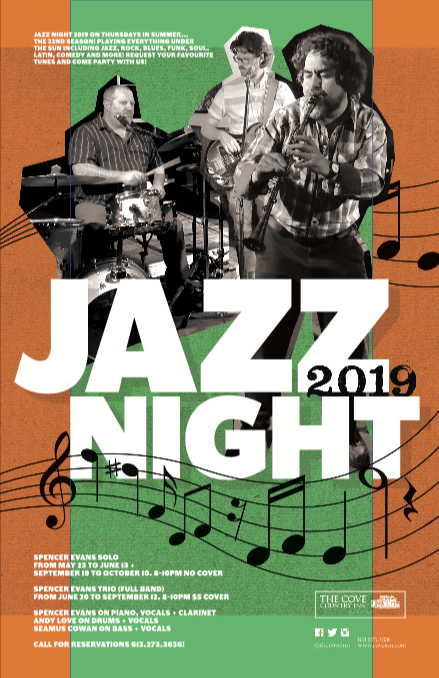 Every Sunday until Oct.13 HEAD OVER HEELS on the PATIO (Acoustic Blues/Folk/Roots, Gananoque) 12:30-3:30pm www.kevinheadmusic.com