CHOOSE THE BLUES PRODUCTIONS
Bringing you the best in Blues both LIVE and ON-AIR
______________________________________________
BEST OF THE NEW on INSIDE THE BLUES THIS WEEKEND
SOME UPCOMING SHOWS YOU DON'T WANT TO MISS
* ROB LUTES w. Special Guest ROB MacDONALD plays THE COVE INN Sept 8
* AUSTRALIAN LLOYD SPIEGEL PLAYS SEVERAL DATES AROUND OTTAWA THIS WEEK
BLUES ON THE RIDEAU @ THE COVE INN, WESTPORT KICKS OFF NEW SEASON
SEPTEMBER 22 w. THE ANGEL FORREST BAND
______________________________________________
INSIDE THE BLUES w. James Doran
This weekend – September 2/3
BEST OF THE NEW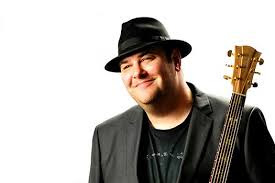 Lloyd Spiegel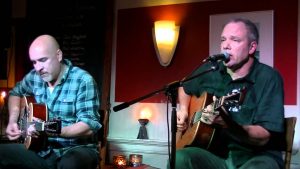 Rob Lutes (right) w. Rob MacDonald
LLOYD SPIEGEL
All The Cats Are Grey/This Time Tomorrow/2017 Lloyd Spiegel/Lloyd Spiegel
ROB LUTES*
There's No Way To Tell You That Tonight/Walk In The Dark/2017 Rob Lutes/Rob Lutes & Monique Riedel
ALTERED FIVE BLUES BAND
Gonna Lose My Lady/Charmed & Dangerous/2017 Blind Pig Records/Schroedel
JASON BUIE*
12 O'Clock Check Out/Driftin' Heart/2017 Jason Buie/Buie & Hunter
JOHN PAGANO BAND
Trouble On Heels/One More Round/2017 John Pagano Band/John Pagano
THE BLUES OVERDRIVE
Everybody Was Rockin'/Overdrive LIVE/2017 The Blues Overdrive/Martin Olsen
JON SPEAR BAND
Bottom Of The Bottle/Hot Sauce/2017 Jon Spear Band/Dara James & Andrew Waldeck
THE MIGHTY DUCK BLUES BAND* featuring Chuck Jackson*
3 am Blues/Duck Soup/2017 MDBB/J. Casson
RICK ESTRIN & THE NIGHTCATS
Living Hand To Mouth/Groovin' In Greaseland/2017 Alligator Records/Rick Estrin
THE SHERMAN HOLMES PROJECT
Liza Jane/The Richmond Sessions/2017 M.C. Records/Vince Gill
KIM SIMMONDS
Fascination/Jazzin' On The Blues/2017 Panache Records/Kim Simmonds
* Denotes Canadian artist
Thanks for listeningI
INSIDE THE BLUES is broadcast
* Every Saturday from noon to 1 pm ET on BLUES RADIO CANADA www.BluesRadioCanada.com (repeated Mon, Wed and Fridays at the same time)
* Every Sunday from 7-8 pm ET on DAWG FM Ottawa
www.dawgfm.com (repeated Tues 8-9 am, Friday 2-3 pm)
* All shows are ARCHIVED after broadcast on www.insidetheblues.ca
where they can be listened to at any time.
---
UPCOMING SHOWS IN THE OTTAWA AREA OVER THE NEXT 10 DAYS THAT YOU DON'T WANT TO MISS
Australian Troubadour LLOYD SPIEGEL plays
The Chehsire Cat, Carp TONIGHT Sept 2, La Grange de la Gatineau Cantley QC Sept 8,
Balstone's Northern Ramble Renfrew Sept 10
Part of his new CD Tour "This Time Tomorrow
www.lloydspiegel.com
Montreal singer/songwriter/guitarist ROB LUTES w. Special Guest ROB MacDONALD
plays The Cove Inn, Westport Sept 8
Part of new CD Tour "Walk In The Dark"
www.roblutes.com
---
BLUES ON THE RIDEAU @ THE COVE INN, WESTPORT ONTARIO
KICKS OFF THE NEW SEASON SEPT 22
with
4X Maple Blues Award winner for Best Female Vocalist
ANGEL FORREST & her band from Quebec's Eastern Townships
Check out the full Line-Up for 2017/18, pick your favourites and RESERVE NOW – especially if you want accommodation that night – most BOTR shows sell out in advance.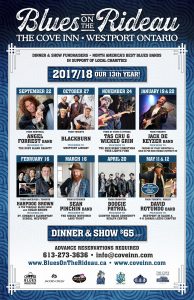 BOTR @ The Cove is recognized as one of the premier Blues Series in the country featuring some of Canada's best Blues bands (Juno and/or Maple Blues Award, Western Canadian Music Award and Quebec Lys Blues Award winners/nominees) – as well as a few American Special Guests. The shows take place in the friendly, intimate setting of this 140 year old classic country inn in one of the most beautiful villages in eastern Ontario – Westport!
All shows take place from 7-11 pm.
The ticket price remains the same (for the fourth year in a row) – $65 (plus HST).
That includes a delicious full course buffet dinner, door prizes, and dancing.
Proceeds from each show goes to support different local charities.
To date over $64K has been raised for the Westport community with the goal of another $5K this season.
The always delicious Cove buffet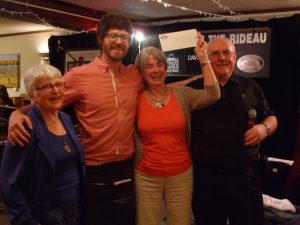 Every BOTR show is a Fundraiser for a local charity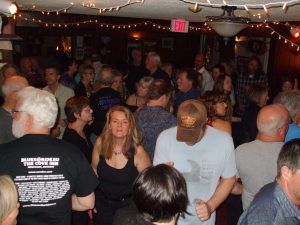 Cove audiences love to dance!
The artists love to play at BOTR – here's the ANGEL FORREST BAND from March 2016
– Angel is back to open the Series this year Sept 22
FULL DETAILS on this year's Series including ARTISTS'S BIOS, LINKS TO THEIR WEBSITES and YOU TUBE videos –
can be found at www.BluesOnTheRideau.ca – Click on 2017/18 Season
You can also download this year's poster there.
More info on THE COVE INN can be found at www.coveinn.com
DINNER & SHOW ONLY $65 (plus HST)
ADVANCE RESERVATIONS are required and can be made at The Cove, by phone
1-888-COVEINN or 613-273-3636 or email info@coveinn.com
ACCOMMODATION is available at The Cove and nearby B&B's and there's a motel in town but book ahead. All the beds in town usually sell out on BOTR nights.
Blues On The Rideau is produced by Choose The Blues Productions www.choosetheblues.ca in co-operation with The Cove Inn www.coveinn.com
Sponsored by: Perth Brewery www.perthbrewery.ca, Jacob's Creek Wines www.jacobscreek.com, DAWG FM Ottawa www.dawgfm.com, LAKE 88 Perth www.lake88.ca and the Ottawa Blues Society www.ottawabluessociety.com
---
LOTS OF GREAT LIVE MUSIC UPCOMING
AT THE COVE INN, WESTPORT
www.coveinn.com
Only a 90 minute drive from Ottawa, 45 minutes from Kingston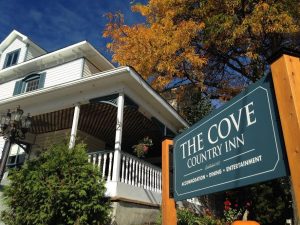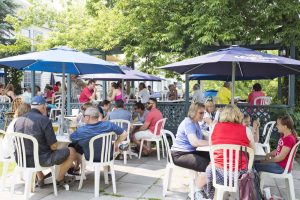 The famous Cove outdoor patio
Fall ROOM RATES starting from only $120 night
(double occ) – full breakfast included
REGULAR LIVE MUSIC
* Wednesday nights – singer, songwriter, guitarist SHAWN McCULLOUGH hosts
Rack 'n Tunes Night – 6-9 pm
* Every Thursday night – JAZZ NIGHT w. the SPENCER EVANS TRIO
* Every Sunday afternoon on the beautiful COVE PATIO
Acoustic duo HEAD OVER HEELS (Acoustic Folk, Gananoque) 12:30 – 3:30 pm
UPCOMING SHOWS
Sat.Sept.2 – KING of the SWINGERS (Old Time/Dixieland) 5:30-8:30pm
www.facebook.com/King-Of-The-Swingers-855207864493705/
Fri.Sept.8 – ROB LUTES + ROB MacDONALD (Acoustic Blues Masters, Montreal) 7-10pm $10 www.roblutes.com
Sat.Sept.9 – BOB ROBERTSON TRIO feat. KEVIN HEAD (Folk/Rock, Kingston) 5:30-8:30pm www.kevinheadmusic.blogspot.com
Fri.Sept.15 – HEALY & ORR (Classic Rock and Roll Party! Brockville) 7-11pm $10 www.healyandorr.ca
Sat.Sept.16 – JEFF CALLERY + GINO (Folk/Rock, Brockville) 5:30-8:30pm www.reverbnation.com/jeffcallery
Fri.Sept.22 – BLUES ON THE RIDEAU
ANGEL FORREST BAND (Montreal) 7-11pm Buffet, Show + Charity $65 + HST www.angelforrest.ca www.bluesontherideau.ca
Sat.Sept.23 – BETWEEN THE LINES – CANADIAN SONGWRITER SUMMIT
with Rick Fines, Wendell Ferguson, Jenny Whiteley and Suzie Vinnick feat. Joey Wright
7-11pm Buffet + Show $55 plus HST www.rickfines.ca www.wendellferguson.com www.jennywhiteley.com www.suzievinnick.com www.kevinheadmusic.blogspot.com
Fri.Sept.29 – JOHN WILBERFORCE (Folk/Rock, Kemptville) 6-9pm www.johnwmusician.com
Sat.Sept.30 – YOU'VE GOT A FRIEND: A Musical Tribute to CAROLE KING and JAMES TAYLOR feat. MISS EMILY and Kingston's Finest Musicians (Folk/Rock, Kingston) 7-11pm Buffet + Show $50 + HST www.themissemily.com
***All Events Subject To Change. Please Call to confirm and reserve**
See ENTERTAINMENT on www.coveinn.com for all upcoming shows, updates & reservations
or call 613-273-3636 or 1.888.COVE.INN
info@coveinn.com www.coveinn.com
Follow The Cove on Twitter, Instagram @thecoveinn and Facebook www.facebook.com/thecovecountryinn
---
SUPPORT YOUR LOCAL BLUES SOCIETIES and JOIN! We have two of the best in the country in our area. Members get regular Blues event updates, discount tickets for Blues shows, prize giveaways for free concert tickets, discounts on Blues CD purchases and more….
OTTAWA BLUES SOCIETY www.ottawabluessociety.com
Individual membership $30 a year
KINGSTON BLUES SOCIETY www.kingstonbluessociety.ca
Individual membership $25 a year
---
Visit and LIKE our Facebook page at
www.facebook.com/ChooseTheBluesProductions and get regular postings about our Blues events