SPRING EVENTS @ THE COVE!
Every Wednesday WINGS 'n TUNES + THE OPEN MIC until May.16 6:30-9:30pm, join us for the Guitar Draw! Then RACK 'n TUNES + THE OPEN MIC with SHAWN McCULLOUGH (Country, Westport) 7-10pm www.reverbnation.com/shawnmccullough
Every Sunday starting May.20 HEAD OVER HEELS on the PATIO A Summer Tradition! (Folk/Rock, Gananoque) 12:30-3:30pm www.kevinheadmusic.com
MAY
Fri.May.4 LONESOME ACE STRINGBAND feat. JOHN SHOWMAN & Members of New Country Rehab/Foggy Hogtown Boys (WORLD CLASS BLUEGRASS, Toronto) 7-10pm $15 www.lonesomeace.com
Tue.May.8 SPRING FASHION SHOW: A Westport Fashion Show in Memory of Deborah Waddell 12-2pm $30 Admission, Lunch, Dessert and $5 Donation to P.A.W.S.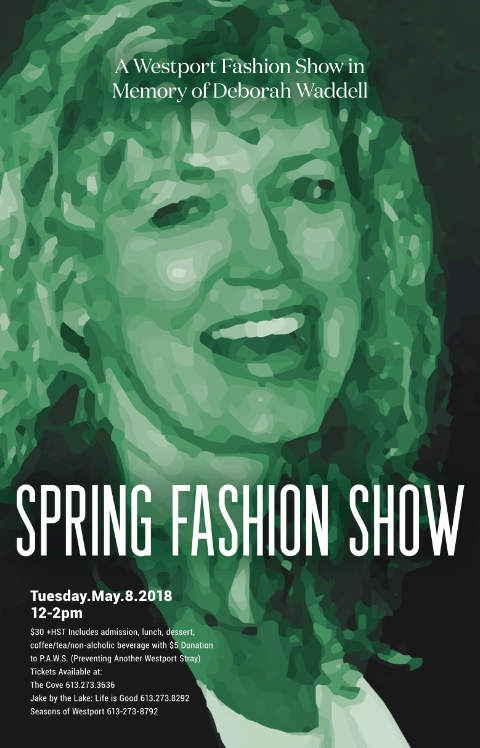 Fri.May.11 BLUES on the RIDEAU with DAVID ROTUNDO BAND (Toronto) 7-11pm Buffet + Show $65 + HST www.bluesontherideau.ca www.davidrotundo.com
Sat.May.12 BLUES on the RIDEAU with DAVID ROTUNDO BAND (Toronto) 2 SHOWS! MATINEE with DAVID ROTUNDO & SEAMUS COWAN 12-3pm Lunch + Show $30 + HST
NIGHT SHOW with Full Band 7-11pm Buffet + Show $65 + HST
www.bluesontherideau.ca www.davidrotundo.com
Sun.May.13 MOTHER'S DAY BRUNCH & DINNER SPECIALS! Celebrate the one who brought you into the world! 11:30am-8pm
Thu.May.17 JAZZ NIGHT with SPENCER EVANS Starts May.17 Every Thursday until Thanksgiving Weekend! DATES + HOURS: SPENCER SOLO May.17-Jun.14, Sept.13-Oct.4 8-10pm Free, SPENCER EVANS TRIO Jun.21-Sept.6 9-11pm. $5
Fri.May.18 JESSE STONE (Folk/Rock, Montreal) 6-9pm www.jessestone.com
Sat.May.19 CHRIS MURPHY (Solo of Turpin's Trail, East Coast/Celtic, Perth Road Village) 6-9pm www.turpinstrail.com
Sun.May.20 TONY SILVESTRI BAND feat. TOM SAVAGE (The Very Best in Classic Rock!, Kingston) 7-11pm $45 + HST Buffet + Show www.tomsavage.ca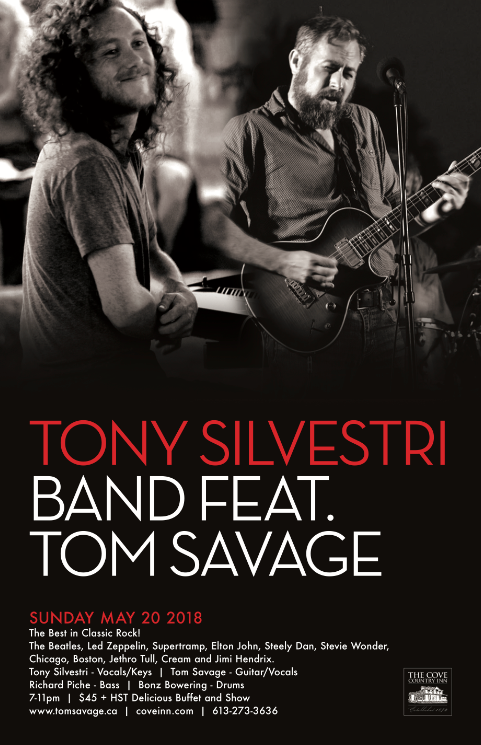 Fri.May.25 TOM WATSON (Folk/Rock, Perth) 6-9pm www.facebook.com/basedonwonder
Sat.May.26 JEFF CALLERY (Folk/Rock/Country, Brockville) 6-9pm www.reverbnation.com/jeffcallery
JUNE
Fri.Jun.1 TAYLOR ANGUS & LOGAN BROWN (Acoustic Soul, Perth) 6-pm www.taylorangusmusic.com
Sat.Jun.2 STEVE STRONGMAN Solo (JUNO Award Winning Blues, Hamilton) $45 + HST Buffet + Show www.stevestrongman.com
Fri.Jun.8 DAVE BALFOUR & JAMIE CAMPBELL (Folk/Rock, Westport/Lombardy) 6-9pm
Sat.Jun.9 YOUNG & PETTY: A Musical Tribute to TOM PETTY & NEIL YOUNG 7-11pm Buffet + Show $50 + HST
Tue.Jun.12 NORTH MEETS SOUTH WAC Fundraiser with Music by CHRIS MURPHY & BRIAN FLYNN of Turpin's Trail 6-9pm $50 + HST www.westportartscouncil.com
Fri.Jun.15 NHL/FOTA FUNDRAISER GALA feat. Music by 80s ENUFF! (80s Hits Tribute Band) $60 + HST Buffet, Show, Meet and Greet www.80senuff.net
Sat.Jun.16 TERRY TUFTS (Acoustic Folk Guitar Master, Lanark) www.terrytufts.com
Fri.Jun.22 GRANT FULLERTON Formerly of Lighthouse 7-10pm $10 https://grantfullerton.weebly.com/
Sat.Jun.23 JOHN WILBERFORCE (Folk/Rock, Kemptville) 6-9pm www.johnwmusician.com
Fri.Jun.29 CAMPFIRE LIARS CLUB feat. PAUL LANGLOIS of The Tragically Hip 7-11pm $60 Buffet + Show www.facebook.com/PaulLangloisMusic www.gregball.ca
Sat.Jun.30 CANADA DAY PRE- PARTY with TURPIN'S TRAIL 7-11pm $45 Buffet + Show http://www.turpinstrail.com
SPRING HOURS
Sun, Mon, Tue, Thu 11:30am-8pm
Wed, Fri, Sat 11:30am-9pm
ALL DAY COMFORT FOOD MENU. AVAILABLE FOR TAKE OUT!
All Events Subject To Change. Please Call For Reservations
For Event Info, go to Entertainment at www.coveinn.com
The Cove Country Inn 1.888.COVE.INN @thecoveinn @thecovekitchenchronicles