Happy Canada Dayyyyyyyyy!
So, yeah. Canada Day is quite a big one this year. Let's hope everyone is safe and happy on the party trail!
Enjoy your summer and be sure to stop in for a some R'nR with music, drink and food at The Cove inside or on the patio!
See you soon!
Seamus and all of us at The Cove
info@coveinn.com
1.888.COVEINN
www.coveinn.com
www.facebook.com/thecoveinn
Instagram @thecoveinn
Twitter @thecoveinn
JULY/AUGUST EVENTS @ THE COVE
Every Wednesday RACK 'n TUNES/OPEN MIC with SHAWN McCULLOUGH (Country, Westport) 7-10pm www.reverbnation.com/shawnmccullough
Every Thursday JAZZ NIGHT with SPENCER EVANS TRIO (All Styles of Music!)…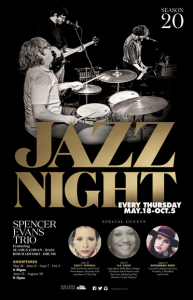 … Jul.13 ILA VANN (Soul Legend), Aug.3 SAVANNAH SHEA (New Soul Diva) 9-11pm
Every Sunday Afternoon HEAD OVER HEELS on the PATIO (Acoustic Folk, Gananoque) 12:30-3:30pm www.headoverheelsmusic.blogspot.ca
JULY
Sat.Jul.1 HAPPY 150th CANADA! HEAD OVER HEELS (Acoustic Folk, Gananoque) 6-9pm www.headoverheelsmusic.blogspot.ca
Mon.Jul.3 RUEBEN DeGROOT "Leaving on a Rocket, Last Show in Ontario!" with guest GREG BALL(Folk/Rock, Kingston) 12:30-3:30pm www.ruebendegroot.com www.gregball.ca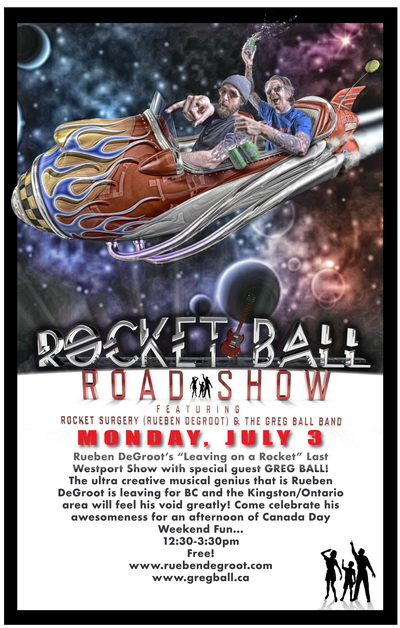 Fri.Jul.7 GRANT FULLERTON (Formerly of LIGHTHOUSE, Rock, Toronto) 7-11pm $10 www.reverbnation.com/grantfullerton
Sat.Jul.8 DAVE BALFOUR (Folk/Rock, Westport) 6-9pm
Fri.Jul.14 YOUNG PETTY STONES (Classic Rock of Eagles, Neil Young, Tom Petty, Rolling Stones from Montreal/Westport) Buffet + Show 7-11pm $50 + HST
Sat.Jul.15 STRUNG OUT TO DRY with Chris Morris and Friends (Folk/Rock, Kingston) 6-9pm www.facebook.com/strungouttodry
Fri.Jul.21 MONKEYJUNK (Blues/Rock, Ottawa) 7-11pm $60 Buffet & Show www.monkeyjunkmusic.com
Sat.Jul.22 HEAD OVER HEELS (Folk/Jazz/Blues, Gananoque) 6-9pm www.headoverheelsmusic.blogspot.ca
Fri.Jul.28 TAYLOR ANGUS + LOGAN BROWN (Acoustic Soul, Kingston) 6-9pm www.taylorangusmusic.com
Sat.Jul.29 HONEY + RUST (Folk/Rock, Ottawa) 6-9pm www.honeyandrust.com
AUGUST
Fri.Aug.4 JOHN WILBERFORCE (Folk/Rock, Kemptville) 6-9pm www.johnwmusician.com
Sat.Aug.5 CHRIS MURPHY (Celtic/Folk, Perth Road Village) 7-11pm www.turpinstrail.com
Sun.Aug.6 ERIC UREN (Folk/Rock, Kingston) 6-9pm
Fri.Aug.11 HENRY NORWOOD + WADE FOSTER (Country, Perth) 6-9pm http://www.facebook.com/henrynorwoodartist www.wadefostermusic.com
Sat.Aug.12 TONY SILVESTRI (Classic Rock Keyboards, Trenton) 6-9pm www.sonicbids.com/band/tonysilvestri/
Fri.Aug.18 MUSICwestport Festival Kick Off Party with THE PEPTIDES (Funk/Pop, Ottawa) $50 Buffet + Show www.thepeptides.com
Sat.Aug.19 11th Annual MUSICwestport Outdoor Live Music Festival 9 Bands. 2 Stages. Festival Market. www.westportartscouncil.com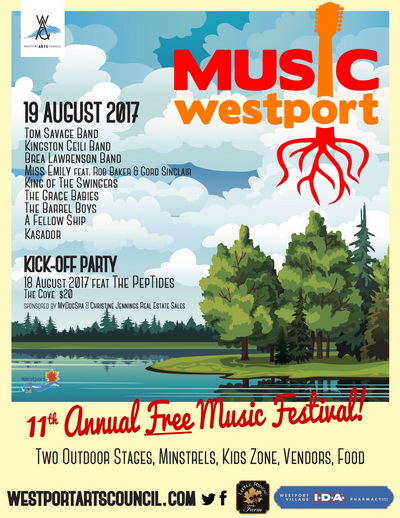 Fri.Aug.25 LLOYD SPIEGEL (Acoustic Blues Master, Australia!) 7-11pm Buffet + Show $50 + HST www.lloydspiegel.com
Sat.Aug.26 TAYLOR ANGUS + LOGAN BROWN (Acoustic Soul, Kingston) 5:30-8:30pm www.taylorangusmusic.com
Fri.Sept.1 TOM SAVAGE + SEAMUS COWAN (Folk/Rock) 5:30-8:30pm www.tomsavage.ca
Sat.Sept.2 KING of the SWINGERS (Old Time/Dixieland) 5:30-8:30pm www.facebook.com/King-Of-The-Swingers-855207864493705/
***All Events Subject To Change. Please Call For Reservations***
The Cove Country Inn 1.888.COVE.INN www.coveinn.com