Blues on the Rideau Series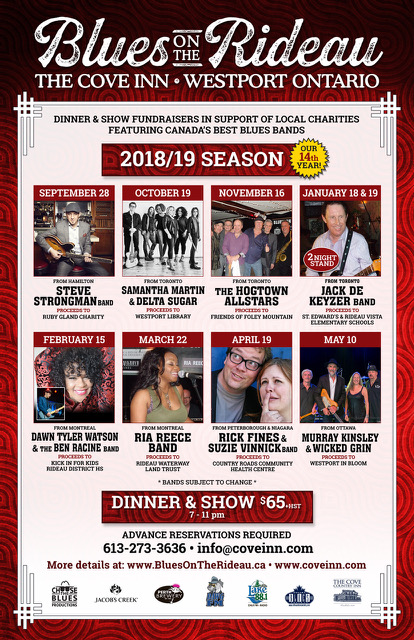 BLUES ON THE RIDEAU @ THE COVE INN, WESTPORT BEGINS ITS 14TH SEASON SEPTEMBER 28th
Choose The Blues Productions in co-operation with The Cove Inn is pleased to announce the return of the Blues On The Rideau Dinner & Show Fundraiser Series at The Cove Inn, Westport ON September 28th. The season is dedicated to the memory of Diane Leduc Doran – partner in BOTR along with James Doran – who passed away last November.
BOTR @ The Cove is now recognized as one of the premier Blues Series in the country featuring some of Canada's best Blues, Soul and R&B artists (Juno, Maple Blues Award, Western Canadian Music Award and/or Quebec Lys Blues Award winners and nominees). The Cove venue is friendly and intimate located in a beautiful 140 year old country inn in one of the most scenic villages in eastern Ontario – Westport – located on the shores of Upper Rideau Lake on the historic Rideau Waterway (a UNESCO World Heritage Site) – only a 1.5 hour drive from Ottawa, 45 minutes from Kingston, 2.5 hours from Syracuse, 3 hours from Toronto and Montreal.
There are 9 shows this season including one 2 Night Stand – Jack de Keyzer in January. All shows take place from 7-11 pm. The ticket price remains the same for the fifth year in a row – $65 (plus HST). That includes a delicious full course buffet dinner, dancing, door prizes and a chance to win 2 Grand Prizes at the end of the season. Proceeds from each show go to support different local charities. To date $68K has been raised for the Westport community and the goal is to raise at least another $5K this season.
September 28 – From Hamilton: STEVE STRONGMAN BAND (Raw, powerful Blues)
October 19 – From Toronto: SAMANTHA MARTIN & DELTA SUGAR (Fabulous Soul Blues with beautiful harmonies)
November 16 – From Toronto: THE HOGTOWN ALLSTARS (Big time Blues, Soul & R&B from 6 members of 2 of Canada's most famous Blues bands)
January 18 & 19* – From Toronto: JACK DE KEYZER BAND (Canada's King of the Blues guitar. Blues, Funk, Rock, Soul & R&B. One of BOTR's favourites. *2 Night stand)
February 15 – From Montreal: DAWN TYLER WATSON & THE BEN RACINE BAND (Winners of the 2017 International Blues Challenge – great Blues, Soul & R&B)
March 22 – From Montreal: RIA REECE BAND (More great Blues, Soul & R&B)
April 19 – From Peterborough & Niagara: RICK FINES & SUZIE VINNICK w. BAND (2 of Canada's best Roots/Blues artists together on one stage)
May 10 – From Ottawa: MURRAY KINSLEY & WICKED GRIN (2X Maple Blues Award winners. High energy get-up-and-dance rockin' Blues!)
Note: Bands may change due to unforeseen circumstances so best to check the website or contact The Cove Inn as each show date approaches.
Full details on the Series including the artists' Bios, links to their websites and YOU TUBE videos – plus the charities that are being supported this year – can be found at www.BluesOnTheRideau.ca
Advance reservations are required for all shows and can be made at The Cove by phone
1-888-COVEINN or 613-273-3636 or email info@coveinn.com
Well-priced accommodation is available at The Cove and nearby B&B's and a motel but book well ahead. All the beds in Westport usually sell out on BOTR nights.
Blues On The Rideau is produced by Choose The Blues Productions www.choosetheblues.ca in co-operation with The Cove Inn www.coveinn.com Sponsored by Perth Brewery www.perthbrewery.ca, Jacob's Creek Wines www.jacobscreek.com, DAWG FM Ottawa www.dawgfm.com, LAKE 88 Perth www.lake88.ca and the Ottawa Blues Society www.ottawabluessociety.com
For more information contact:
James Doran, Choose The Blues Productions, 613-574-0086 james@choosetheblues.ca
Seamus Cowan, Manager, The Cove Inn, Westport ON 613-273-3636 info@coveinn.com