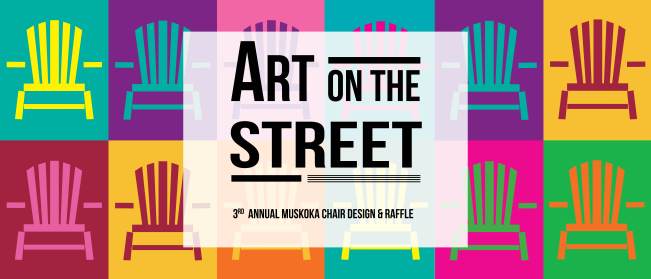 WAC is proud to bring back Art on the Street for a third summer. Six chosen artists are given a blank Muskoka chair as their canvas to design and paint any way they choose. The theme for 2019 is "The Beauty of Westport".
Finished chairs are displayed at businesses throughout the village during the summer and eventually raffled off in August at MUSICwestport. Raffle tickets can be bought throughout the summer and proceeds go towards local art events.
Artist Information
Artists will be chosen on a "first come- first served" basis.
On May 1, selected artists will pick up an unassembled Muskoka chair kit and urethane sealant at Herlehy Home Building Centre
Artists will paint their design on the chair, assemble and seal it. Artists can google: "one of a kind hand painted Muskoka chairs" for ideas
Each artist will provide a laminated biography and contact information submitted with their chair for display
Chairs will be "unveiled" and the artists introduced at the Westport Heritage Festival on 2 June 2018.
Chairs will then be "adopted" by six different businesses from 2 June to August 18
Tickets will be sold for $5.00 each on the chairs and the draws will be made at MUSICWestport. Proceeds will go to the Westport Arts Council.
The Westport Arts Council hopes you will be excited about the prospects of having your art on display in the village throughout the summer months.
Date :
June 2 – August 18, 2019
Event location :
Westport, ON
Contact :
Anne Bishop at 613 273 8699 or
e-mail: thepamperedladybug@gmail.com