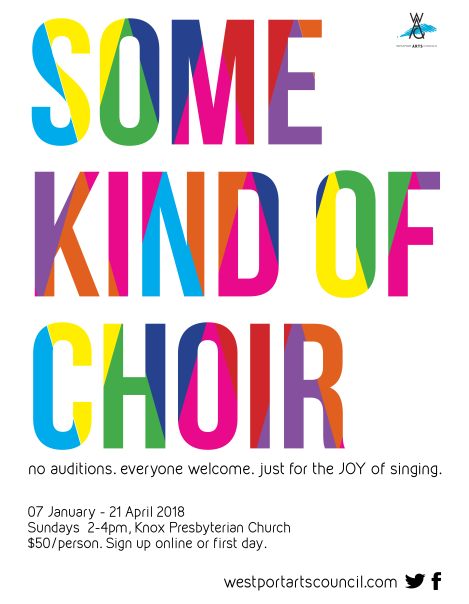 WAC's Some Kind of Choir will be starting it's third season this January. If you love to sing, join us Sunday afternoons for choir practice. There are no auditions and no experience is needed. With a relaxed, friendly, and fun environment, everyone and anyone can discover the simple joy of singing. Register and pay online or through mail.
Choir Director:
Cordon Purcell is a Music Therapist working in Leeds and Grenville. She is currently completing her Masters of Music Therapy degree at Concordia University in Montreal. She hails from Prescott, grew up singing in choirs in Brockville, and continued singing throughout university. Choir is something that she loves to do, and she is excited to work with Some Kind of Choir for a second year!
Registration:
Registration is $50 per person. Completed registration forms and cheques can be sent to Westport Arts Council, P.O. Box 2, Westport, ON, K0G 1X0. Forms can also be emailed to info@westportartscouncil.com and registration paid through email transfer.
Registration form: payments@westportartscouncil.com
Fee: $50/person
Date :
Sundays, January 7 to April 21, 2018 from 2 to 4 pm
Event location :
Knox Presbyterian Church Hall,
Concession St, Westport
Contact :
Website: westporartscouncil.com