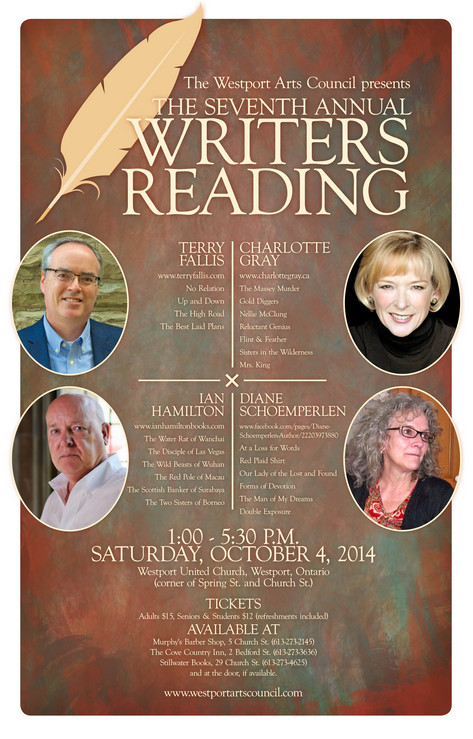 Our Seventh Annual Writers Reading on Saturday, October 4, at the Westport United Church features award-winning Canadian authors Terry Fallis, Charlotte Gray, Ian Hamilton, and Diane Schoemperlen. Tickets are available around Westport or at the door.
Terry Fallis
An engineer by academic training, Terry Fallis followed a career in politics and communications before writing his award-winning debut novel The Best Laid Plans. Originally released in excerpts in the form of a podcast, Fallis self-published the political satire in 2007. After winning the Stephen Leacock Award for Humour in 2008, McClelland and Stweart republished Fallis' novel.
Charlotte Gray
Charlotte Gray is one of Canada's best-known writers, and author of nine acclaimed books of literary non-fiction. Born in Sheffield, England, and educated at Oxford University and the London School of Economics, she began her writing career in England as a magazine editor and newspaper columnist. After coming to Canada in 1979, she worked as a political commentator, book reviewer and magazine columnist before she turned to biography and popular history.
Ian Hamilton
It was a life-threatening health scare that prompted Ian Hamilton to being the name "Ava Lee" to life. Recovering from surgery, Hamilton's debut Ava Lee novel, The Water Rat of Wanchai (2011), was quickly written in only a few short weeks. After the first novel was finished, the very next day Hamilton started on the second in the award-winning, internationally published series and the same is true of the third and fourth Ava Lee novels.
Diane Schoemperlen
After graduating from Lakehead University, Schoemperlen continued her studies at the Banff Centre, working with W.O. Mitchell and Alice Munro. Among her many accolades as an author, including the Governor General's Award for English Fiction and the Writer's Trust of Canada Marian Engel Award, she is also an accomplished editor and has taught at St. Lawrence College and the Kingston School of Writing. She currently lives in Kingston, Ontario.
Date :
October 4, 2016 | 1 to 5:30 pm
Event location :
Westport United Church
Westport, Ontario
(corner of Spring St. And Church St.)
Contact :
For more ticket information, visit this page : https://westportartscouncil.com/2014/09/15/oct-4-7th-annual-writers-reading/