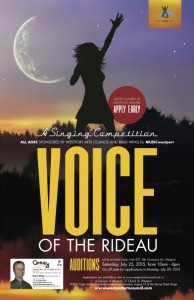 "The only thing better than singing is more singing."
– Ella Fitzgerald
You said it Ella. MUSICwestport in conjunction with Brad Wing of Century 21 Real Estate is excited to announce The VOICE of the Rideau 2015 all ages singing competition. VOTR is back this summer and we're eager to follow the music until the best amateur singer on the Rideau is crowned at the MUSICwestport open air music festival. Sing it. Win it.
Singers will compete in age categories: Adult, Youth (13-18) or Child. Along with the title, winners will be awarded a trophy and cash prize.
Auditions will take place 25 July 2015 at the North Crosby Community Centre beginning at 10am.
Finals will take place during the MUSICwestport open air music festival on 15 August 2015 in front of the live festival audience.
All singers must read the rules and apply for an audition by completing the form below. There are limited audition spaces, apply early or be disappointed.
Click to download: VOTR 2015 Rules and Audition Application