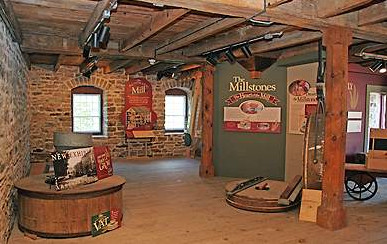 We will gather at the Old Town Hall in Delta at 7:00 pm and take a walk to the Old Stone Mill where we will meet some very interesting people from the past. Then we'll return to the Old Town Hall for a presentation on "Pioneer Funeral Foods" by Joyce Gunnewiek and end the evening with refreshments. Cost for the evening is $5.00 per person. "Not for the faint of heart"
The Old Stone Mill at Delta was built in 1810 by William Jones and Ira Schofield and is one of the earliest surviving, fully automatic, grist mills of Upper Canada. In 1817 the mill was described as "unquestionably the best building of the kind in Upper Canada".
The prime artifact of the Delta Mill Society is the Mill itself, an imposing Georgian-style stone structure of four stories, 40 by 60 feet (12m x 18m). This National Historic Site is a proud reminder of the industrial heritage of Eastern Ontario. In 2005 the newly renovated mill was enhanced with beautiful interpretive signboards and displays, in 2007 a water-wheel was installed and in 2010, working millstones and a bolter were put in place. A feature exhibit, Down by the Old Millstream, Celebrating Life on the Beverley Lakes can be found on the third floor of the mill. An illustrated self-guided tour allows the visitor to easily browse all these exhibits.
When you first enter the mill, you'll see and hear the rushing water that first powered a water wheel and later a turbine to operate the various machinery of the mill. Much of this machinery is on display, starting with equipment such as millstones used the early 1800s era and moving up to machinery used in the early 1900s.
The displays and the stunning architecture of the mill itself make a visit to the mill an unforgettable experience.
Date :
Saturday, October 29, 2016
Contact :
The Delta Mill Society
Box 172, Delta, Ontario K0E 1G0
Tel: 613-928-2584 (office)
Email: info@deltamill.org