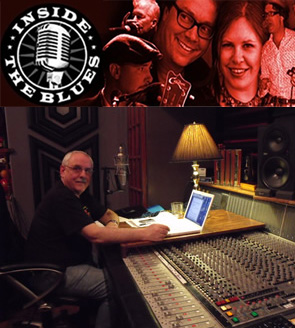 Choose The Blues Productions is very pleased to announce that INSIDE THE BLUES – a weekly radio show produced and hosted by James Doran – is returning to 101.9 DAWG FM Ottawa starting June 3rd from 7 to 8 pm ET and every Sunday evening thereafter in that time slot. Those living outside the DAWG broadcast area can pick it up on the internet at www.dawgfm.com. All Shows will also be ARCHIVED after broadcast on www.insidetheblues.ca where they can be listened to at any time.
The great selection of music on INSIDE THE BLUES continues however – both classic and contemporary, new and old – as well as the interesting "insider" background information on the artists provided by host James Doran which makes ITB so unique. Generally there will be more than one song played by each artist so listeners get a better taste of their music. As before the Show will continue to have a strong focus on Canadian Blues talent of which we have so much in this country.
All the Sponsors for INSIDE THE BLUES are in place and include The Cove Inn, Lake Effects Cottage Store and Wolfe Springs Golf & Waterfront Resort. They are all based in Westport, the most beautiful small town in eastern Ontario and a favourite destination for Ottawa visitors. Other Westport businesses my rotate in and out as Sponsors in the future. It's a natural fit since, in addition to its great shopping and many cultural events, Westport has become known as the "Blues Capital of Eastern Ontario" thanks to the long-running BLUES ON THE RIDEAU and ACOUSTIC BLUE SUNDAY Series at The Cove Inn.
Host James Doran stated "I am really excited about bringing INSIDE THE BLUES back to DAWG FM – Canada's first commercial all Blues radio station – and thank them for welcoming me back on air. I also want to thank my Sponsors – The Cove Inn, Lake Effects Cottage Store and Wolfe Springs Golf & Waterfront Resort – for supporting the Show. I couldn't be doing it without them. I look forward to bringing the best in Blues music and interesting backgrounder information to listeners every week and hope that dedicated Blues fans, as well as people who may not know that much about the Blues but would like to learn more, will tune in regularly".
The inaugural June 3rd show will feature music by the legendary Big Bill Broonzy, Chicago singer/harpmaster Billy Boy Arnold, the young up-and-coming Conor Gains Band from Cambridge Ontario, Toronto-based international star Shakura S'Aida off her great new album and Hamilton's own Steve Strongman with some fabulous music off his new brand new CD.