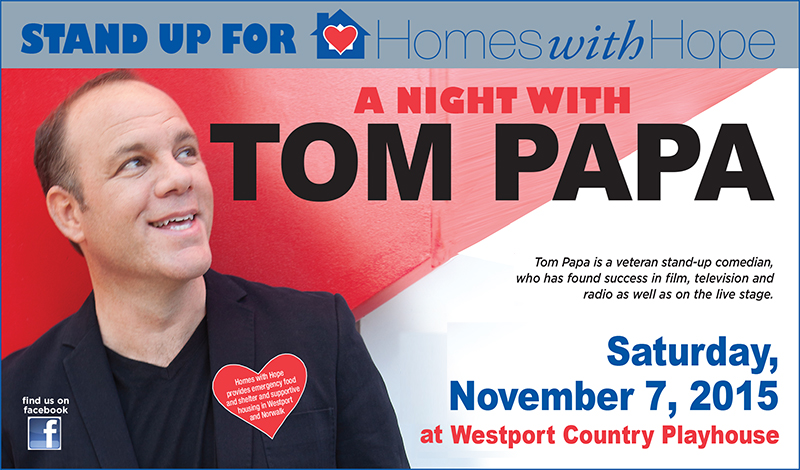 THEATER AND FILMS
Enjoy an evening of comedy starring veteran stand-up comedian, Tom Papa, on Saturday, November 7th, 8:30pm – 10:30pm. To purchase tickets please click here or call the Playhouse at 203-227-4177.
Tom Papa has found success in film, television and radio as well as on the live stage. Tom is well known for his Netflix stand-up special, Tom Papa: Freaked Out, named one of the 10 Best Comedy Albums of 2013 and his Comedy Central special, Tom Papa Live in New York City. Tom can be seen performing with Clive Owen in Steven Soderbergh's The Knick, on Cinemax, with Chris Rock in the film, Top Five and in the hit Comedy Central series, Inside Amy Schumer. Tom is host of the hit weekly SiriusXM show, Come to Papa "making funny radio for good people" featuring comedians including Mel Brooks, Ray Romano, Carl Reiner and Jerry Seinfeld.
For more on Tom visit www.TomPapa.com. All proceeds from the event will benefit Homes with Hope, a Westport-based grassroots response… Saturday, November 7, 2015, 8:30 PM – 10:30 PM.
Westport Country Playhouse 25 Powers Court Westport, CT 06880.
For more info visit www.westportplayhouse.org