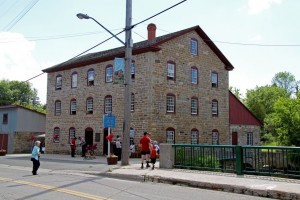 The Old Stone Mill and the Old Town Hall in Delta will be open as part of Doors Open.
Featuring tours of the Old Stone Mill, a special Ploughman's Lunch at the Old Town Hall (11:30 am to 1:30 pm), plus milling (Sat  Sun) and blacksmithing (Sat only) demonstrations starting at 1:00 pm.
Come out, enjoy a nice lunch, take a tour of the mill, watch a blacksmith ply his art and see how flour used to be made.
Free admission.

Date :
May 28 & 29, 2016 from 11.30 am to 1.30 pm
Location event :
at the Old Town Hall
Delta, ON – 46 King St.
Contact :
The Delta Mill Society
Box 172, Delta, Ontario K0E 1G0
Tel: 613-928-2584 (office)
Email: info@deltamill.org
For more info, visit www.deltamill.org