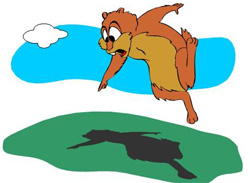 Join the Village of Westport on February 4, 2012 for our 5th Annual Day Long Party to celebrate Westport's version of Groundhog Day! Come and bring the family to The Cove and enjoy kids games, skating on the pond and see Wally himself? Will he see his shadow or not? Festivities start at 11am.
For entertainment, enjoy Singer/Guitarist Kevin Head indoors for a matinee show 1-4pm. Then after dinner, Angler Management featuring Mike Cochrane from the Salmon House, Gerald Van Halteren and Jeff and Seamus Cowan from The Cove!
All entertainment is FREE!