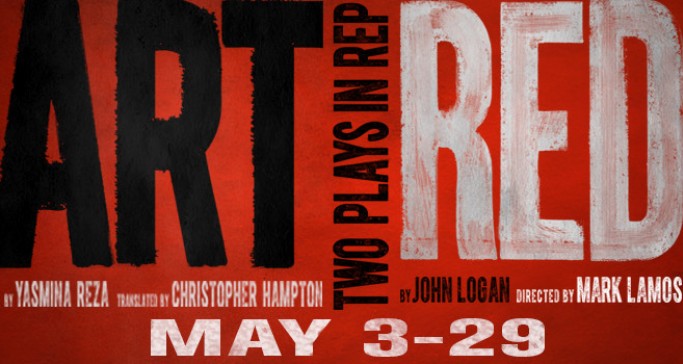 Two plays in repertory, alternating daily – Art on even-numbered days; Red on odd-numbered days. Start times vary;
Westport Country Playhouse will open its 2016 Season with two Tony Award-winning plays staged in repertory, "Art" and "Red," with each play alternating daily, from May 3 through May 29.
Mark Lamos directs two Tony Award-winning plays in conversation about art: making it, owning it, the anguish of creating it, and the ache of believing in it.
"Art" by Yasmina Reza, translated by Christopher Hampton, and "Red" by John Logan, will be directed by Mark Lamos, Playhouse artistic director.
ART
"A nonstop cross-fire of crackling language."
– Newsweek –
What does your taste reveal about you? When Serge, a novice art collector proudly shows off a newly acquired painting, he imagines his friends will stand in awe. He thinks it "priceless." They have a slightly different point of view. Blistering honesty extracts a high price In Yasmina Reza's intelligent and witty Tony Award-winning comedy.
"Art" will be performed on the even-numbered days of May; "Red" on the odd-numbered days. Performance schedule is Tuesday at 7 p.m., Wednesday at 2 and 8 p.m., Thursday and Friday at 8 p.m., Saturday at 3 and 8 p.m. and Sunday at 3 p.m. Special series feature Taste of Tuesday, LGBT Night OUT, Opening Night, Sunday Symposium, Open Captions, Thursday TalkBack, Together at the Table Family Dinner, Playhouse Happy Hour, and Backstage Pass.
"Art" and "Red" Production Sponsors are Barbara and John Streicker; Corporate Production Sponsor is Bank of America.
To order ticket, please click here.
RED
"Intense and exciting!"
– The New York Times –
"What do you see?" Mark Rothko paints. His assistant runs the errands. Each knows their place in the world. But when the famous abstract expressionist asks his young protégée a loaded question, it rearranges everything. This sizzling and intellectually riveting drama offers a fascinating portrait of the search for visionary truth and the price you pay to be an artist.
To order ticket, please click here.
Single tickets start at $30; buy early for best prices. Discounts are available for ticket purchases to both "Art" and "Red."
Date :
Tuesday, May 3 trough Sunday May 29, 2016 from 7 to 9 p.m
Location event :
Westport Country Playhouse 25 Powers Court Westport, CT.
Contact:
Jason Robards Theatre at WCP
For more info, please check website: http://www.westportplayhouse.org/art-red