August 28th is a big weekend in Westport Ontario! Not only it it the weekend of the Rideau Valley Art Festival but it's also the 1st annual Sand Lake Triathlon!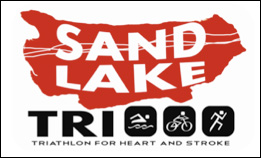 When: August 28th
Registration opens at 11am
Race begins at 2pm
Where: Lion's Club Beach
On August 28th 250 people will be digging out their swim caps, oiling up their chains and lacing up their sneakers for the Sand Lake Triathlon benefiting the Heart and Stroke Foundation. They will be putting their heart into raising $15 000 for life saving research by swimming 750m, biking 21km and running 7km.
This fun filled event isn't just about being the fastest, it's about trying ne things and racing for a cause while getting your heart healthy!
To register visit www.zone3sports.com
email: sandlaketri@gmail.com
Join us after the 1st annual Sand Lake Triathlon for our Anti-Gala Bash!
Feast on delicious BBQ and dace the night away under the starts to the music of Ottawa's Choice Grade.
Evening kicks off at 7pm