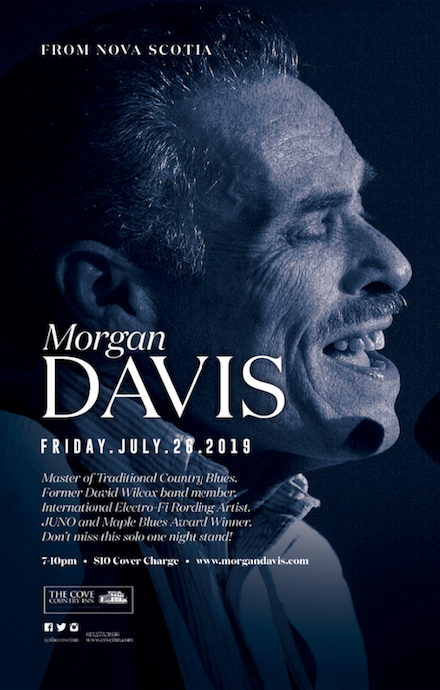 Master of Traditional Country Blues with a humorous angle. Former David Wilcox band member. International Electro-fi Recording Artist, JUNO and Maple Blues Award Winner. Don't miss this incredible solo one-night stand!
For 45 years Morgan Davis has been on the road travelling across Canada, the United States and Europe. His performances draw from a rich tradition of country blues, as well as his own contemporary songs infused with wit and a large dose of humour.
Originally from Detroit, Davis grew up listening to a prolific mix of rhythm and blues. The music of Jimmy Reed, Ike and Tina Turner, Chuck Berry and Fats Domino was in the air. He later moved to California with his family, and then in 1968 left for Canada.
While living in Rochdale College, Toronto's mecca for the subculture of the late 1960's, he immersed himself in the study of Delta Blues, especially the music of Robert Johnson. Toronto's music scene in the early 1970's was the perfect place for Davis to cut his teeth as a journeyman, having the opportunity to see and play with many legendary performers. Bukka White, Johnny Shines, Sunnyland Slim, Snooky Pryor, Hubert Sumlin, and John Hammond were encouraging supporters.
Date :
Friday, July 26, 2019 from 7 to 10pm
Event location :
The Cove
2 Bedford St.
Westport, Ontario K0G 1X0 Canada
Contact :
http://www.morgandavis.com/