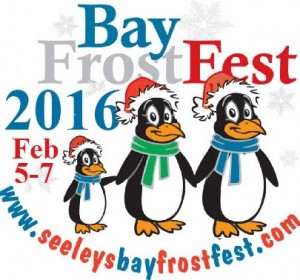 Come and join us as our Community comes together February 5-7 throughout the day, to celebrate the Season and   enjoy the many Events surrounding this Weekend Winter Festival.
Entertainment, outdoor and indoor activities
Bavarian Curling, Antique Snowmobile Show, Skating on the Bay, Volleyball Tournament, Ball Hockey, Fabulous Frosty Challenge, wagon & horse-drawn sleigh rides, Trevor Walsh, Adam Knapp & Kickback, Crafts Sale, Silent Auction, Heritage Video, Quilts Show, Bingo, Books Sale, Gospel Fest, Old Time Fiddlers, Fortune Teller.
Kids Stuff
Fabulous Frosty Challenge, Skating on the Bay & other outside activities, indoor kids games & crafts, get your picture taken with the Penguin…
Food
Pie Bake Off, Chili Contest, Free Hot Chocolate & Hot Dogs on the Bay, Pancake & Lumberjack Breakfasts, Penguin Tailz, $8 Meal Deals, Roast Beef Dinner…
Make sure you pick up a FROST FEST BUTTON at any of our local businesses for $2.00. A chance to win many wonderful prizes, PLUS get discounts on events during the weekend.
Entries due by 25th January
Places for event :
At various locations throughout the Village, in the Park, at the Dock, in the Community Halls, Legion and Churches.