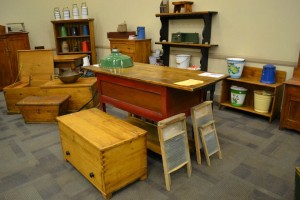 *This summer come out and enjoy the return of the 24th Annual indoor
Westport Antique Show & Sale. The beautiful Village of Westport will be
hosting this event on June 4th and 5th, 2016 at the Westport Community
Centre on the corner of Spring and Concession Streets.*
*Saturday show hours are 10 am – 5 pm, Sunday hours are 10 am – 4 pm.
Admission is $6 per person, children 12 and under are free. Best of all
there's plenty of free parking!*
*This year will feature more fabulous qualified antique dealers from
Ontario and Quebec. The dealers promise to bring excellent fresh inventory
including the finest antiques in glass, tools, china, pine furniture,
pottery, crystal, silver, folk art, formal furniture, collectibles and much
more!*
*Don't miss out on your opportunity to witness first-hand Canadian
history. You possibly own one of these venerable pieces for yourself, so
come out and see what's for sale at the Canadian Antique Fair.*
*For more information:
Canadianantiquefairs@gmail.com
Canadianantiquefairs@gmail.com
Phone: 613 791 2272 and 613 795 9676