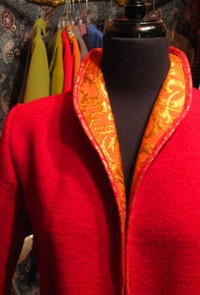 There will be an amazing group of fibre artists showing their work until November 27, 2011 at Artemisia in Westport.
On November 12, from 1 – 5pm will be the opening reception. Demos: Free Motion Machine Embroidery by Sylvia Naylor, Handloomed Art Wear by Carolyn Barnett, and Painting with Fabric by Jeff Gill. Refreshments and meet the artists.
Three great workshops on offer: Felt beads and their uses and Rug Hooking with Barb Lukas; Free Motion Machine Embroidery with Sylvia Naylor; and Silk Screening and Painting on Textiles with Margot Miller.. one and two day workshops, $75.00 per day, 10am – 4pm.
Call 613-273-8775 for details and to register. Preregistration required and can be sent to artemisia@kingston.net with name and email or phone contact info.
We hope to see you all at this superb show by 14 fantastic fibre artists. Artemisia Art Gallery is located at 7 Spring Street, Westport, Ontario.