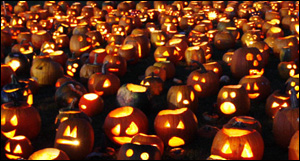 2,000 Jack O' Lanterns Will Light Up Westport and the Little Rideau Lake!
This event started as a random, simple idea last year. Carve 1000 pumpkins and light them up at Westport's village harbor overlooking the Rideau Lake. This year, event organizers John and Cynthia Pringle say they will double the number of jack o' lanterns on display to 2000.
The seasonal gourds will be carved Saturday Oct 30th and transported to Westport's harbour where they will illuminate the shores of the Upper Rideau Lake at dusk. When they run out of room on 'waterfront', the pumpkins will line Westport's main street, say the Westport entrepreneurs.
"It's all about spreading good vibes, plus it's a great way to raise money for the Children's Wish Foundation," says John Pringle.
"Pumpkin Central" is in front of the Cottage Coffee store in downtown Westport. Starting at 8:00 am, volunteers will carve the 2,000 jack o' lanterns.
"We're really going to need some help carving this many pumpkins," says Cynthia Pringle, adding that "donations can be made by sponsoring a pumpkin and dedicating it to someone special. The great thing is that we'll do all the work. Just sponsor a pumpkin and then come and enjoy!"
John and Cynthia say that this year's event is being dedicated to RAP volunteer Julie Sanders who lost her battle with cancer earlier this year. "Julie was so excited to take part in last year's event even though her health was diminishing. Her optimism shone brightly," noted John.
For information contact Random Act of Pumpkins event organizers John and Cynthia Pringle – Life is Good Genuine Neighborhood Shoppes @ 613-273-8292