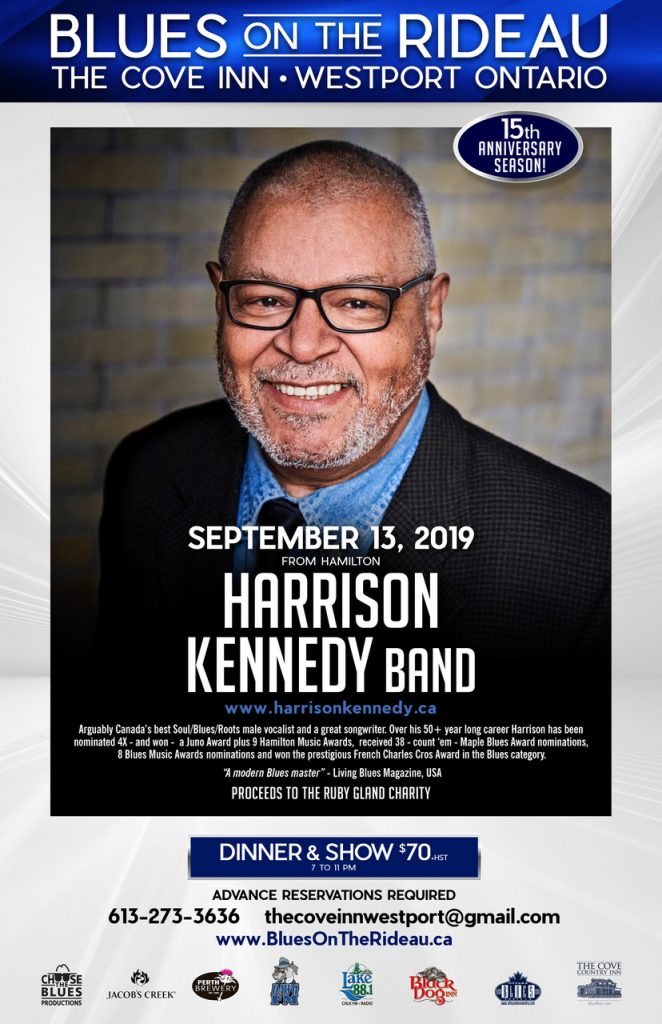 To kick off this year's Series – from The Hammer – arguably Canada's best Soul/Blues/Roots male vocalist (and a damn fine songwriter too) – Harrison returns to The Cove for a fourth visit. Growing up in Hamilton the Kennedy house was always full of music thanks to his famous uncle – Jazzman Jackie Washington who would bring artists home like Lonnie Johnson, Duke Ellington and Billie Holiday when they were passing through.  Harrison began his career in the late '60's when his dynamic vocal talent earned him a spot on the world famous Motown band "Chairmen Of The Board" who shared the stage with artists like B.B. King, James Brown, Smokey Robinson, Stevie Wonder and many more.
When the band broke up in the '70's Harrison returned to Hamilton and took a "real job" as a factory foreman only playing music on the side for the next couple of decades. But his love of the Blues was too powerful and in 2000 he returned to music full time with his first album "Sweet Taste". 7 more have followed including his most recent "Who U Tellin'?" 4 of them were nominated for Juno Awards and he won in 2015 for "This Is From Here".
He's also won 9 Hamilton Music Awards and received an astounding 38 Maple Blues Award nominations since 2005 in the categories of Male Vocalist, Acoustic Artist, Songwriter and Album Of The Year. Internationally he's been nominated 8X for American Blues Music Awards and won the prestigious French Academie Charles Cros Award in the Blues category (other winners include Buddy Guy, Doctor John and Otis Taylor).
The past few years Harrison has hooked up with the great Eric Bibb and toured with him, Ruthie Foster and another Canadian talented Michael Jerome Browne wowing audiences everywhere especially in Europe where he has a huge following.
Fee: $70.
Date :
Friday, September 13, 2019 from 7-11pm
Event location :
The Cove
2 Bedford St.
Westport, Ontario K0G 1X0 Canada
Contact :
James Doran
Phone number: 613-273-3636
E-mail: thecoveinnwestport@gmail.com – Website: www.BluesOnTheRideau.ca