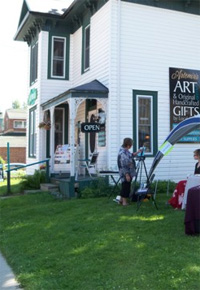 Readings by Eight Local Poets will knock your socks off at Artemisia in Westport. Join us August 21, 2011 from 2 to 5 pm.
Eric Folsom, Kingston's first Poet Laureate and we are delighted to have Eric read from his works. He has also read at the Sleepless Goat and Modern Fuel Gallery in Kingston, as well as on the radio for Stuart McLean's Vinyl Cafe.
T. Anders Carson, Westport's Renaissance man supreme. Talented poet and advocate for kid's soccer, we are delighted to have Anders read again.
Audrey Ogilvie Multi talented poet residing in Westport for the last nine years, Audrey has had two volumes published and is hoping to publish again soon.
Tara Kainer a social activist poet from Kingston, reads to us from her recently first published book When I Think of Your Lives.
Jason Heroux also from Kingston, Jason is returning to Artemisia again this year. Jason has published several books of poetry, and has been published internationally.
Elizabeth Greene, has taught English at Queen's for a number of years, and has been very active in the literary community, especially in the tribute to Bronwen Wallace held in 2008.
Susan Olding, has been widely published in North America, and has received numerous literary awards.
Jeanette Lynes is a writer of both fiction and poetry and we welcome her to Artemisia's poetry reading this year.
You don't want to miss this one so come and meet the poets. During the intermission there will be time to meet and chat with the poets. We will serve tea and scones with cream and jam. We do hope you can join us for this delightful and thoughtful afternoon. Weather permiting, we will hold the reading out on the lawn in the tent, and if you can, please bring a chair. Inclement weather and we will meet inside the gallery.
Artemisia is located at 7 Spring Street, Westport, Ontario.