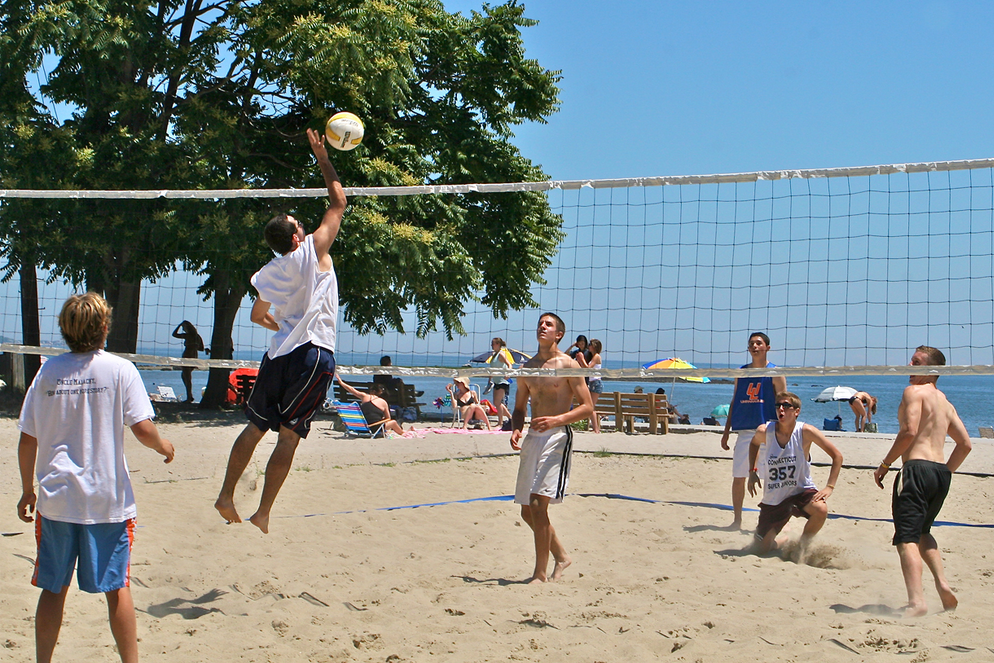 This is an invitation to sign up for the Westport Lions fifth annual Beach Volleyball Tournament being held at the Lions Beach on Saturday, July 22rd. There will be a canteen, music, and plenty of fun prizes given out. The schedule will be determined once we know the number of teams we have in each division. We can accommodate ten teams. There will be two divisions, one will be competitive (designed for players that have played at least high school varsity volleyball) and a non-competitive division (for people who are happy just to get the ball over the net).
Competitive teams will play 4 v 4 and non-competitive teams will play 6 v 6. Each team is guaranteed at least 3 pool games and one playoff round. To encourage a fun, non-competitive atmosphere, each competitive team must have at least 1 male and 1 female on the court at all times, and each non-competitive team must have at least 2 males and 2 females on the court at all times.
The entrance fee is $100 if you complete the registration form, and submit full payment before July 1st. If you pay the entry fee after July 1st then it is $120/team. The first ten teams to submit their entry fee and email the application form to westportontariolions@gmail.com are in the tournament. Teams that email their registration form to the Lions Club but do not submit the entry fee will be placed on a waiting list. We will accept teams on a first come basis, so it important to get your registration fee and form in a.s.a.p.
Date :
Saturday, July 22, 2017 | 8 am
Event location :
Westport Lions Club,
63 Mountain Rd.,
Westport, Canada
Contact :
Chris Hartley at 613-273-8858
email: shorthartley@hotmail.com
or
Lion Bob Reddick at 613-273-3499
email: westportontariolions@gmail.com
Website: westportlions.ca