Bringing you the best in Blues LIVE and On-air
THIS WEEK ON INSIDE THE BLUES – A SPECIAL TRIBUTE TO STONY PLAIN RECORDS & HOLGER PETERSEN ON THEIR 40th ANNIVERSARY
THIS SUNDAY June 5 on CANADIAN BLUES SPOTLIGHT
on BLUES ZEPPELIN – BILL JOHNSON
UPCOMING LIVE MUSIC AT THE COVE INN, WESTPORT
_________________________________________
INSIDE THE BLUES w. James Doran
Broadcast & streamed weekly:
Every Saturday 12-1 pm ET on www.BluesRadioCanada.com
Repeated Mondays, Wednesdays & Fridays at the same time
Every Sunday 7-8 pm ET on CIDG 101.9 DAWG FM Ottawa www.dawgfm.com
Repeated Wed night 10-11 pm
All shows are also ARCHIVED after broadcast at www.insidetheblues.ca
and can be listened to there at any time
PLAY LIST – June 4/5
Sponsored by The Cove Inn, Westport ON www.coveinn.com
A special tribute to STONY PLAIN RECORDS and its founder
HOLGER PETERSEN on the 40th Anniversary of the label
All songs off new STONY PLAIN 40 YEARS 3 CD Compilation/2016 Stony Plain Records
JOE LOUIS WALKER
Eyes Like A Cat/Travis Phillips
ROSCO GORDON
Sit Right Here/Rosco Gordon
BILLY BOY ARNOLD
Bad Luck Blues/Billy Boy Arnold
HARRY MANX* & KEVIN BREIT*
Do Not Stand At My Grave And Weep/Mary Elizabeth Frye arranged & adapted by Harry Manx
RONNIE EARL
It Takes Time/Otis Rush
AMOS GARRETT*
Lost Love/Johnny V. Mills
KING BISCUIT BOY (RICHARD NEWELL)*
Blue Light Boogie/Jesse Mae Robinson
DUKE ROBILLARD
Ain't Gonna Do It/Dave Bartholomew & Pearl King
MARIA MULDAUR
In My Girlish Days/Ernest Lawler
Thanks for listening!
_________________________________________
CANADIAN BLUES SPOTLIGHT w. James Doran on
Mark Stenzler's BLUES ZEPPELIN, Switzerland
www.facebook.com/BluesZeppelin
June 5 – 9-11 am ET (3-5 pm Swiss time) on www.rabe.ch
or catch one of the reruns
Featured artist this week – BILL JOHNSON www.billjohnsonblues.com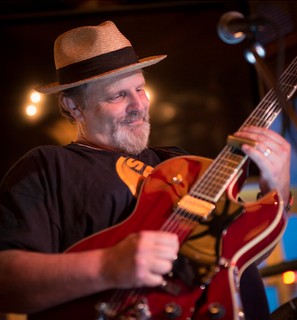 Singer, songwriter, guitarist, harmonicist and music educator Bill Johnson was born in Halifax, spent a few years in Ottawa and Calgary and now lives in Victoria B.C.. He grew up listening to his older brother's record collection of Blues, Rock and Country artists and lists Hank Willilams, Elvis Presley, The Rolling Stones, Eric Clapton and Chuck Berry as his major influences. Bill spent most of his teens studying guitar and played in a variety of different bands through the '70's and '80's but by the early '90's he began to focus exclusively on the Blues. He's released four albums since then including his new one – "Cold Outside". Over the years Bill has won a Blewzy Award and been nominated for a Juno and 4 Maple Blues Awards. Tune in to find out why!
CANADIAN BLUES SPOTLIGHT with James Doran is a 15 minute feature on some of Canada's best Blues artists broadcast and streamed bi-weekly on
Mark Stenzler's BLUES ZEPPELIN
Original: Sundays 9-11 am ET (3-5 pm Swiss time) on Radio RaBe www.rabe.ch Bern, SWITZERLAND
Re-broadcast
* The following Saturday 4-6 pm ET (10-12 pm Swiss time) on Radio LoRa www.lora.ch Zurich, SWITZERLAND
* The following Saturday 3-5 pm ET on WRFI Community Radio Ithaca/Finger Lakes UPSTATE NEW YORK www.wrfi.org
* Twice a week on BLUES & ROOTS RADIO www.BluesAndRootsRadio.com
Port Credit, ON CANADA – streaming globally
* All Spotlights are also ARCHIVED after broadcast on www.CanadianBluesSpotlight.ca where they can be listened to at any time.
Thanks for listening!
_________________________________________________________