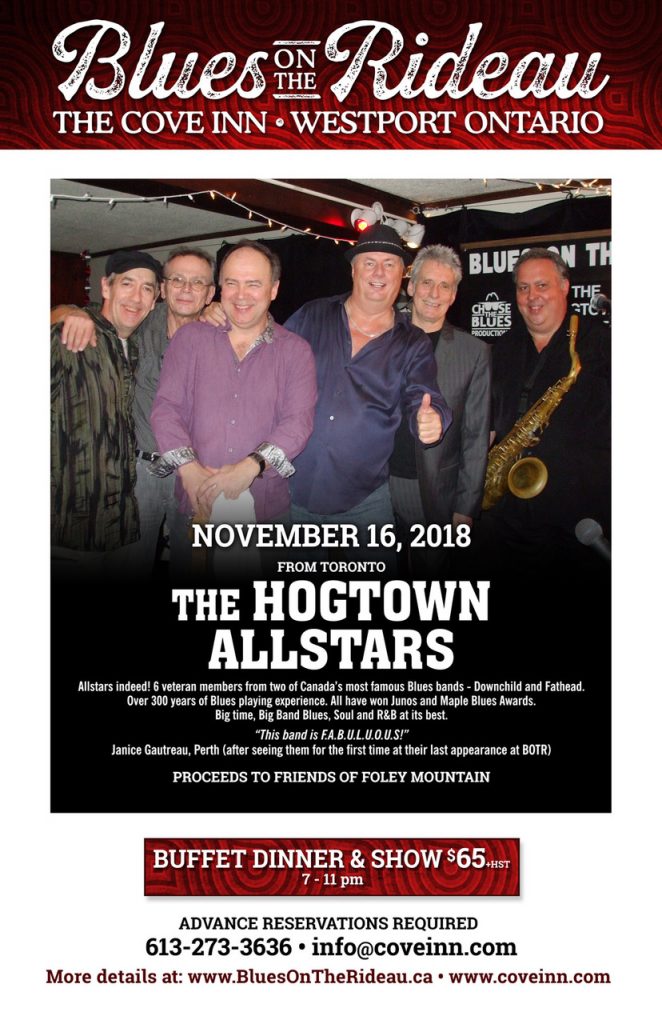 BLUES ON THE RIDEAU @ THE COVE INN
2018/19 SEASON – our 14th year!
MONTHLY DINNER & SHOW FUNDRAISERS IN SUPPORT OF LOCAL CHARITIES FEATURING SOME OF CANADA'S BEST BLUES BANDS
From Toronto
THE HOGTOWN ALLSTARS
When we say this band is full of Allstars we ain't kiddin'! 5 members from Canada's legendary Downchild Blues Band – Chuck Jackson (vocals), Michael Fonfara (keyboards), Pat Carey (sax), Gary Kendall (bass) & Mike Fitzpatrick (drums) plus Teddy Leonard on guitar (formerly with Fathead). Both of these bands have received multiple Juno Awards over the years and all of members have either won or been nominated for an MBA in their respective instrument categories. Together they represent almost 300 years of Blues-playing experience and it shows. Led by dynamic singer/showman/front man Chuck Jackson these guys mix it up with their unique renditions of old Blues/Soul and R&B classics along with original songs. This marks The Hoggies 5th return visit to BOTR making them another one of the all time favourites of the Series. The most commonly used adjective to describe this band on the Comment Cards is "AWESOME!"
ADVANCE RESERVATIONS REQUIRED
Call 613-273-3636 or 1-888-COVEINN or email info@coveinn.com
Cost: $65.
Date :
Friday, November 16, 2018 from 7 to 11pm
Event location :
The Cove
2 Bedford St.
Westport, Ontario K0G 1X0 Canada
Contact :
James Doran – http://www.garykendall.com/Bluestime/THAS.htm%20www.bluesontherideau.ca