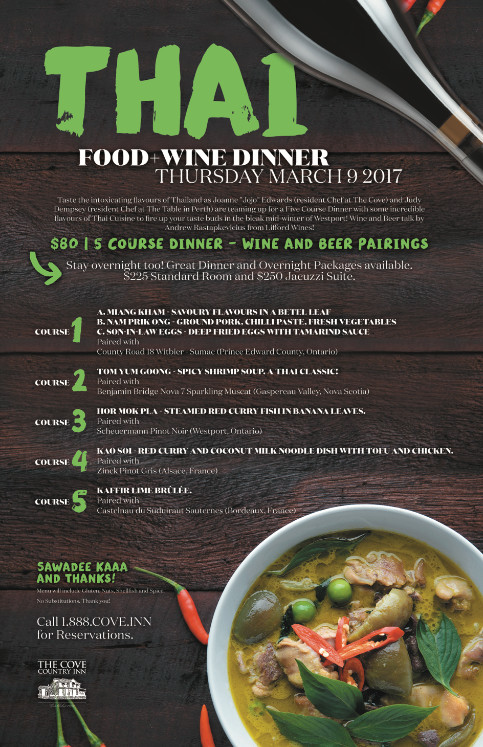 Sawadee kaaa!!!
Come one, come all! We have room for 50 and it's filling up! We are SOOOOO Excited for this night! Thanks!
Thursday March 9 2017
Thai Food and Wine Dinner
Taste the intoxicating flavours of Thailand as Joanne "Jojo" Edwards (resident Chef at The Cove) and Judy Dempsey (resident Chef at The Table in Perth) are teaming up for a Five Course Dinner with some incredible flavours of Thai Cuisine to fire up your taste buds in the bleak mid-winter of Westport! Wine and Beer talk by Andrew Rastapkevicius from Lifford Wines!
6-9pm
$80 5 Course Dinner – Wine and Beer Pairings
Stay overnight too! Great Dinner and Overnight Packages available. $225 Standard Room and $250 Jacuzzi Suite.
MENU
First Course
Miang Kham – Savoury flavours in a betel leaf
Nam Prik Ong – Ground pork, chilli paste, fresh vegetables
Son-in-Law Eggs – Deep fried eggs with Tamarind sauce
Paired with
County Road 18 Witbier – Sumac (Prince Edward County, Ontario)
Second Course
Tom Yum Goong – Spicy shrimp soup. A Thai classic!
Paired with –
Benjamin Bridge Nova 7 Sparkling Muscat (Gaspereau Valley, Nova Scotia)
Third Course
Hor Mok Pla – Steamed red curry fish in banana leaves.
Paired with –
Scheuermann Pinot Noir (Westport, Ontario)
Fourth Course
Kao Soi – Red curry and coconut milk noodle dish with tofu and chicken
Paired with –
Zinck Pinot Gris (Alsace, France)
Fifth Course
Kaffir Lime Brûlée
Paired with –
Castelnau du Suduiraut Sauternes (Bordeaux, France)
***Menu will include Gluten, Nuts, Shellfish and Spice. No Substitutions. Thank you.***
Call 1.888.COVE.INN for Reservations.
www.coveinn.com info@coveinn.com #thainight #chefjojo #chefjudyboss #rastawine #covefood #areyoustillreadingtheseridiculoushashtags