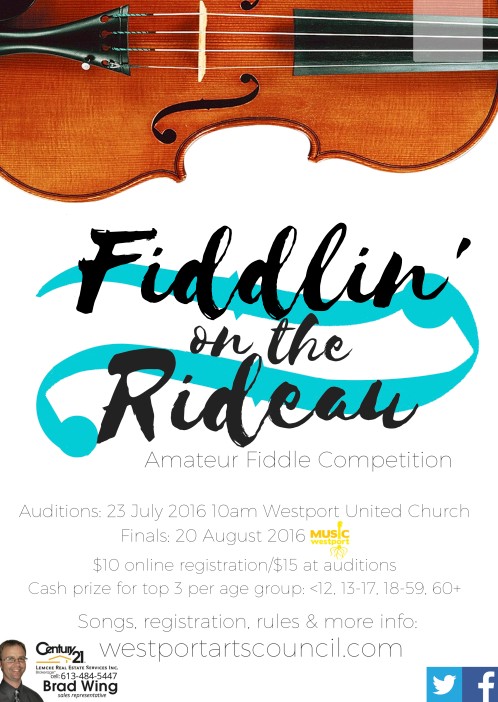 WAC is proud to announce Fiddlin' on the Rideau, a new amateur fiddling contest. Open to all age groups, musicians will audition and compete for cash prizes and the overall title that will be decided after the final round of competition during our popular MUSICwestport music festival.
Audition: 23 July 2016 at noon.  Westport United Church
Finals: 20 August 2016 – morning of music Westport
$10 online Registration/$15 at auditions
Cash prize for top 3 per age group: <12, 13-17, 18-59, 60+
Fiddlers must complete the registration form and read the competition rules to participate. Completed forms can be emailed, mailed or dropped off in person (see form for more details). Registration payments can be made online via PayPal or in the form a cheque. Same day auditions only if space allows.
Registration form : Fiddlin' Registration
Rules : Fiddlin' on the Rideau – Rules
Date :
August 20, 2016 | all day
Event location :
Westport United Church, Spring Street, Westport, ON, Canada
Contact :
Songs, registration, rules & more info at westportartscouncil.com