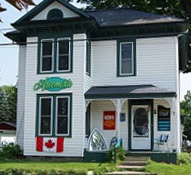 *It's our anniversary!*
June 21 – Summer Solstice – and the beginning of our fourth year here at Artemisia (7 Spring Street, Westport, ON)! We will be celebrating the whole week with specials in the gallery and art services, including prizes, scratch and win tickets and more.
On June 21, 2011, from 2 to 5 pm, we have a very special guest, "Fred Barrett", a local astronomer,has been invited to share with you his knowledge, photographs and a very special look through his telescope to view some amazing pictures of our sun. This is a very important part of our world, but one we tend to take
for granted. So come on over to "Artemisia" and see for yourself what is going on up there, 93 million miles away! WOW! Fred will answer your questions and display photos and inform us about the sun — how it affects our weather, what sun spots and flares are and how they are related to the aurora borealis, which once seen will never cease to amaze.
We are all glad it's officially summer, so come out and celebrate!