Dear Friends of The Cove,
We endured a tragic fire on the evening of Fri.Jan.18.2019 at the Fredenburgh Guest House across the street from the Main Inn. Thanksfully, no one was hurt but The Fredenburgh House is closed indefinitely. We continue to be open for business as usual in the Main Inn where our restaurant and bar, live music venue AND nine remaining rooms are located. If you already have reservations in the Fredenburgh House, we will be contacting you to re-locate you at a close-by location as soon as we can. A local friend has created a GoFundMe page if you wish to support that way. https://www.gofundme.com/vf84t-the-cove
Either way, we have been inundated with generous notes of support over the past week. If you wish to help, please just continue to support The Cove as a the great place community that it has always been! We appreciate your patience. We also thank you all for your support, generosity, understanding and continued business. The show will go on!
Mary, Terry and Seamus Cowan and ALL of us at The Cove in Westport, ON
2019 WINTER EVENTS @ THE COVE!
Every Wednesday WINGS 'n TUNES + THE OPEN MIC with SHAWN McCULLOUGH (Country/Rock, Westport) Sing a tune and you could win a guitar! 6:30-9:30pm www.reverbnation.com/shawnmccullough
FEBRUARY
Fri.Feb.1 DAVE BALFOUR + JAMIE CAMPBELL (Acoustic Folk/Rock, Westport/Rideau Ferry) 6-9pm
Fri.Feb.8 STEVE PITICCO + WENDELL FERGUSON'S COUNTRY PICKIN' MAYHEM BAND (feat. Two 5-time CCMA Country Guitarist of the Year! with Shawn McCullough Band) 7-11pm $50 + HST Buffet + Show
www.facebook.com/steve.piticco www.wendellferguson.com www.reverbnation.com/shawnmccullough
Sat.Feb.9 JOHN WILBERFORCE (Folk/Rock, Kemptville) 6-9pm www.johnwmusician.com
Thu.Feb.14 VALENTINE'S DAY SWEETHEART DINNER with Music by HEAD OVER HEELS (Acoustic Folk/Jazz/Blues, Gananoque) 6-9pm Table D'Hote 3-Course Menu TBA $60 + HST www.kevinheadmusic.com Overnight Packages Available. Call today!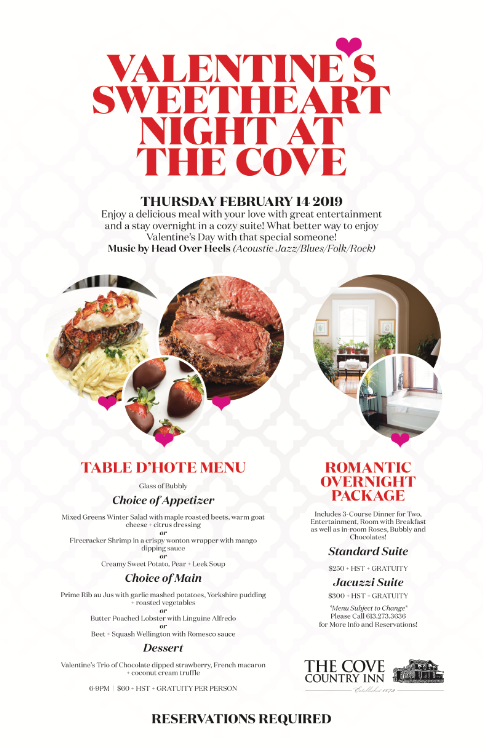 Fri.Feb.15 BLUES on the RIDEAU with DAWN TYLER WATSON & THE BEN RANCINE BAND (Montreal) 7-11pm Buffet, Show + Charity $65 + HST www.bluesontherideau.ca www.dawntylerwatson.com Reservations Only
Sat.Feb.16 LOGAN BROWN + TAYLOR ANGUS (Acoustic Soul, Perth) 6-9pm www.taylorangusmusic.com
Sun.Feb.17 ANNUAL FAMILY DAY HOEDOWN with SHAWN McCULLOUGH + HENRY NORWOOD(Country, Westport/Perth) 4-8pm www.reverbnation.com/shawnmccullough www.facebook.com/henrynorwoodartist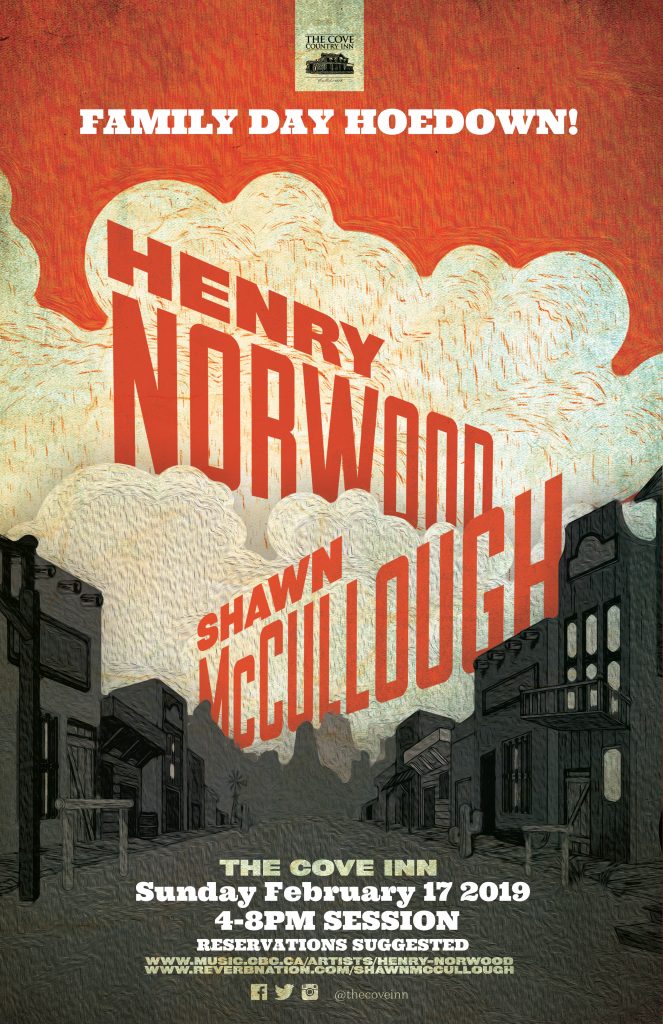 Mon.Feb.18 FAMILY DAY! Open All Day! 11:30am-8pm
Fri.Feb.22 MARDI GRAS JAZZ NIGHT! with SPENCER EVANS BAND feat. BUNNY STEWART on Sax (New Orleans Style Jazz/Funk/Blues, Kingston) 7-10pm $15
Sat.Feb.23 THE BROKEN HEARTS SONGWRITER CIRCLE with Greg Ball, Seamus Cowan, Tom Savage + Luther Wright (An Intimate Night of Songwriting, Kingston/Westport/Wakefield) 7-10pm $15 www.gregball.ca tavisetriancetenaturalway.bandcamp.com www.tomsavage.ca www.lutherwright.com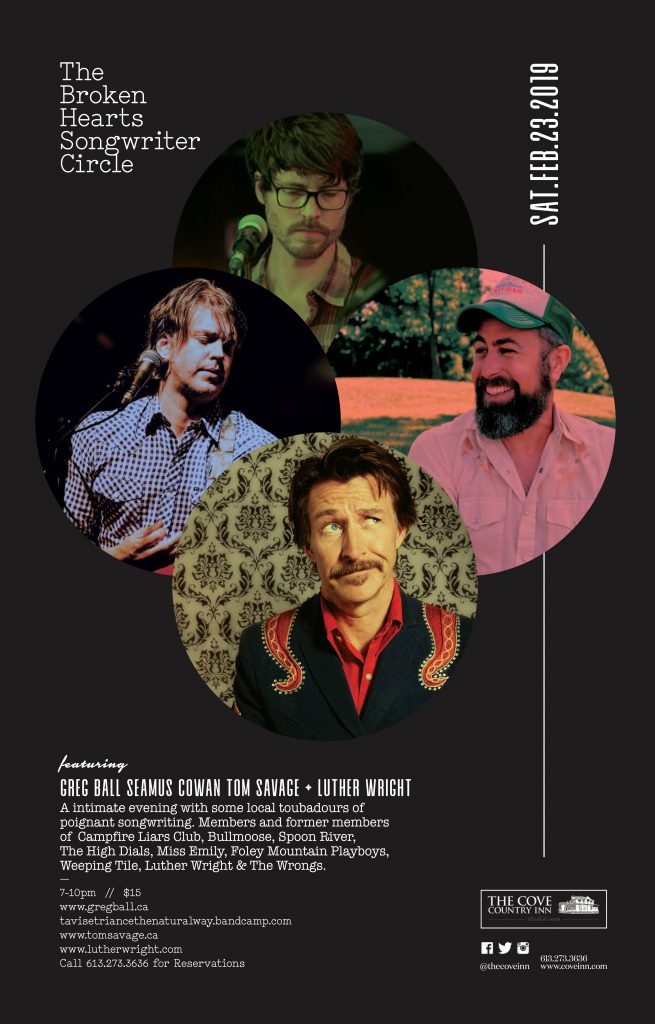 MARCH
Fri.Mar.1 JEFF CALLERY (Acoustic Rock/Country, Brockville) 6-9pm www.reverbnation.com/jeffcallery
Sat.Mar.2 HALFCOCKED & LONESOME ("Prime Time" Honky Tonk Country Band, Ottawa) 8-11pm $10www.halfcockedandlonesome.com
Fri.Mar.8 TONY SILVESTRI (Classic Rock Keyboard Master, Belleville) 6-9pm www.facebook.com/tonysilvestrimusic
Sat.Mar.9 HEAD OVER HEELS (Acoustic Blues/Folk/Jazz Duo, Gananoque) 6-9pm www.kevinheadmusic.com
Fri.Mar.15 THE VALLEY SHANTYMAN (Country/Rock/Whatever, Mallorytown) 6-9pmwww.whitewaterbrewing.com
Sat.Mar.16 "ST. PRACTICE DAY" with SHAWN McCULLOUGH + WADE FOSTER (Acoustic Irish/Country Duo, Westport/Perth) 7-10pm www.reverbnation.com/shawnmccullough www.wadefostermusic.com
Sun.Mar.17 ST. PADDY'S DAY with TURPIN'S TRAIL 2-6pm $10 www.turpinstrail.com
Fri.Mar.22 BLUES on the RIDEAU with RIA REECE BAND (Montreal) 7-11pm Buffet, Show + Charity $65 + HST www.bluesontherideau.ca www.riareeceband.com Reservations Only
Fri.Mar.29 TBA
Sat.Mar.30 YUK YUK'S COMEDY NIGHT! feat. The Best in Canadian Comedy ("CANCOM"..) with Rob Bebenek, Jarrett Campbell + Dom Pare 7-11pm Buffet + Show $55 + HST Rob Bebenek Funny Business Jarrett Campbell Funny Business Dom Pare Funny Business
HOURS
Sun + Thu 11:30am-8pm
Wed, Fri + Sat 11:30am-9pm
January + February — CLOSED Mondays and Tuesdays (Except Family Day Feb.18)
ALL DAY COMFORT FOOD MENU + TAKE OUT MENU TOO!
***All Events Subject To Change. Please Call For Reservations
For event info, go to Entertainment at www.coveinn.com
The Cove Country Inn 1.888.COVE.INN @thecoveinn @thecovekitchenchronicles