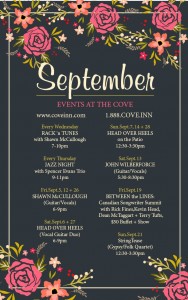 Welcome to September!
Our hours have changed for the fall…Looking forward to seeing you soon during this beautiful month. Bring on the real summer!
Thanks!
Seamus and All of Us at The Cove
WEDNESDAYS
RACK 'n TUNES with Shawn McCullough (Guitar Extraordinaire)
$10 Ribs Special Weekly!
THURSDAYS
JAZZ NIGHT with The Spencer Evans Trio
feat. Seamus Cowan on Bass and Rob Radford on Drums!
$5
Weekly Specials!
Fri.Sept.5, 12 + 26
SHAWN McCULLOUGH (Guitar/Vocals)
HEAD OVER HEELS (Vocal Guitar Duo)
HEAD OVER HEELS on the Patio
JOHN WILBERFORCE (Guitar/Vocal)
BETWEEN THE LINES: A Canadian Songwriter Summit with Dean McTaggart, Terry Tufts, Rick Fines, and Kevin Head
Old friends reunite on stage for a special performance before the day of Cove mainstay, Kevin Head's marriage!
Kevin Head is an accomplished singer/songwriter. You can read about him or hear him regularly at The Cove. He is the Host of the evening!
Terry Tufts
…is a finger-style guitarist living off-grid with his wife and daughter in the bush in North Frontenac, Ontario.
Terry has been playing music since 1974. His father's job with the Canadian Government moved the family to Denver, Colorado in the U.S. in the 1960's at a time when the folk and rock music genres were influencing opinion everywhere.
In 1974 he moved to Fredericton, New Brunswick, to begin pursuing his own musical career as a singer-songwriter and guitarist, as well as working as a session musician and sideman for a variety of artists including David Francey, Ian Tamblyn, The Arrogant Worms, Wayne Rostad, Susan Aglukark, and George Fox. He has 7 albums to his credit, one unreleased. He blends a well-traveled personal history into music without boundaries.
Dean McTaggart
…his professional career started as the lead singer/songwriter for the Canadian rock/pop band "The Arrows" in 1981. An independent release"Misunderstood" was followed by two albums for A&M records which produced the hit singles  "Meet me in the Middle","Talk Talk", and "Heart of the City". When the band broke up in 1986 Dean went on to be a staff songwriter, penning many hits including "Heaven Help my Heart" – a top ten song for country superstar Wynonna Judd, " Darkhorse" – a number one in Canada for Amanda Marshall which Elton John called 'a sure fire hit' on Rosie O'Donnell, "Birmingham' – a top twenty song worldwide for Amanda Marshall, as well as hits for Anne Murray, Terri Clark, Rita Coolidge, The Guess Who, Johnny Reid, The Rankin Family, Blues artists Shakura S'Aida, Danny Brooks and many others.
In 1998, McTaggart was nominated for the Juno Award for "Songwriter of the Year" for his works recorded by Amanda Marshall, Wynonna Judd and Tina Arena.  Dean has released three solo discs, the most recent being 2010's Drop the Needle in the Groove.
Dean's most recent project is an 8 piece soul band called Ultrasound that features a who's who of Canadian musicians…
Rick Fines
…based in Peterborough, Rick Fines is one of Canada's leading blues, roots and slide guitarists, playing The Cove 5 times for the Blues on the Rideau Series. A veteran of the North American folk and blues circuits, Rick has won the Maple Blues Award as a solo artist, and has won a Juno Award and several Thomas Handy Awards for his work with the band Jackson Delta. Known for his virtuosic finger-style and slide guitar playing and his engaging stage presence, Rick delights audiences with soulful songs, wonderful stories and a mesmerizing musical experience.
Rick has performed and collaborated with a wide range of musicians, including legendary blues piano player Pinetop Perkins, famed songstress Colleen Peterson and folk icon Penny Lang, as well as Willie P. Bennett, Carlos del Junco, Suzie Vinnick and many more.
Rick has worked as a youth mentor at the Winnipeg Folk Festival and is a regular participant in Ottawa Bluesfest's popular "Blues in the Schools" program. His obvious love of roots music is an inspiration to all. Listeners are fascinated by his playing, singing and songwriting skills, as well as his vast knowledge and love of the musical and social history of the blues.
Rick's acclaimed CDs include "Nothing Halfway", "Out Of The Living Room", "Arcadia" and "Live At The Harvest ". He has also recorded an instructional DVD to share his exceptional guitar techniques.
$50 Buffet and Show
Reservations Only
OKTOBERFEST with Crooked Wood
Austrian style fare! Beer specials! Costume Contest! Prizes!
Learn to swear in Austrian and German…
Celebrate the spirit of community and thanksgiving!
CROOKED WOOD (Kingston/Perth Road Village, Folk/Celtic)
Crooked Wood is the Kingston-based Celtic/Folk trio of Chris Murphy, Steve Kennedy, and Jon McLurg. Having played concerts and festivals across Ontario, Crooked Wood has shared the stage with artists such as Murray McLauchlan, J.P. Cormier, and Leahy. Tight harmonies and acoustic instrumental accompaniment (guitar, mandolin, banjo, Irish Bouzouki, ukulele, Bodhran) bring out the beauty and energy in their original songs and their creative interpretations of songs drawn from Celtic, folk, bluegrass, and popular music genres. Joining Crooked Wood for the evening will be fiddler and multi-instrumentalist Brian Flynn. Amalgamating gorgeous folklore and traditional celtic with east coast song, naturally, they are HUGE fan favourites in the Westport area.
$10 Music
Reservations Suggested!