Renowned Newfoundland singer-songwriter Ron Hynes will take the stage at The Cove Country Inn, Westport, Ontario, on Friday, June 3, 2011 at 8pm. Tickets/reservations are available now by calling The Cove at (613) 273-3636 or toll free at 1-888-COVEINN.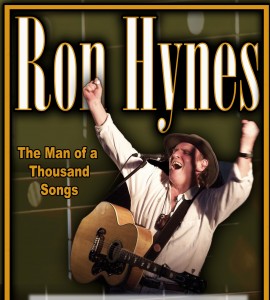 Best known for his folk classic song Sonny's Dream, Ron's songs have been recorded by dozens of artists world-wide including Emmylou Harris, Christy Moore, Mary Black, Denny Doherty, Valdy, Hayley Westenra, Kim Stockwood, and many more.
With eight solo albums and numerous collaborative recordings to his credit, Ron Hynes is a six-time East Coast Music Award winner, a Genie Award winner and a past JUNO, CCMA and Canadian Folk Music Awards nominee. He is recipient of the SOCAN National Achievement Award for songwriting career success and holds an Honorary PhD from Memorial University for his contributions to the cultural life of his beloved Newfoundland and Labrador.
For more on Ron Hynes please visit:
www.sonicbids.com/ronhynes
www.hynesite.org
www.themanofathousandsongs.com
www.youtube.com/recordmam