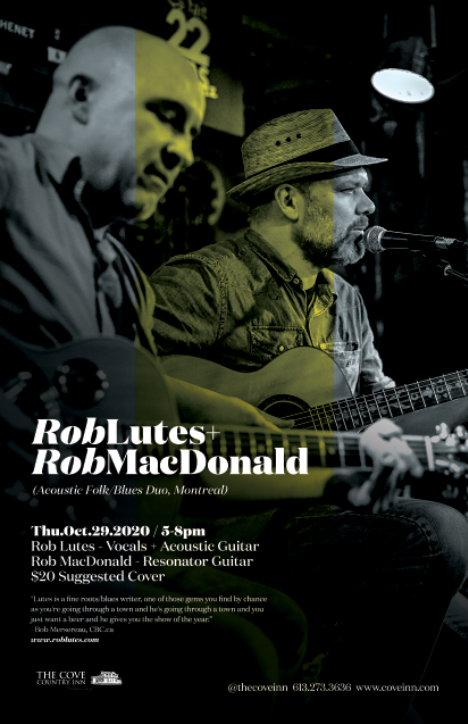 "Lutes is a fine roots/blues writer, one of those gems you find by chance as you're going through a town and he's going through a town and you just want a beer and he gives you the show of the year." – Bob Mersereau, CBC.ca
A writer whose work has included ghostwriting for a former U.S. president, speechwriting for a former Canadian Prime Minister and writing books on subjects from DIY to sports to travel, Rob Lutes has always known his true calling and spiritual home was songwriting.The fluently bilingual, New Brunswick-born, long-time Montreal resident is a former Kerrville New Folk and ISC award winner, and a Maple Blues, Canadian Folk Music Awards and Lys Blues nominee. In 2015, he was runner-up in the Toronto Blues Society's Cobalt Prize, a national award for Contemporary Blues Composition.
Since the release of his first album Gravity in 2000, Lutes has steadily built a collection of exquisite songs that inhabit the intersection of blues, folk, Americana, and the contemporary singer-songwriter genre. A masterful fingerstyle guitarist with a soulful voice, he is also known for the intensity of his live performances.Lutes has released six full-length albums, including 2009's acclaimed Truth & Fiction, which earned him a CFMA nomination for Songwriter of the Year and 2013's The Bravest Birds which spent seven months in the Roots Music Report top 10 and hit #1 on the EuroAmericana Chart.
He performs solo, in duo with Quebec guitar legend Rob MacDonald, and in full-band format.In early of 2016, as part of the new Montreal group Sussex, he will release Parade Day, a love-letter to the jazz and blues of the 20s and 30s featuring some of Montreal's finest musicians.
"Rob Lutes will soon be counted amongst the ranks of the best in the industry. Insightful and meaty like Bill Morrissey, the aforementioned Rogers and Lucy Kaplansky, he is also gutty and gritty like Greg Brown or Chris Smither. A rare talent that keeps getting better with each project released, one listen will prove he is more than a passing fancy; this guy is here to stay."
– Matt Large, Montreal Folk Festival AD
$20.
Date :
October 29, 2020 from 5 to 8pm
Event location :
2 Bedford St.
Westport, Ontario K0G 1X0 Canada
Contact :
Website: http://www.roblutes.com/