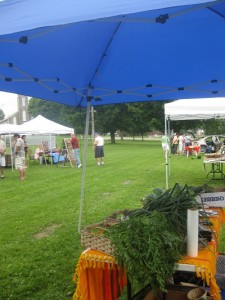 This summer take advantage of the FREE YOGA classes taking place every sunny Saturday at the Westport Farmer's Market. The Yoga Classes are from 10am-11am. Bring a mat or towel or just show up! If you wish to support the Westport Food Bank, please bring a donation as they will be gratefully accepted.
The Westport Farmer's Market takes place at 43 Bedford Street, Westport, Ontario (in front of Soho's) every Saturday until October 8, 2011 from 9am to 1pm.
Yoga is a great form of exercise as it increases strength, flexibility and peace of mind. It involved gentle stretching and is suitable for every body. Add calm tranquillity to your day.
If you are interested in taking Yoga Classes join them at the Lion's Club Hall or patios!
Classes are on Wednesdays from July 6 – August 3, 2011 starting at 6pm. For more information call Sandy at 613-273-4218 or visit: www.rideaulakesyoga.com.