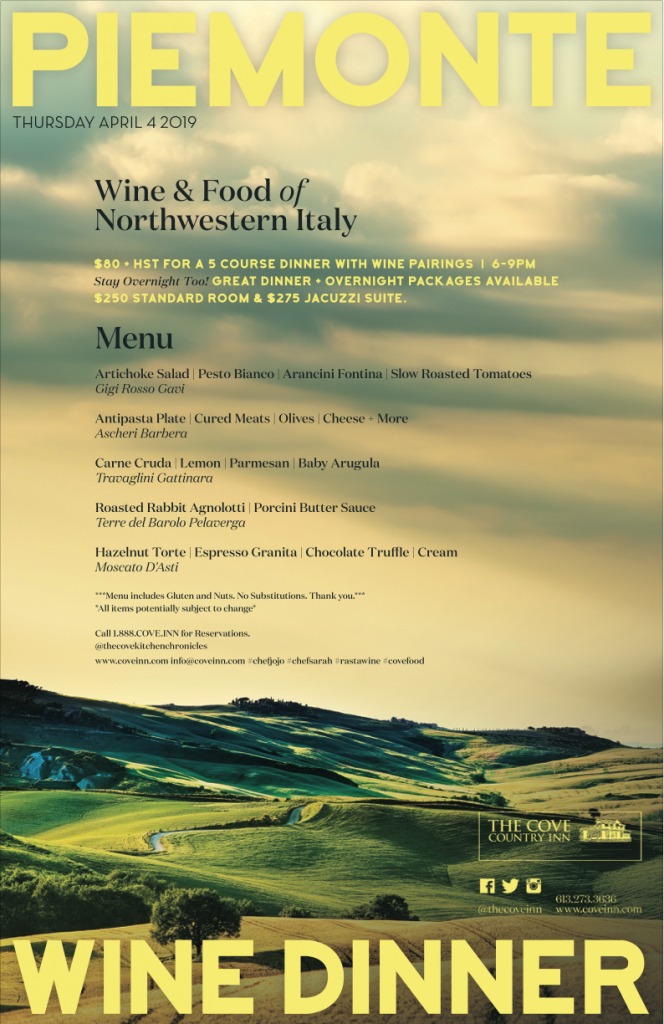 Feeling like spring. Feeling like a flavorful night out!
Come and join us!
All of us at The Cove
Thu.Apr.4.2019
Piemonte Wine Dinner: Wine & Food of Northwestern Italy
6-9pm
$80 + HST for a 5 Course Dinner with Wine Pairings
Stay overnight too! Great Dinner and Overnight Packages available.
$250 Standard Room & $275 Jacuzzi Suite.
MENU
Artichoke Salad | Pesto Bianco | Arancini Fontina | Slow Roasted Tomatoes
Gigi Rosso Gavi
Antipasta Plate | Cured Meats | Olives | Cheese + More
Ascheri Barbera
Carne Cruda | Lemon | Parmesan | Baby Arugula
Travaglini Gattinara
Roasted Rabbit Agnolotti | Porcini Butter Sauce
Terre del Barolo Pelaverga
Hazelnut Torte | Espresso Granita | Chocolate Truffle | Cream
Moscato D'Asti
***Menu includes Gluten and Nuts. No Substitutions. Thank you.***
*All items potentially subject to change*
Call 1.888.COVE.INN for Reservations.
@thecovekitchenchronicles
www.coveinn.com info@coveinn.com #chefjojo #chefsarah #rastawine #covefood