PHOTOS & COMMENTS from attendees at first BOTR Show of the season
last night at THE COVE INN, Westport ON with
ROBIN BANK$ & THE MEMPHIS BROTHERS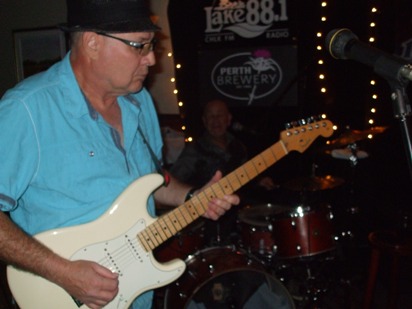 Robin Banks – vocals
Papa John King – guitar
Dennis Pinhorn – bass
Bucky Berger – drums
"Beautiful venue to listen and enjoy. Robin Banks is a superb performer!
Loretta Fleming
"The Memphis Brothers are fabulous and Robin Banks was awesome but I do miss Danny Brooks 🙁 10 out of 10 for everything"
Connie Garvey, Peterborough
<We'll try and get Danny Brooks back next year Connie once he gets his U.S. Immigration papers sorted out>
"Our Staycation venue once a month. We've been coming to BOTR now for 10 years. 10 out of 10 for everything – as usual"
Heather Britton, Nepean
"We were booked for the show but had a medical emergency at the last minute. Called to cancel then found that we would be able to come. We were too late for the buffet when we arrived but the kind staff at The Cove put a wonderful plate together for us. Thank you to everyone at The Cove. 10 out of 10 for everything!"
Elaine Bill, Kanata
$440 was raised for Westport In Bloom from this show
We hope to see you all at the NEXT BOTR SHOW October 23 with 2X Maple Blues Award winner for Best Keyboardist – Alabama born boogie-woogie piano man
DAVID VEST www.davidvest.ca
coming in from Victoria BC along with his band THE WILLING VICTIMS (includes 2 members from the legendary Downchild Blues Band). They blew the doors off the place on his last visit. I'm sure they will again!
Dinner & Show only $65. Advance reservations required.
Call 1-888-COVEINN or 613-273-3636
Proceeds to the Rideau District Museum.
2015/16 SEASON LINE-UP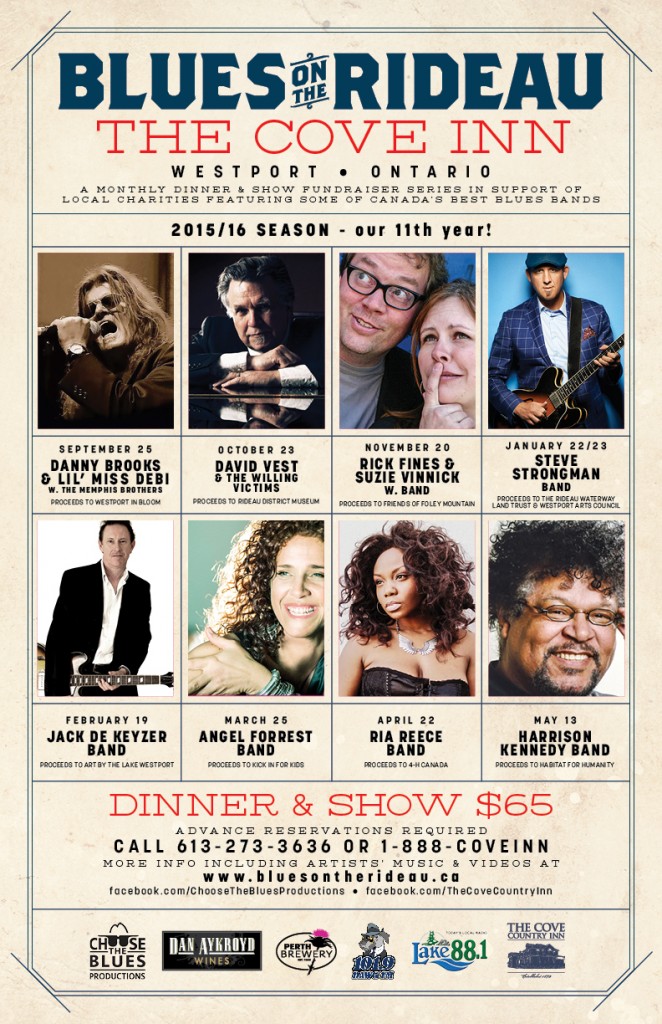 * Visit www.BluesOnTheRideau.ca for more details on the bands including photos, LINKS to their websites, Facebook pages and You Tube videos
BLUES ON THE RIDEAU is produced by Choose The Blues Productions www.choosetheblues.ca in cooperation with
The Cove Inn, Westport www.coveinn.com
Sponsored by
Dan Aykroyd Wines www.danaykroydwines.com
Perth Brewery www.perthbrewery.ca
101.9 DAWG FM Ottawa www.dawgfm.com and
LAKE 88.1 Perth/Rideau Lakes www.lake88.ca