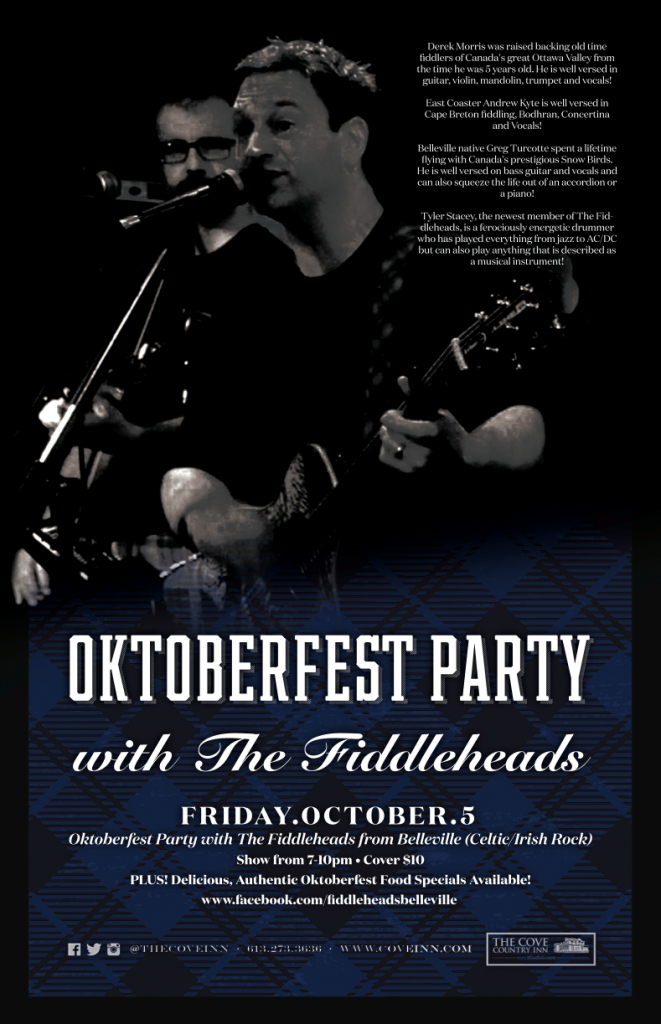 PLUS! Delicious, Authentic Oktoberfest Food Specials Available!
The Fiddleheads
Derek Morris was raised backing old time fiddlers of Canada's great Ottawa Valley from the time he was 5 years old. He is well versed in guitar, violin, mandolin, trumpet and vocals!
East Coaster Andrew Kyte is well versed in Cape Breton fiddling, Bodhran, Concertina and Vocals!
Belleville native Greg Turcotte spent a lifetime flying with Canada's prestigious Snow Birds. He is well versed on bass guitar and vocals and can also squeeze the life out of an accordion or a piano!
Tyler Stacey, the newest member of The Fiddleheads, is a ferociously energetic drummer who has played everything from jazz to AC/DC but can also play anything that is described as a musical instrument!
Cost: $10.
Date :
Friday, October 5, 2018 from 7 to 10pm
Event location :
The Cove
2 Bedford St.
Westport, Ontario K0G1X0 Canada