Welcome back to Fall! Lots to be thankful for and excited about in this cooler, more colourful season…Hope to see you soon! All of us at The Cove!
OCTOBER @ THE COVE!
Every Wednesday WINGS 'n TUNES + THE OPEN MIC with SHAWN McCULLOUGH (Country, Westport) Sing a tune and you could win a guitar! 6:30-9:30pm www.reverbnation.com/shawnmccullough
OCTOBER
Wed.Oct.3 RACK 'n TUNES GUITAR DRAW with SHAWN McCULLOUGH 7-10pm
Thu.Oct.4 LAST JAZZ NIGHT of the SEASON with SPENCER EVANS (Solo) 8-10pm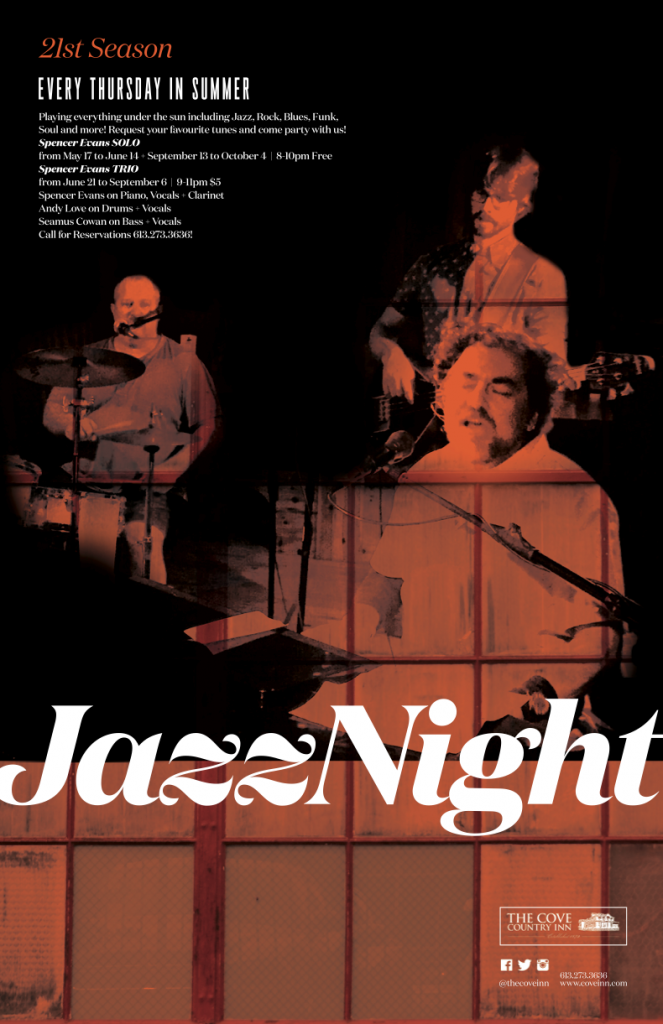 Fri.Oct.5 OKTOBERFEST with THE FIDDLEHEADS (Celtic/Rock, Belleville) $10 7-10pm www.facebook.com/fiddleheadsbelleville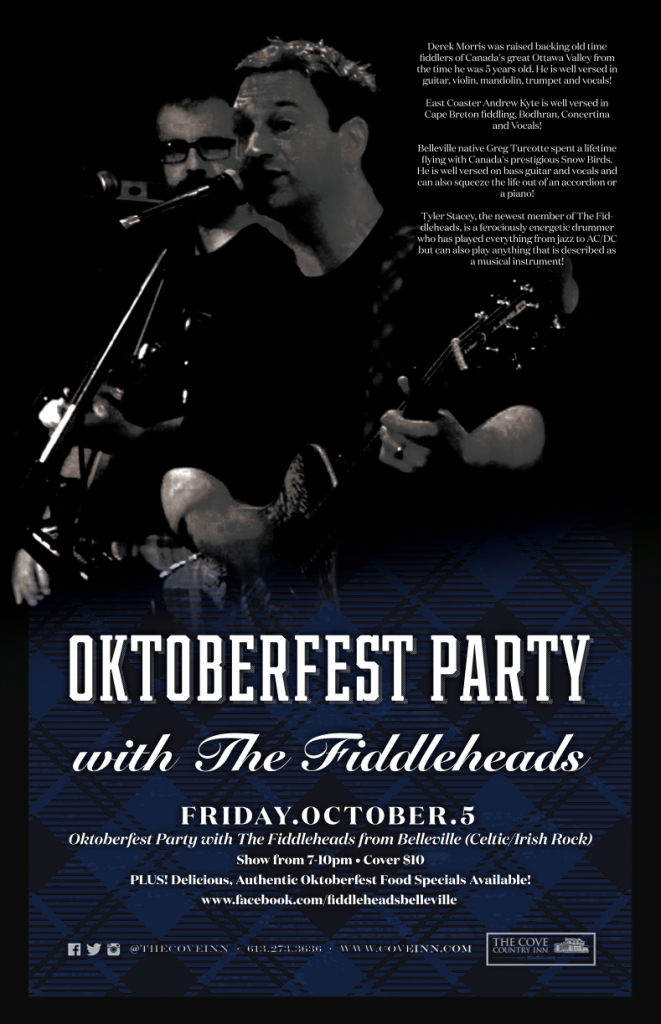 Sat.Oct.6 CHRIS MURPHY of TURPIN'S TRAIL (Celtic/East Coast, Perth Road Village) 6-9pm
Sun.Oct.7 HEAD OVER HEELS A Summer Tradition! (Folk/Rock, Gananoque) 12:30-3:30pm www.kevinheadmusic.com + THANKSGIVING BUFFET (All-You-Can-Eat Ham, Turkey + Trimmings!) 5-8pm $26.99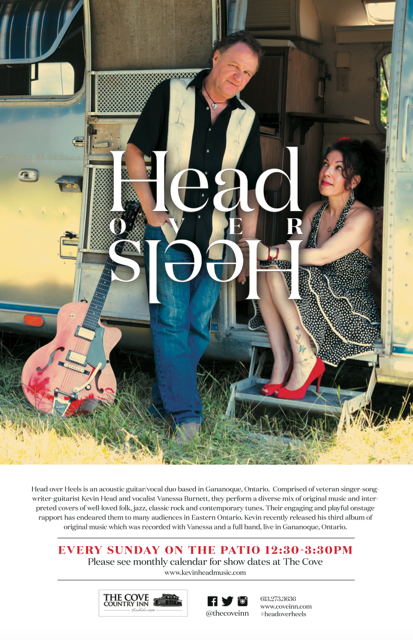 Fri.Oct.12 NOLAN HUBBARD (Acoustic Folk/Pop, Gananoque) 6-9pm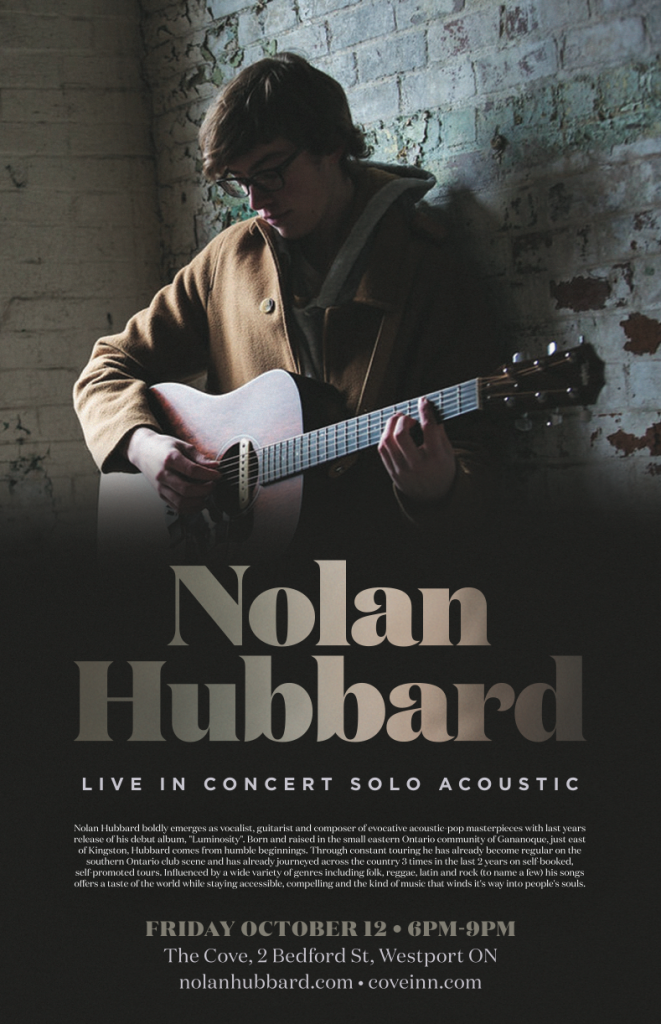 Fri.Oct.19 BLUES on the RIDEAU with SAMANTHA MARTIN & DELTA SUGAR (Soulful Vocal Blues from Toronto) 7-11pm Buffet & Show $65 + HST www.bluesontherideau.ca www.samanthamartinmusic.com
Fri.Oct.26 TOM SAVAGE (Folk/Blues, Kingston) 6-9pm www.tomsavage.ca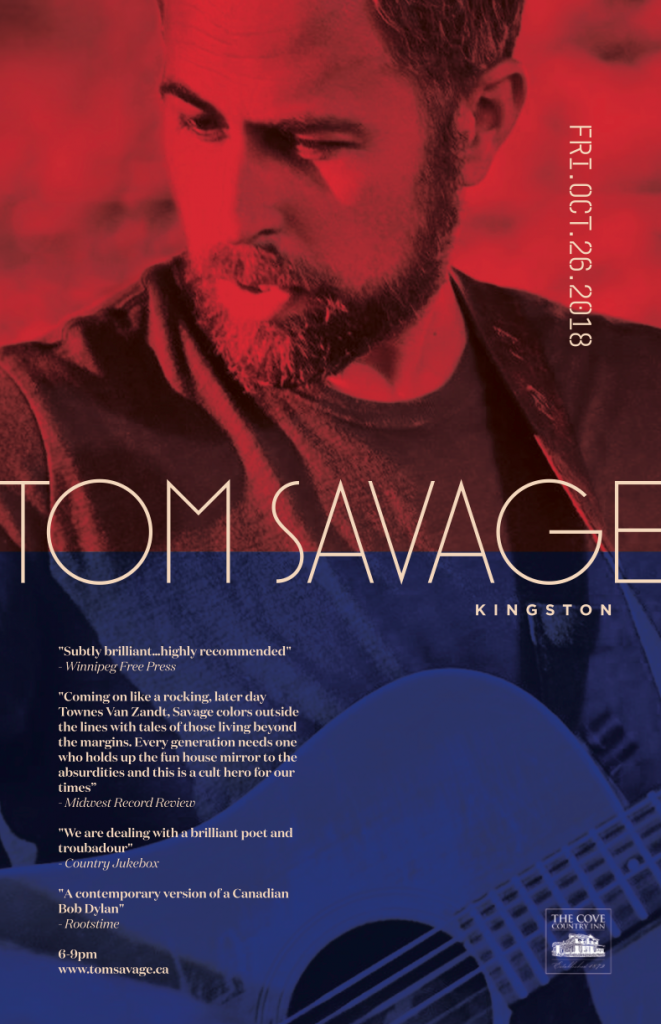 Sat.Oct.27 HALLOWEEN with YOUNG PETTY STONES: A Nod to Neil Young, Tom Petty & The Stones (Westport/Montreal) 7-11pm Buffet & Show $50 + HST www.facebook.com/Young-Petty-Stones-280608412531628/
Wed.Oct.31 WINGS 'n TUNES HALLOWEEN PARTY 6:30-9:30pm
And….NOVEMBER
Fri.Nov.2 GEORGETTE FRY BAND (Kingston's Queen of the Blues, JUNO Nominee) 7-11pm $50 + HST www.facebook.com/Georgette-Fry-24230824104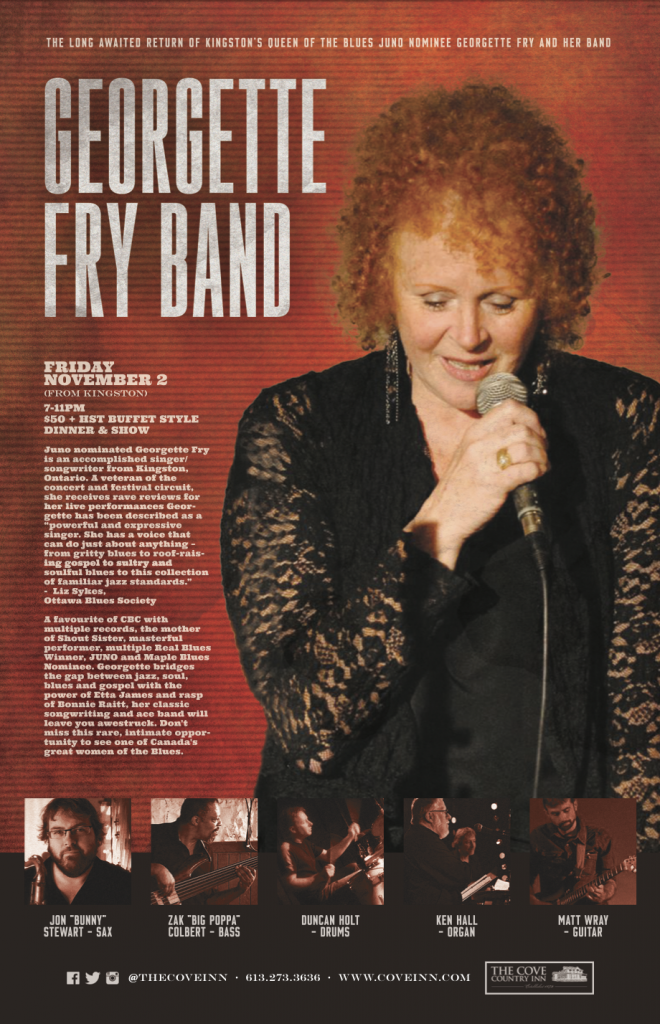 Sat.Nov.3 PAT MALONEY (Acoustic Folk/Pop, Hamilton) 6-9pm www.patmaloney.ca
Fri.Nov.9 BREA LAWRENSON with SHAWN McCULLOUGH "Roulette + Change Single Release Party" www.brealawrenson.com www.reverbnation.com/shawnmccullough
Fri.Nov.30 BEN VANDERGAAST (Miss Emily's Keyboard Player!, Belleville) 6-9pm www.benvandergaast.com
HOURS Sun, Mon, Tue + Thu 11:30am-8pm Wed, Fri + Sat 11:30-9pm
LUNCH + DINNER DAILY + TAKE OUT TOO!
All Events Subject To Change. Please Call For Reservations
For Event Info, go to Entertainment at www.coveinn.com
The Cove Country Inn 1.888.COVE.INN @thecoveinn @thecovekitchenchronicles