The colours of fall have already started in Westport on the Rideau! 
As always, music is in the air and the streets of Westport continue to be bustling on the weekends! We look forward to serving you and catching up on your return!
Music all the time.
Blues on the Rideau this season is amazing! Most of Canada'smost famous Blues Band, Downchild will be in the house on Oct.11 & 12 as The Hogtown Allstars! Another big one will be the return of Young Petty Stones for a "Ghosts of Woodstock" Halloween Costume Party on Oct.25. Music nights are still weekly from Wednesday to Sunday with Rack 'n Tunes + The Open Mic, Jazz Night, Head over Heels until Thanksgiving weekend! Check out our Events Calendar for October OR online http://coveinn.com/index.php/events/
Eats and Cocktails.
Enjoy the daily lunch and dinner specials…Ribs 'n Tunes happens every Wednesday until Oct.23 when we have the seasonal Guitar Giveaway thanks to the generous folks at Long & McQuade Music in Kingston. Cozy, comforting Roast Beef Buffet every Saturday Night! Enjoy our summer menu for the last little bit. New menu for fall and winter coming November! Keep an eye out for inventive Food Pop-Up Nights too!
Ask for a Lunch Card! 10 lunches, get one free! Ask your server! Gift Certificates to The Cove available in person or online! We can send to your email, just call in your card to make payment and info to make personal!
Winter Hours.
The Cove loves you and The Cove loves being open but we are planning to be Closed Monday-Thursday and Open Friday-Sunday starting in November. There will be some exceptions as we will be open for some holidays so keep an eye out there. More info to be posted. There will be music Friday and Saturday evenings and Wings 'n Tunes + The Open Mic will be on Sundays from 2-5pm. 
Social Media.
We are online, of course! 
Facebook www.facebook.com/thecoveinn
Instagram + Twitter @thecoveinn
Follow our kitchen on Instagram @thecovekitchenchronicles
Email thecoveinnwestport@gmail.com
Thanks for supporting The Cove in Westport, Ontario!
OCTOBER 2019 EVENTS
Fri.Oct.4 CHRIS MURPHY (Folk/East Coast, Leader of Turpin's Trail, Perth Road Village) 6-10pm www.turpinstrail.com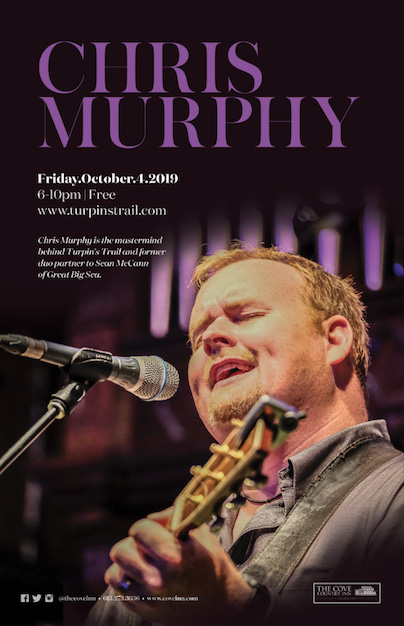 Sat.Oct.5 PRIVATE WEDDING. Dining Room and Patio Open (weather depending).
Fri.Oct.11 + Sat.Oct.12 Blues on the Rideau with THE HOGTOWN ALLSTARS (Live Electric Blues feat. Members of DOWNCHILD Blues Band from Toronto) 7-11pm $70 + HST Buffet, Show + Charity www.bluesontherideau.ca www.garykendall.com/Bluestime/THAS.htm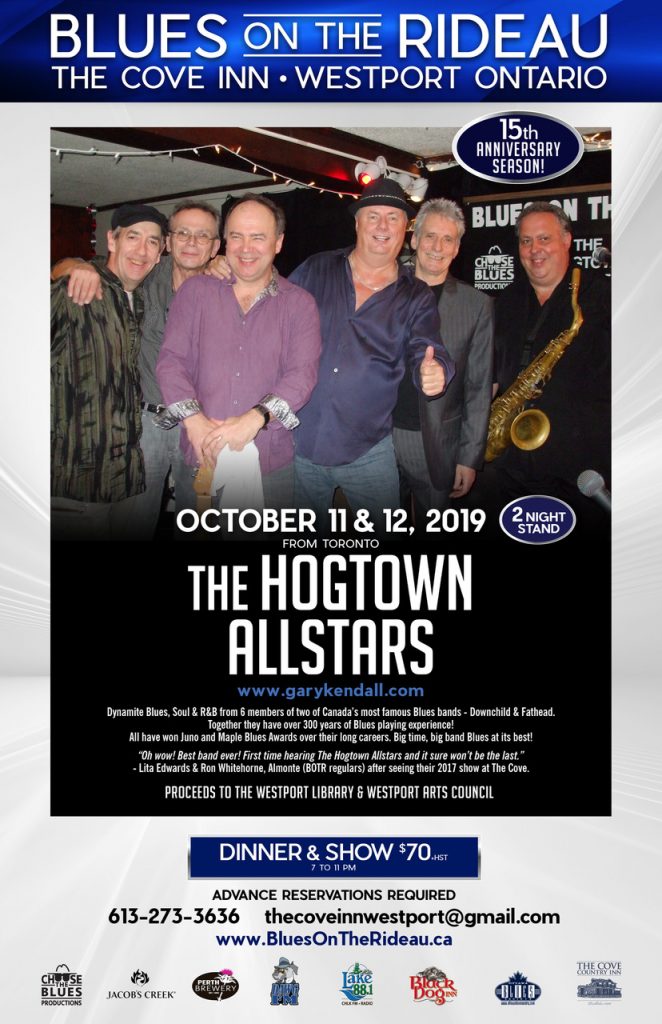 Fri.Oct.18 CLAUDIO VALENTINI (Classical Guitar feat. Jazz, Classical, Folk, Pop Classics, Ardoch) 11:30am-3pm www.claudiovalentini.com + AL LERMAN (Solo Acoustic Blues, Havelock) 6-9pm www.allermanmusic.com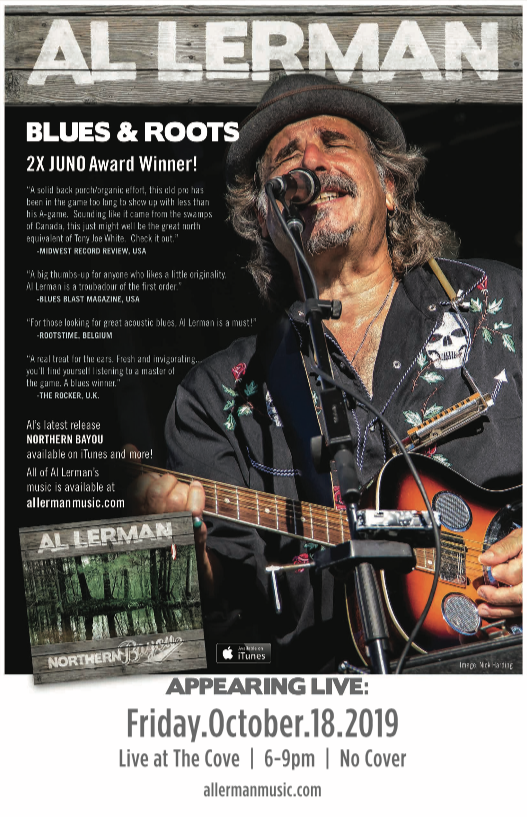 Sat.Oct.19 DAVE BALFOUR (Acoustic Folk/Rock, Westport) 6-9pm
Fri.Oct.25 YOUNG PETTY STONES "Ghosts of Woodstock" Halloween Costume Party! Prizes! (Musical Tribute to the Music of Neil Young, Tom Petty and The Rolling Stones, Kingston/Montreal/Westport) 7-11pm $50 + HST Buffet + Show www.facebook.com/youngpettystones
Sat.Oct.26 SPENCER EVANS "Mr. Jazz Night" (One Man Show playing All Styles of Music on Piano/Clarinet/Vocals, Kingston) 7-10pm https://musicfly.ca/kingston/artist/spencer-evans/
WEEKLY ENTERTAINMENT!
Every Wednesday RACK 'n TUNES + OPEN MIC with SHAWN McCULLOUGH 7-10pm (Country/Rock, Westport) Sing & Win a guitar!  www.reverbnation.com/shawnmccullough
Every Thursday JAZZ NIGHT with SPENCER EVANS SOLO (All Styles of Music!) 8-10pm Until Oct.10
Every Sunday until Oct.13 HEAD OVER HEELS (Acoustic Blues/Folk/Roots, Gananoque) 12:30-3:30pm www.kevinheadmusic.com
TRY OUR TAKE OUT MENU TOO!
***All Events Subject To Change. Please Call For Reservations***
For event info, go to Entertainment at www.coveinn.com 613.273.3636 thecoveinnwestport@gmail.com
The Cove Country Inn 1.888.COVE.INN @thecoveinn @thecovekitchenchronicles

Seamus Cowan
Manager
The Cove Country Inn
2 Bedford Street
Box 490
Westport,ON
K0G 1X0
thecoveinnwestport@gmail.com 
1.888.COVEINN
www.coveinn.com
Facebook, Instagram + Twitter @thecoveinn