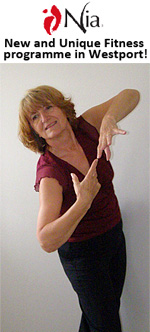 Join Barbara Carriere for two introductory sessions of her Nia Classes on July 11th at 6pm and July 12th at 9:30am at the Lions Club Beach. Special price of $5/person/class. Everyone is welcome.
Continuing on Saturdays at 9:30am are her classes at the ABC Hall in Bolingbroke. (3166 Bolingbroke Rd.) Bolingbroke is only 15 minutes from Westport when you follow County Rd 36. Drop-in to try a class or register for the summer session. Phone Barb at 613-273-7676 or email barb@icoachwellness.com.

A dynamic blend of martial arts, dance arts and healing arts. Nia is a path to condition, heal and express yourself through movement and music. Balancing technical precision with free-form expression Nia is for every body and every level of fitness. With the philosophy 'Through Movement We Find Health', Nia delivers a joy-filled, playful workout that addresses the whole person.