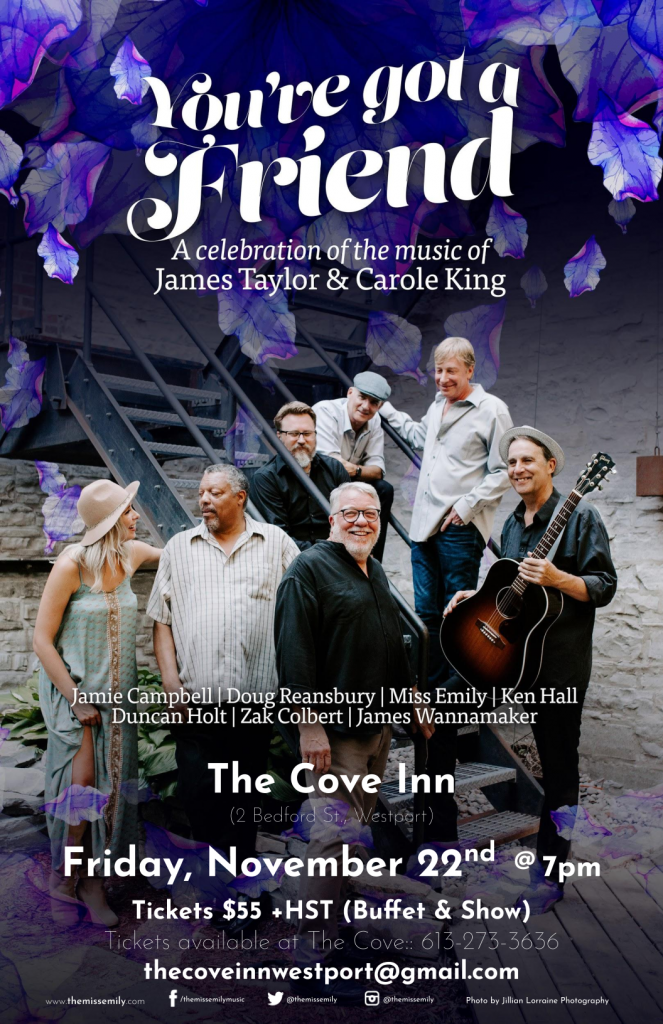 You've got a friend : a musical tribute to Carole King and James Taylor feat. Miss Emily
Such as successful band, we just have to have them back, again! It's hard to find the time now that Miss Emily is so busy! "You've Got a Friend" is a classic James Taylor/Carole King show made up of a collection of Kingston area musicians, all with an incredible depth of musical talent and experience, as well as a great love of James Taylor's and Carole King's music.
Miss Emily came across her mother's copy of Carole King's Tapestry album when she was nine years old. It changed her life forever, as a major inspiration for her fifteen years of work as a full-time singer and songwriter.
Doug Reansbury is a veteran of the pub and folk festival circuits since the late 1970's. He has a smooth, articulate guitar style that has seasoned over time. A stickler for sound, Doug tries to envelope the audience in a warm blanket of sound.
Jamie Campbell is a local singer-songwriter who has played for over 20 years with local original vocal trio Fireweed, as well as toured and written with Quebec artist Roch Voisine during his heydays in the 80s and 90s.
Bass player Zak Colbert was born in Buffalo, New York and is a self-taught musician who has toured with various show bands in the 70s and 80s, recorded with local artists Georgette Fry and Blue Monday and has completed many other studio sessions with local artists. He has also taught and coached music at his home, Renaissance Music and at St. Lawrence College.
Ken Hall is a keyboard-playing staple of the music scene in Kingston since the 1970s. Ken has performed with various artists, including Emily Fennell, Georgette Fry, Cliff Edwards, Jenica Raine, Dan Aykroyd, Laura Smith and Blue Monday. Ken also has extensive recording experience with many local artists.
Drummer Duncan Holt is the owner and engineer at Concept Audio, a major Kingston-based recording studio. Duncan has toured and played with local band "The Rain Kings" for years and has extensive experience playing with and producing local bands.
Sax player James Wannamaker has been a first call player in Kingston and Eastern Ontario for a few years now. He is a Humber College music grad and now teaches at Ardens Music Kingston. He is fluent in everything from Funk to Soul to Jazz to Blues to Pop and Bop performing with many great bands over the years such as Jenica Rayne, Funktion Junktion, Pico De Gallo, Sugar Sauce, Georgette Fry and Soul Survivors. James can been seen the second Tuesday of each month at Olivea's with his jazz band the Downtown Trio featuring Sean Jensen on drums and Noah St. Amand on bass (Turpin's Trail!).
"You've Got a Friend" covers the music from Carole King's famous Tapestry album, as well as many of James Taylor's classic songs from throughout his extensive career.
Date :
Friday, November 22, 2019 from 7-11pm
Event location :
The Cove
2 Bedford St.
Westport, Ontario K0G 1X0 Canada
Contact :
E-mail: thecoveinnwestport@gmail.com