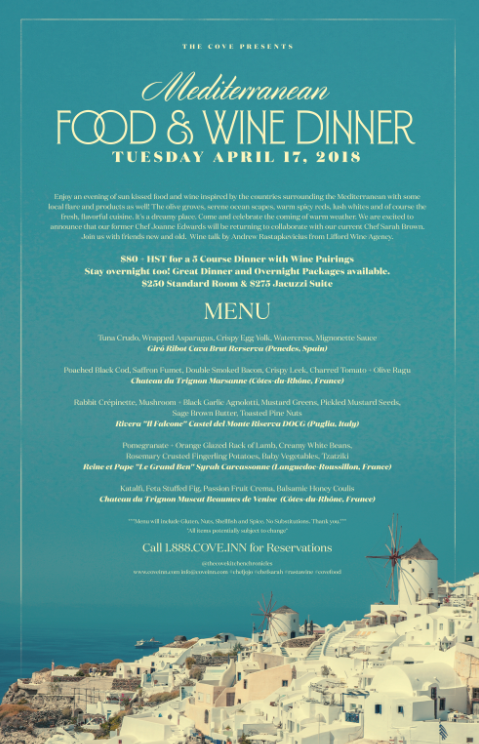 WOW!
We are so excited to announce that we are planning yet another in our series of seasonal Wine Dinners at The Cove. As many of you know, we have been hosting them for many years now and all have been wildly popular! Since Chef Joanne has left The Cove, we have been experiencing a successful transition to the new kitchen team co-led by Chef Sarah Brown. (Follow them @thecovekitchenchronicles on Instagram) For fun, we decided to offer a collaboration with Chef Sarah and Joanne to keep these nights happening. Read the result below…
Thanks so much for your support,
Seamus and all of us at The Cove
Tue.Apr.17.2018
The Cove Presents…
Mediterranean Food and Wine Dinner
Enjoy an evening of sun kissed food and wine inspired by the countries surrounding the Mediterranean with some local flare and products as well! The olive groves, serene ocean scapes, warm spicy reds, lush whites and of course the fresh, flavorful cuisine. It's a dreamy place. Come and celebrate the coming of warm weather. We are excited to announce that our former Chef Joanne Edwards will be returning to collaborate with our current Chef Sarah Brown. Join us with friends new and old.  Wine talk by Andrew Rastapkevicius from Lifford Wine Agency.
6-9pm
$80 + HST for a 5 Course Dinner with Wine Pairings
Stay overnight too! Great Dinner and Overnight Packages available.
$250 Standard Room & $275 Jacuzzi Suite.
MENU
Tuna Crudo, Wrapped Asparagus, Crispy Egg Yolk, Watercress, Mignonette Sauce
Giró Ribot Cava Brut Rerserva (Penedes, Spain)
Poached Black Cod, Saffron Fumet, Double Smoked Bacon, Crispy Leek, Charred Tomato + Olive Ragu
Chateau du Trignon Marsanne (Côtes-du-Rhône, France)
Rabbit Crépinette, Mushroom + Black Garlic Agnolotti, Mustard Greens, Pickled Mustard Seeds, Sage Brown Butter, Toasted Pine Nuts
Rivera "Il Falcone" Castel del Monte Riserva DOCG (Puglia, Italy)
Pomegranate + Orange Glazed Rack of Lamb, Creamy White Beans, Rosemary Crusted Fingerling Potatoes, Baby Vegetables, Tzatziki
Reine et Pape "Le Grand Ben" Syrah Carcassonne (Languedoc-Roussillon, France)
Katalfi, Feta Stuffed Fig, Passion Fruit Crema, Balsamic Honey Coulis
Chateau du Trignon Muscat Beaumes de Venise  (Côtes-du-Rhône, France)
***Menu will include Gluten, Nuts, Shellfish and Spice. No Substitutions. Thank you.***
*All items potentially subject to change*
Call 1.888.COVE.INN for Reservations.
@thecovekitchenchronicles
www.coveinn.com info@coveinn.com #chefjojo #chefsarah #rastawine #covefood