2019 WINTER EVENTS @ THE COVE!
Every Wednesday WINGS 'n TUNES + THE OPEN MIC with SHAWN McCULLOUGH (Country/Rock, Westport) Sing a tune and you could win a guitar! 6:30-9:30pm www.reverbnation.com/shawnmccullough
MARCH
Fri.Mar.1 JEFF CALLERY (Acoustic Rock/Country, Brockville) 6-9pm www.reverbnation.com/jeffcallery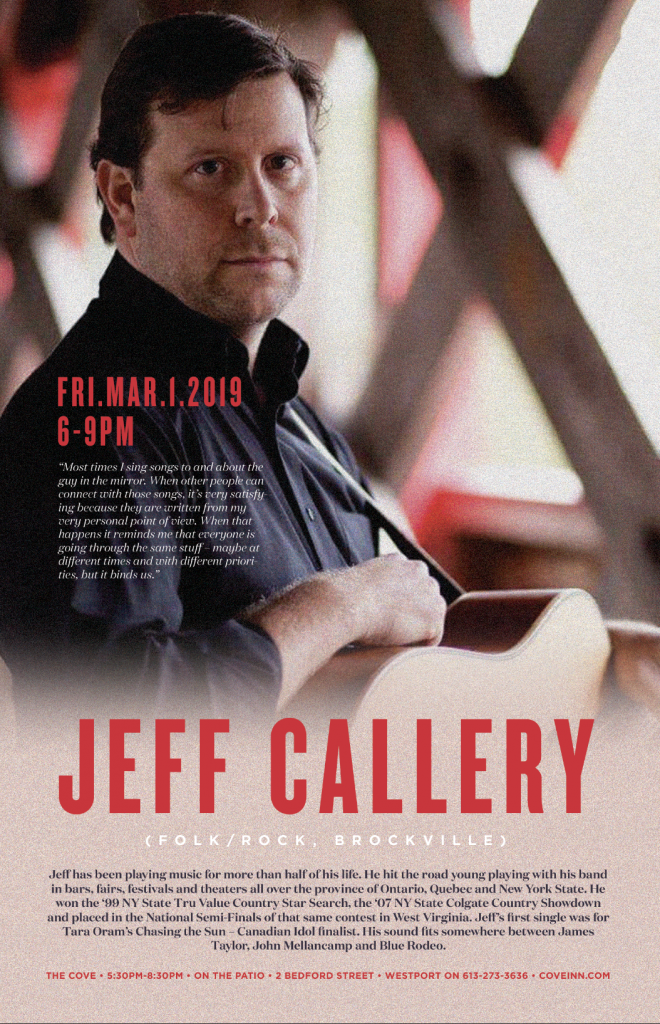 Sat.Mar.2 TOM WATSON (Oldies/Alternative/Folk/East Coast/Celtic, Perth) 6-9pm www.facebook.com/basedonwonder
Fri.Mar.8 TONY SILVESTRI (Classic Rock Keyboard Master, Belleville) 6-9pm www.facebook.com/tonysilvestrimusic
Sat.Mar.9 HEAD OVER HEELS (Acoustic Blues/Folk/Jazz Duo, Gananoque) 6-9pm www.kevinheadmusic.com
Fri.Mar.15 THE VALLEY SHANTYMAN (Country/Rock/Whatever, Mallorytown) 6-9pm www.whitewaterbrewing.com
Sat.Mar.16 "ST. PRACTICE DAY" with SHAWN McCULLOUGH + WADE FOSTER (Acoustic Irish/Country Duo, Westport/Perth) 7-10pm www.reverbnation.com/shawnmcculloughwww.wadefostermusic.com
Sun.Mar.17 ST. PADDY'S DAY with TURPIN'S TRAIL 2-6pm $10 www.turpinstrail.com
Fri.Mar.22 BLUES on the RIDEAU with RIA REECE BAND (Montreal) 7-11pm Buffet, Show + Charity $65 + HST www.bluesontherideau.ca www.riareeceband.com Reservations Only
Fri.Mar.29 BENNI VANDER (Classic Rock Keyboard Master, Belleville) 6-9pm @benni.vander
Sat.Mar.30 YUK YUK'S COMEDY NIGHT! feat. The Best in Canadian Comedy ("CANCOM"..) with Rob Bebenek, Jarrett Campbell + Dom Pare 7-11pm Buffet + Show $55 + HST Rob Bebenek Funny Business Jarrett Campbell Funny Business Dom Pare Funny Business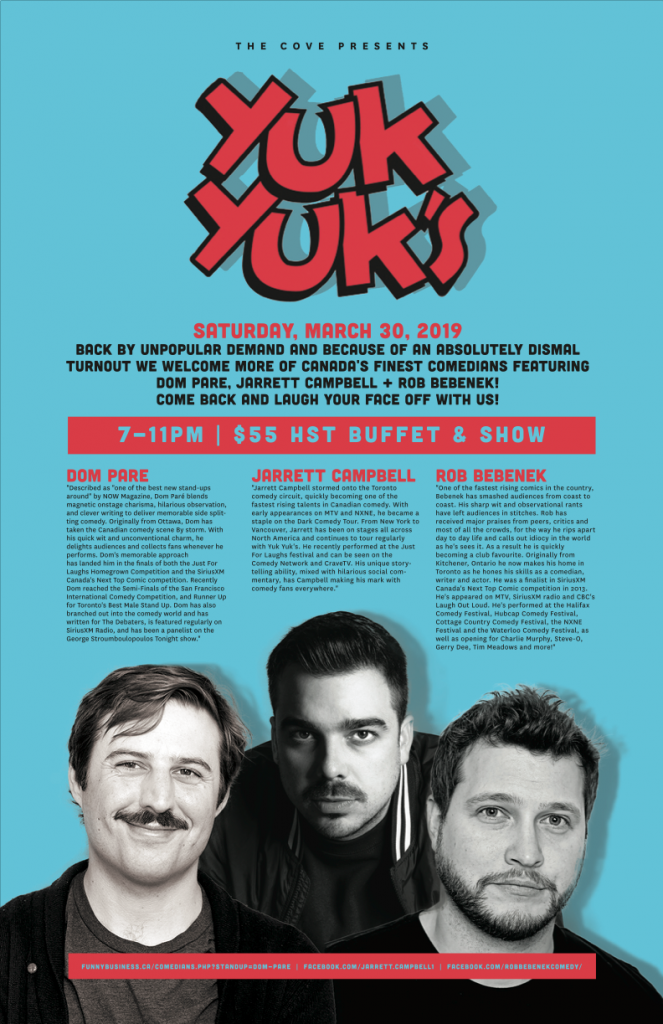 APRIL
Thu.Apr.4 PIEMONTE WINE DINNER: WINE & FOOD OF NORTHWESTERN ITALY 6-9pm $80 + HST for a 5 Course Dinner with Wine Pairings. Stay overnight too! Great Dinner and Overnight Packages available. $250 Standard Room & $275 Jacuzzi Suite.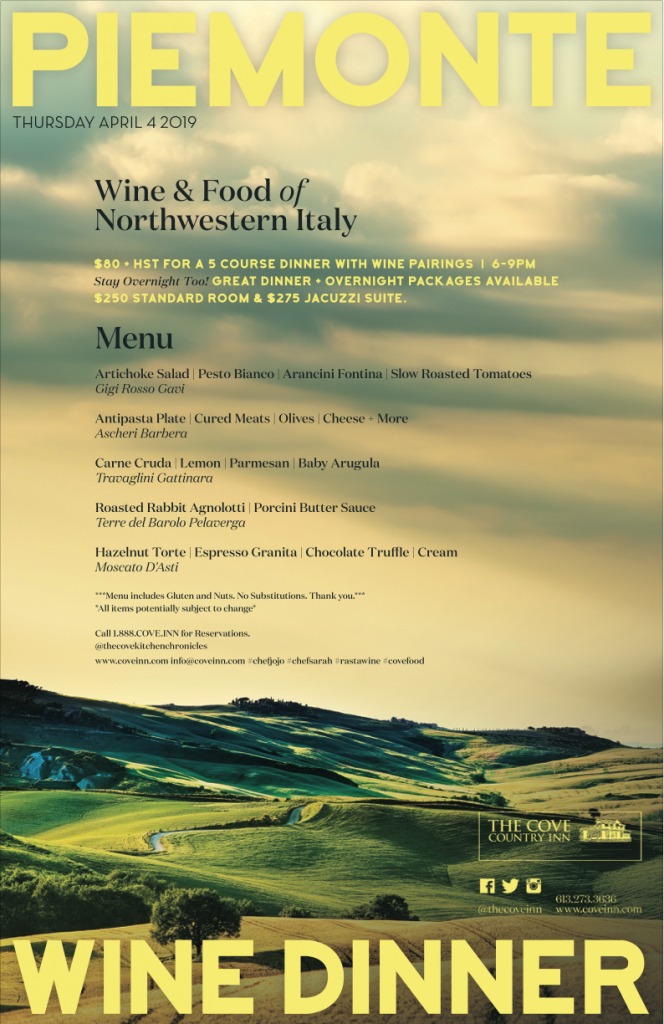 HOURS
Sun, Mon Tue + Thu 11:30am-8pm
Wed, Fri + Sat 11:30am-9pm
ALL DAY COMFORT FOOD MENU + TAKE OUT MENU TOO!
***All Events Subject To Change. Please Call For Reservations
For event info, go to Entertainment at www.coveinn.com
The Cove Country Inn 1.888.COVE.INN @thecoveinn @thecovekitchenchronicles