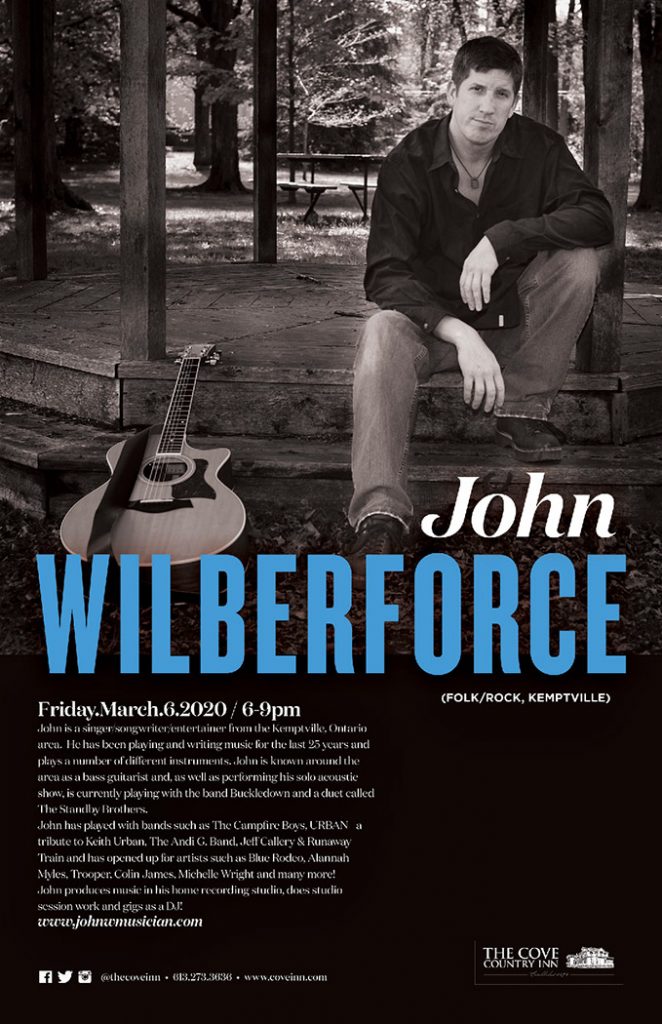 John Wilberforce is a singer/songwriter/entertainer from the Kemptville, Ontario area. He has been playing and writing music for the last 25 years and can play a number of different instruments. John is known around the area as a bass guitarist and, as well as performing his solo acoustic show, is currently playing with the band Buckledown and a duet called The Standby Brothers.
John has played with bands such as The Campfire Boys, URBAN – a tribute to Keith Urban, The Andi G. Band, Jeff Callery & Runaway Train and has opened up for artists such as Blue Rodeo, Alannah Myles, Trooper, Colin James, Michelle Wright and many more!
John produces music in his home recording studio and does studio session work. He plays bass guitar, acoustic and electric guitar, drums, keyboards, ukulele and sings lead and harmony vocals.
John will perform at The Cove on Friday March 6th from 6-9pm.
Date :
March 6, 2020 – 6:00 pm – 9:00 pm
Event location :
2 Bedford St.
Contact :
Website: www.johnwmusician.com