Hello friends of The Cove!
We are feeling the buzz of summer kicking in quite strongly already! Come and enjoy the patio, the outdoors, the entertainment, the food and/or a delicious drink!
Each weekend this month, we have an artist who is connected to some of the greatest Canada has ever produced! Steve Strongman (B.B. King, Buddy Guy, Johnny Winter)…Jamie Campbell (Roch Voisine)…Jason Kent (The Dears)…Terry Tufts (Wayne Ronstad, Susan Aglukark, Ian Tamblyn, George Fox)…Grant Fullerton (Lighthouse)…Paul Langlois (The Tragically Hip)…Chris Murphy (Sean McCann of Great Big Sea)…! Not only are they all great, but the artists the play with are as well! And, the other artists on other day are too! Enjoy!
Enjoy the summer menu too! Lamb Burger, Blackened Arctic Char and Watermelon Salad are all off to a great head start for the season…Follow the food @thecovekitchenchronicles
See you soon and be sure to check www.coveinn.com for event details, menus, room info and everything else. It's all there!
Seamus and all of us at The Cove in Westport, ON
SUMMER EVENTS @ THE COVE!
Every Wednesday RACK 'n TUNES + THE OPEN MIC with SHAWN McCULLOUGH (Country, Westport) 7-10pm www.reverbnation.com/shawnmccullough
Every Thursday JAZZ NIGHT with SPENCER EVANS Starts May.17 Every Thursday until Thanksgiving Weekend! DATES + HOURS: SPENCER SOLO May.17-Jun.14, Sept.13-Oct.4 8-10pm Free
SPENCER EVANS TRIO Jun.21-Sept.6 9-11pm $5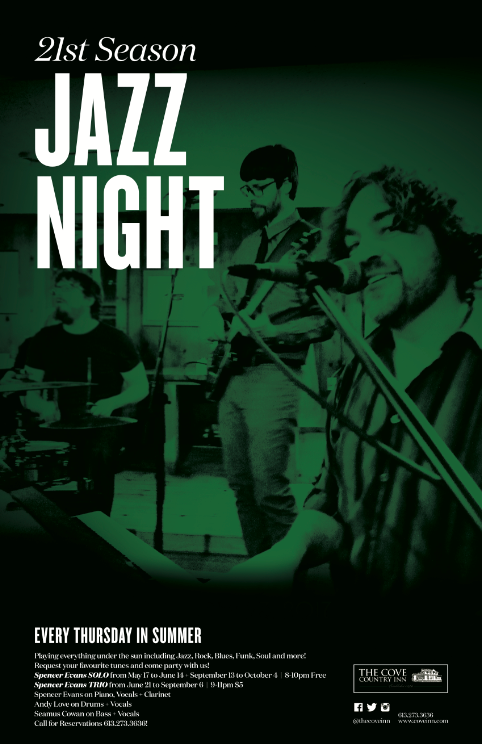 Every Sunday HEAD OVER HEELS on the PATIO A Summer Tradition! (Folk/Rock, Gananoque) 12:30-3:30pm www.kevinheadmusic.com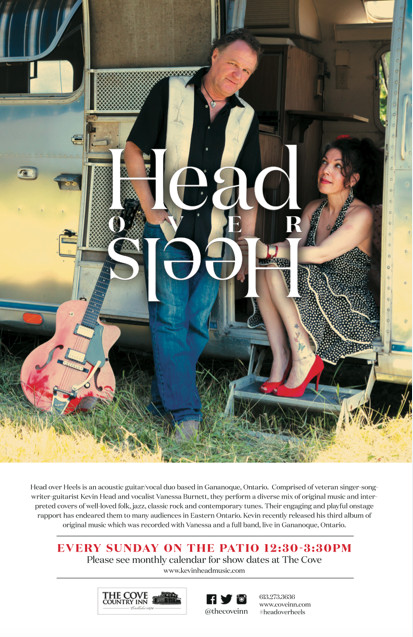 JUNE
Fri.Jun.1 TAYLOR ANGUS & LOGAN BROWN (Acoustic Soul, Perth) 6-pm www.taylorangusmusic.com
Sat.Jun.2 STEVE STRONGMAN Solo (JUNO Award Winning Blues, Hamilton) $45 + HST Buffet + Show www.stevestrongman.com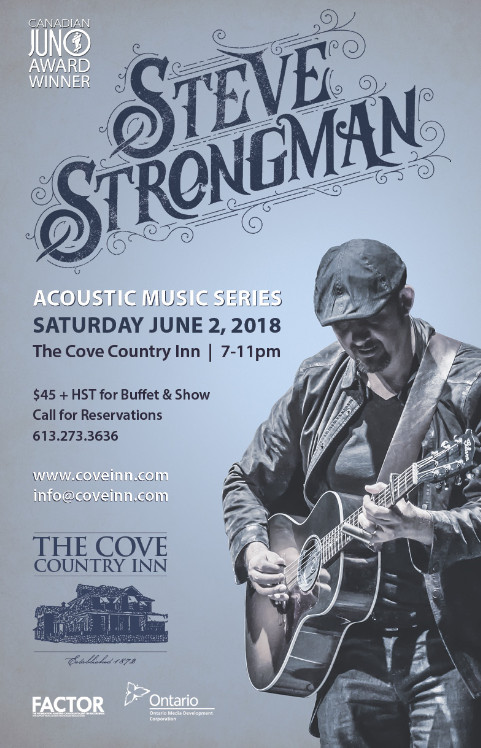 Fri.Jun.8 DAVE BALFOUR & JAMIE CAMPBELL (Folk/Rock, Westport/Lombardy) 6-9pm
Sat.Jun.9 YOUNG & PETTY: A Musical Tribute to TOM PETTY & NEIL YOUNG 7-11pm Buffet + Show $50 + HST
Tue.Jun.12 NORTH MEETS SOUTH WAC Fundraiser with Music by CHRIS MURPHY & BRIAN FLYNN of Turpin's Trail 6-9pm $50 + HST www.westportartscouncil.com
Fri.Jun.15 NHL/FOTA FUNDRAISER GALA feat. Music by 80s ENUFF! (80s Hits Tribute Band) $60 + HST Buffet, Show, Meet and Greet www.80senuff.net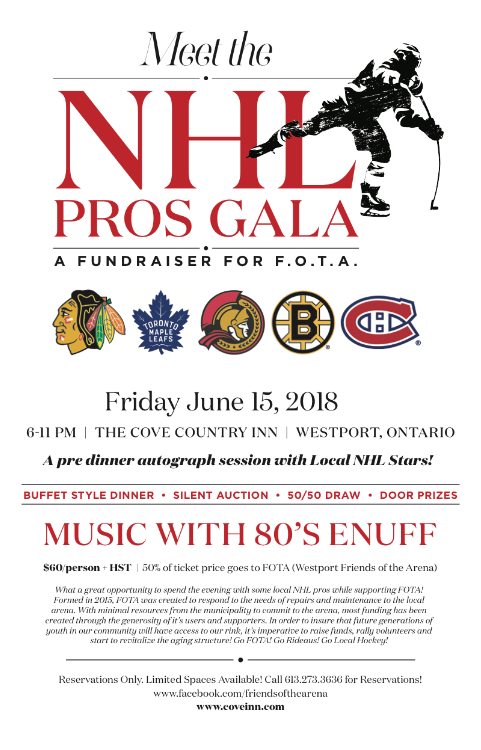 Sat.Jun.16 TERRY TUFTS (Acoustic Folk Guitar Master, Lanark) 6-9pm www.terrytufts.com
Fri.Jun.22 GRANT FULLERTON Formerly of Lighthouse 7-10pm $10 https://grantfullerton.weebly.com/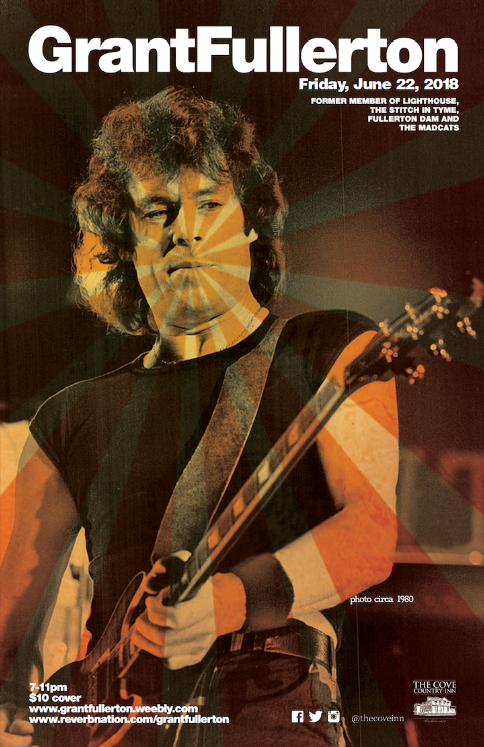 Sat.Jun.23 JOHN WILBERFORCE (Folk/Rock, Kemptville) 6-9pm www.johnwmusician.com
Fri.Jun.29 CAMPFIRE LIARS CLUB feat. PAUL LANGLOIS of The Tragically Hip (Original Folk/Rock, Kingston) 7-11pm $60 Buffet + Show www.facebook.com/PaulLangloisMusic www.gregball.ca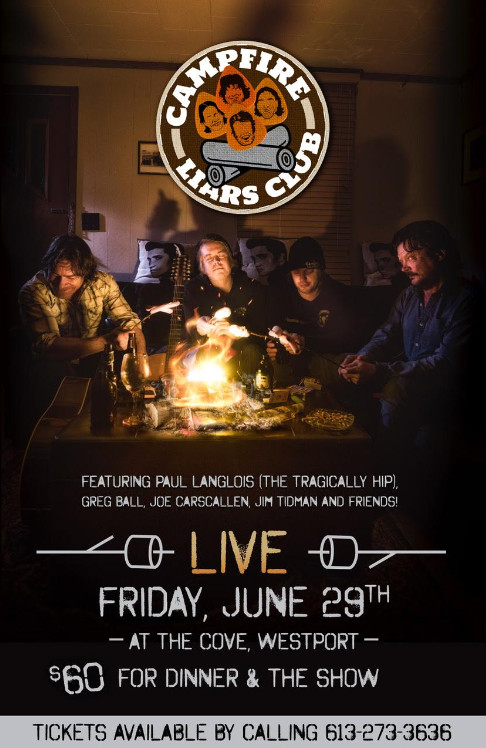 Sat.Jun.30 CANADA DAY PRE- PARTY with TURPIN'S TRAIL (Celtic/East Coast Folk, Kingston) 6-11pm $45 Buffet + Show http://www.turpinstrail.com
Sun.Jul.1 HEAD OVER HEELS with ZAK COLBERT on BASS! (Acoustic Folk/Blues/Jazz) 12:30-3:30pm + 6-9pm
HOURS – DAILY 11:30am-9pm
NEW SUMMER MENU OUT NOW + AVAILABLE FOR TAKE OUT!
All Events Subject To Change. Please Call For Reservations
For Event Info, go to Entertainment at www.coveinn.com
The Cove Country Inn 1.888.COVE.INN @thecoveinn @thecovekitchenchronicles