Come to The Cove in July! 
We just finished Canada Day Weekend at The Cove in the village of Westport and surrounding area!
The Fredenburgh House.
There is no one sadder than all of us at The Cove to see the demise due to a fire in January and subsequent of the beautiful Fredenburgh House , which we have  lived in and enjoyed for almost 35 years. You would have look at the structure and say it doesn't really look that damaged by the fire and you would be right. The experts tell us that more fire damage is done by water and smoke than by fire. Thousands of litres of water were pumped into the attic of the house to prevent the fire from spreading last January. The Fire Department did an admirable job under very difficult conditions. This water has lodged in the walls, ceiling and floors for months and, with warmer weather, is now resulting in mold and would have to be removed back to the frame if we were to restore the house. Estimators have put the cost in the millions and that is prohibitive to us financially. We hope you will understand and feel our pain as well. Thanks, and rest assured that, going into the future, we will make the Inn stronger and more appealing than it's ever been.
Mary, Terry and Seamus Cowan
Music and the Party
The weekly summer schedule is now here! There is music every week from Wednesday to Sunday! Some new artists, some returns and some completely out there! We had Manacanabo all lined up from Cuba on Jul.27 but they were denied their travel visas because of complications with immigration in Havana. We were so looking forward to them. We thank Ish Theilheimer for his hard work on trying. Perhaps sometime down the road soon. Check out our Events Calendar for July below OR online http://coveinn.com/index.php/events/
Food and Drink
Enjoy the new dishes on our all day menu! We have been enjoying serving exciting new bottles of wine, cans of beer, beers on tap and weekly signature cocktails to serve at The Cove! Very excited to have these new additions to go with your meal or on their own!
Don"t forget, buy 10 lunches, get one free! Ask your server to get your card!
Stay Social
Check us out online.
Facebook @thecoveinn
Instagram @thecoveinn
Follow our kitchen on Instagram! @thecovekitchenchronicles
WE HAVE A NEW EMAIL thecoveinnwestport@gmail.com
Thanks.
As always, we thank you for your interest and support and interest in our place!
JULY 2019 Events at The Cove
Fri.Jul.5 HENRY NORWOOD (Country) 7-10pm www.facebook.com/henrynorwoodartist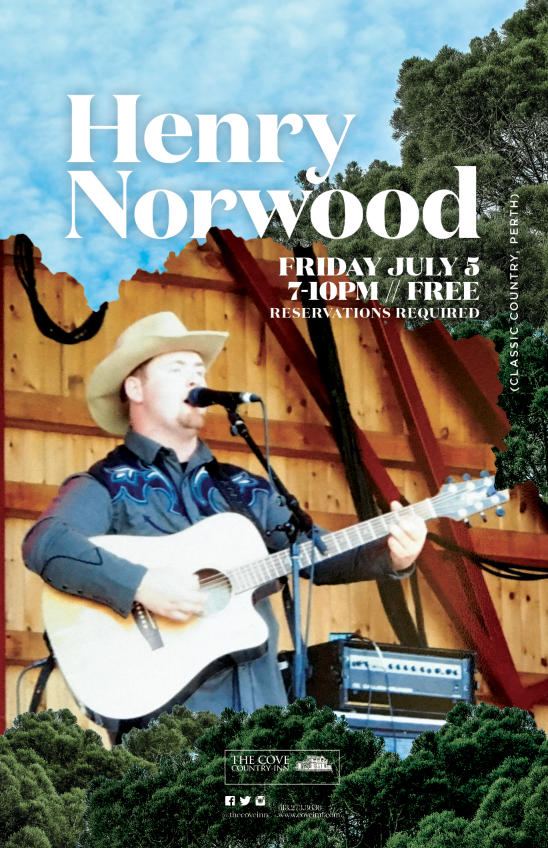 Sat.Jul.6 HEALY & ORR (Classic Rock 'n Roll, Rockville) 8-11pm $15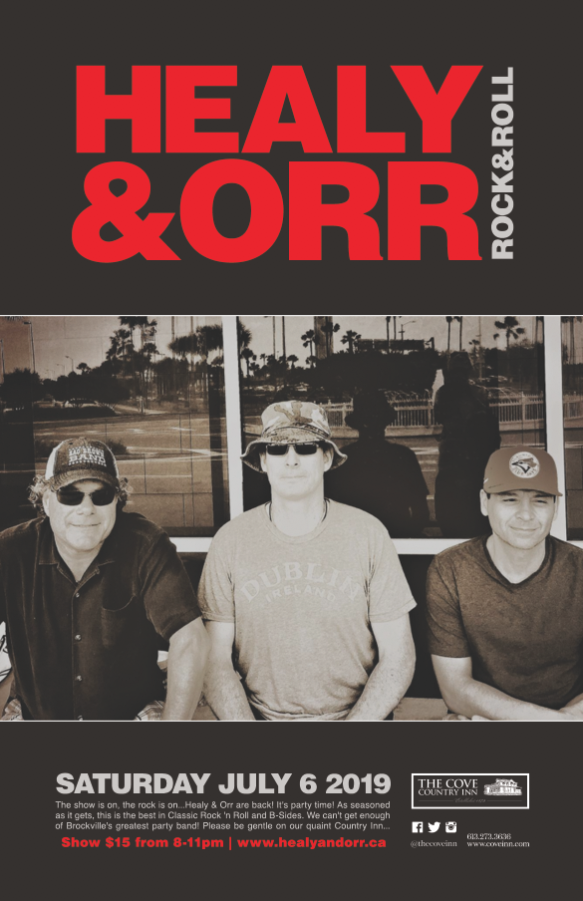 Fri.Jul.12 FÁNAID (Traditional Irish Music from Belfast, Ireland!) 7-10pm $10 www.facebook.com/fanaidmusic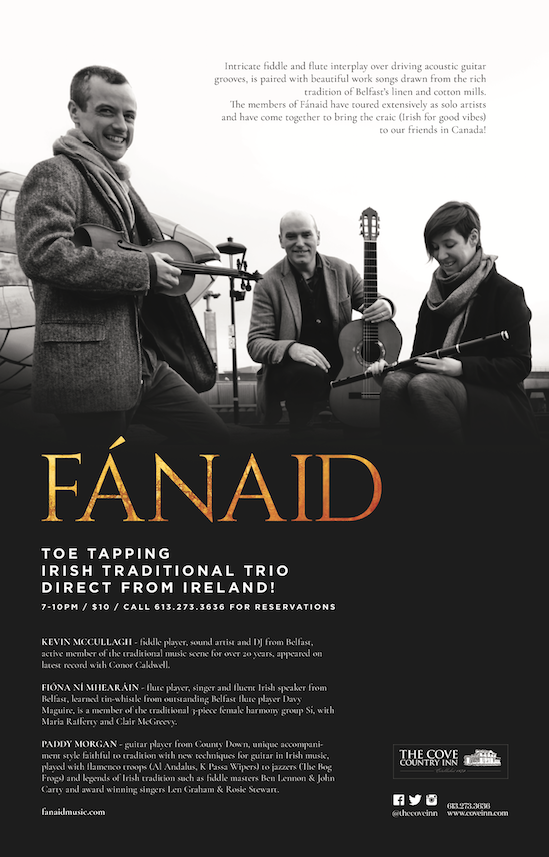 Sat.Jul.13 TONY SILVESTRI (Classic Rock, Belleville) 6-9pm www.facebook.com/mr.silvestri
Fri.Jul.19 BENNI VANDER (Classic Rock, Belleville) 6-9pm www.bennivander.com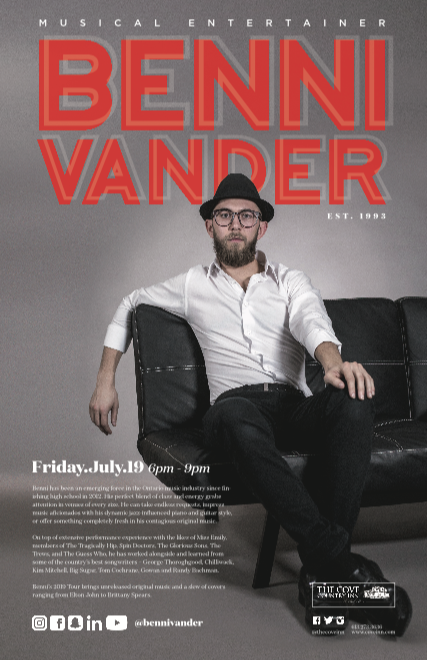 Sat.Jul.20 HENRY NORWOOD (Country) 8-11pm www.facebook.com/henrynorwoodartist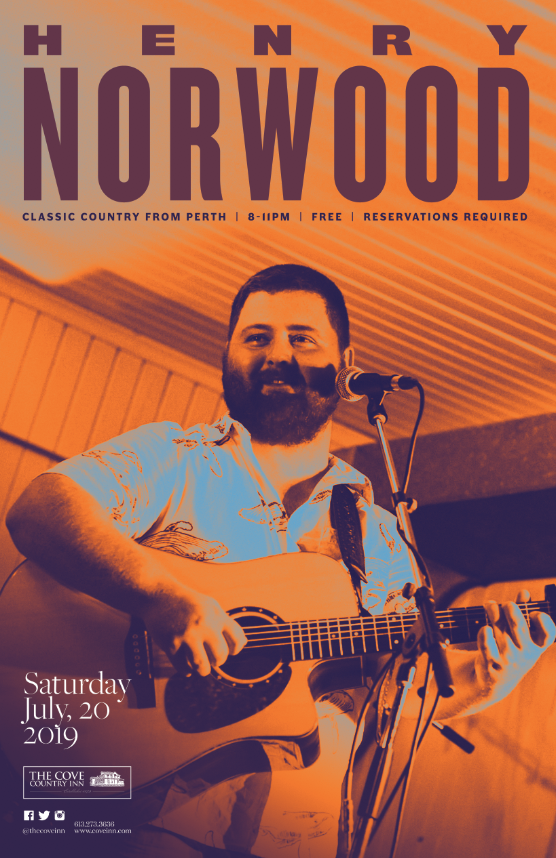 Fri.Jul.26 MORGAN DAVIS (Master Acoustic Blues, Halifax) 7-10pm $10 www.morgandavis.com 
Sat.Jul.27 IVOR SIMPSON KENNEDY (Delta Blues from Australia!) 6-9pm www.ivorsk.com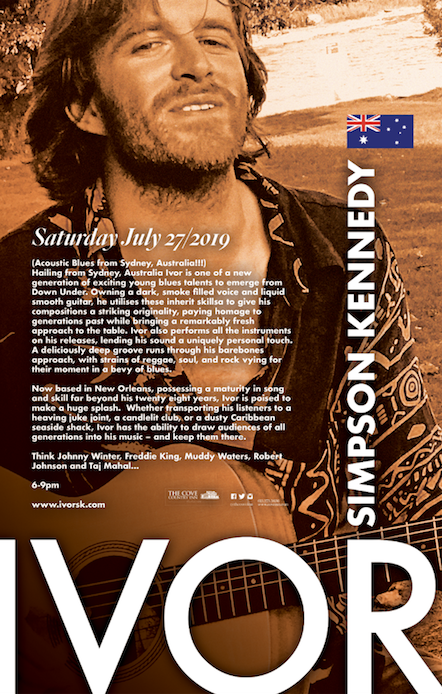 Every Wednesday RACK 'n TUNES + OPEN MIC with SHAWN McCULLOUGH 7-10pm
(Country/Rock, Westport) Sing & Win a guitar!  www.reverbnation.com/shawnmccullough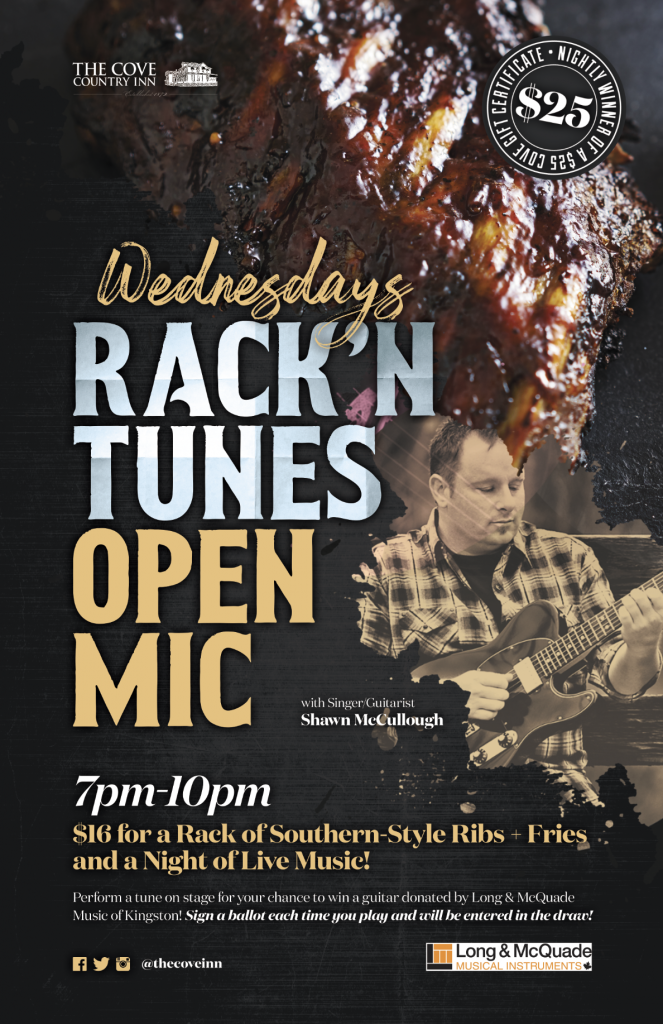 Every Thursday JAZZ NIGHT with SPENCER EVANS TRIO (All Styles of Music!) 9-11pm $5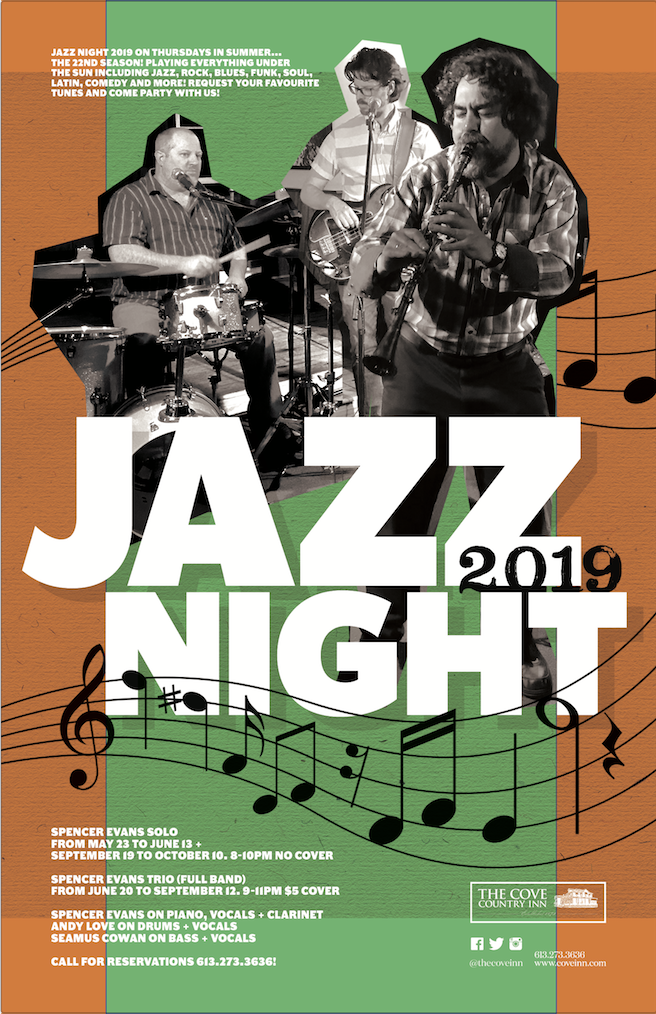 Every Sunday until Oct.13 HEAD OVER HEELS on the PATIO (Acoustic
Blues/Folk/Roots, Gananoque) 12:30-3:30pm www.kevinheadmusic.com
HOURS
Every Day 11:30am-9pm
TRY OUR TAKE OUT MENU TOO!
***All Events Subject To Change. Please Call For Reservations
For event info, go to Entertainment at www.coveinn.com 613.273.3636 thecoveinnwestport@gmail.com 
The Cove Country Inn 1.888.COVE.INN @thecoveinn @thecovekitchenchronicles