Every Wednesday RACK 'N TUNES with Shawn McCullough (Country/Guitar) 7-10pm (Except Jul.1)
Every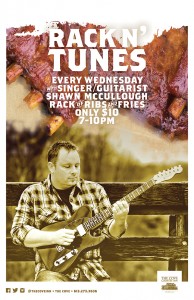 Wednesday RACK 'n TUNES with SHAWN McCULLOUGH (Westport) (guitar player/singer/alternative lyricist) to help you break up your week and give you a little social fix. Shawn has played and toured with Canadian Country star Jason McCoy and has been a part of Telecaster supergroup, The Telebastards, featuring Steve Piticco. His is highly in demand as a session and sideman and has incredible skill, wit and stage presence. He has a solo record to his name "This is Me" and is currently performing with rising Country star Brea Lawrenson.
One Rack of Ribs with Fries $10… 7-10pm www.reverbnation.com/shawnmccullough
Every Thursday JAZZ NIGHT with Spencer Evans Trio 9-11pm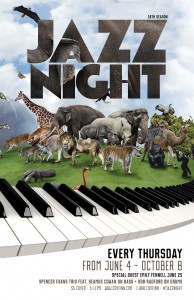 EMILY FENNELL!!! One night only…
She is the soul singing diva of Kingston and area! Don't miss a special night with THE Miss Emily! 9-11pm www.themissemily.com
JAZZ NIGHT with SPENCER EVANS TRIO The Cove Inn hosts one of the most original and memorable Live Music Experiences you'll have! The Popular Spencer Evans Trio with Rob Radford on drums, Seamus Cowan on bass and Spencer Evans on piano, clarinet and vocals has proven a formidable three performing all styles of music to huge crowds of all ages. The party has been going for over 19 years now! Join us for dinner too… The Trio plays select dates throughout the fall until the spring and EVERY THURSDAY from late spring to Thanksgiving Long Weekend. Call The Cove 1.888.COVE.INN to make reservations and confirm dates. SPENCER EVANS was born in Picton, grew up around the Quinte area, and graduated from B.C.I. Spencer plays piano, clarinet, accordion, sings, dances, prances and has been a professional musician for the past 15 years. He has played Bermuda to Bosnia, New Orleans to the North Pole, and has recorded and toured with The Cowboy Junkies, Sarah Harmer and Pat Temple, and has performed with Jeff Healey, Dan Aykroyd, Willie P. Bennett, Jack Mahieu, Alex Pangman, Maria Muldaur, and Toronto's Swing Gang, among countless others. Spencer has appeared on the Tonight Show with Jay Leno, CBC Radio's The Vinyl Café with Stuart McLean, MUCHmusic and CMT. A resident of Kingston for several years, Spencer keeps busy playing with numerous local bands such as Bloom, Pico de Gallo, Ghetto Xpress, The River Cats and various jazzy combos. SEAMUS COWAN plays the low bass and sings the high notes…Kind of strange but it works. Has played all kinds of music in his career so he fits right in. ROB RADFORD has a solid synergy with the boys. His drumming is some of the best around and his ferocity is difficult to tame, behind the kit that is. Together, the trio are a powerful combination. Enjoy them weekly in the summer months! JAZZ NIGHT will continue EVERY THURSDAY from Jun.4-Oct.8! 9-11pm $5 Reservations recommended!!!
Every Sunday HEAD OVER HEELS on the Patio (Vocal/Guitar Duo) 12:30-3:30pm
Sat.Jul.11 HEAD OVER HEELS (Vocal/Guitar Duo) 6-9pm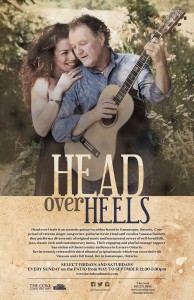 HEAD OVER HEELS (Gananaoque, (Vocal/Guitar Duo) Bask in the sunshine with amazing entertainment! Kingston's Kevin Head is an accomplished singer, songwriter, musical director and actor. Formerly from Nova Scotia, where he still has close ties, and once called "The Original Salt Cod Cowboy", Kevin toured extensively throughout the Maritimes with bands, theatre troupes and as a solo performer/singer, songwriter. He has performed in shows with Valdy, Charlie Major, The Rankins, Gowan, opened a cross-Canada tour for Chris DeBurgh, acted on stage with the late Denny Doherty, and over the years has had lovely musical contributions on his recordings from Ken Pearson (Janis Joplin, Bruce Cockburn), Willie P Bennett, and Kate McGarrigle. Kevin's most recent appearances include a mainstage appearance at the 2012 Blue Skies Festival in Clarendon, hosting the 2012 edition of Liner Notes Live Songwriter Circle, 2012 Limestone City Blues Festival, opening for Alex Cuba with the Bob Robertson Trio as part of the Limewire music series in 2011, and numerous solo appearances and performances with his duo "Head over Heels" in the Kingston, Gananoque and Westport areas. He recently releases a new CD of LIVE material recorded October 2013 with his band and life/musical partner MISS V with whom he performs regularly her at The Cove! 12:30-3:30pm www.kevinheadmusic.com
Fri.Jul.3 YOUNG PETTY STONES: Music of Neil Young, Tom Petty + The Rolling Stones 8-11pm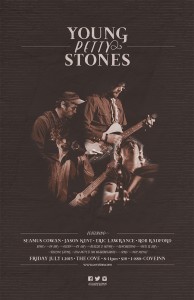 Young Petty Stones: Musical Tribute to Neil Young, Tom Petty & The Rolling Stones
July 3 @ 8:00 am – 11:00 pm | $10
Fri.Jul.3
YOUNG PETTY STONES: A Musical Tribute to Neil Young, Tom Petty and The Rolling Stones.
Revel in the Glory of all things Rock and Roll. 3 Sets of music played by Seamus Cowan (Spoon River, Bullmoose, The High Dials), Jason Kent (Kandle & The Krooks, Sunfields, Spoon River, The Dears), Eric Lawrance (Bullmoose, Ladies of the Canyon) and Rob Radford (Rueben DeGroot, Miss Emily, Greg Ball)!
8-11pm
$10
Reservations necessary…
Sat.Jul.4 JEFF CALLERY (Country/Rock Guitar) 6-9pm

JEFF CALLERY (Rock/Folk/Guitar)
July 4 @ 6:00 pm – 9:00 pm
Jeff has been playing music for more than half of his life. Starting in high school, he hit the road young and played in every bar, at every fair, festival and theater that would hire him and his bands all over the province of Ontario, Quebec and New York State.
Never afraid to put his music and performance out there for all to see and critique, Jeff has won and placed honorably in contests all over North America – both for his performance and songwriting.
In 1999 Jeff won the New York State Title for the True Value Home Hardware Country Star Search. In 2007, Jeff won the New York State Title for the Colgate Country Showdown and placed respectably in the National Semi-Finals of that same contest in West Virginia.
In 2008, Jeff had his first single cut as a songwriter by a finalist of the famed "Idol" franchise and it was included on her debut album – Tara Oram's Chasing the Sun – Canadian Idol finalist.
He is a married father of 2. His family is his life. He is also a dedicated community volunteer and Rotarian.
When asked about his music, he says he likes to think of it somewhere between James Taylor, John Mellancamp and Canadian hit band Blue Rodeo.
"I just like to make music. Every song is about me or someone in my life. Most times I sing songs to and about the guy in the mirror. When other people can connect with those songs, it's very satisfying because they are written from my very personal point of view." "When that happens it reminds me that everyone is going through the same stuff – maybe at different times and with different priorities, but it binds us."
"The songs say more about me than any bio could!" says Callery
Thu.Jul.9 HELEN HUMPREYS (New York Times Bestselling Author) 4-6pm
HELEN HUMPHREYS (Author/Poet Laureate)
July 9 @ 4:00 am

 – 

6:00 pm

| $10
Thu.Jul.9
AN AFTERNOON WITH HELEN HUMPHREYS
Tickets available at The Cove and any Rideau Lakes Public Library Branch. Enjoy a cash bar, cheeses and appetizers, reading and book signing.
4-6pm
$10 (all proceeds go to Friends of Rideau Lakes Public Library)
Make a reso for Jazz Night after the reading!
friends.rideaulakeslibrary@gmail.com
hhumpreys.com
Helen Humphreys is the author of four books of poetry, six novels, and two works of creative non-fiction. She was born in Kingston-on-Thames, England, and now lives in Kingston, Ontario.
Her first novel, Leaving Earth(1997), won the City of Toronto Book Award and was a New York Times Notable Book of the Year. Her second novel, Afterimage (2000), won the Rogers Writers' Trust Fiction Prize, was nominated for the Commonwealth Writers' Prize, and was a New York Times Notable Book of the Year. Her third novel, The Lost Garden (2002), was a 2003 Canada Reads selection, a national bestseller, and was also a New York Times Notable Book of the Year. Wild Dogs (2004) won the Lambda Prize for fiction, has been optioned for film, and was produced as a stage play at CanStage in Toronto in the fall of 2008. Coventry (2008) was a national bestseller and was shortlisted for the Trillium Book Award and the Canadian Authors Association Award for Fiction. It was also a New York Times Editors' Choice. The Reinvention of Love (2011) was longlisted for the Dublin Impac Literary Award and shortlisted for the Canadian Authors Association Award for Fiction. Her latest novel, The Evening Chorus was published in February of 2015.
Humphreys' work of creative non-fiction, The Frozen Thames (2007), was a #1 national bestseller. Her collections of poetry include Gods and Other Mortals (1986); Nuns Looking Anxious, Listening to Radios (1990); and, The Perils of Geography (1995). Her most recent collection, Anthem (1999), won the Canadian Authors Association Award for Poetry. Her most recent work of non-fiction is Nocturne (2013), a memoir about the life and death of her brother, Martin.
In 2009 Helen Humphreys was awarded the Harbourfront Festival Prize for literary excellence.
Helen Humphreys' fiction is published in Canada by HarperCollins, and in the U.S. by W.W. Norton and Harcourt Houghton Mifflin. Her UK publisher is Serpent's Tail and her Italian publisher is Playground.
Fri.Jul.10 LUTHER WRIGHT (Bluegrass/Country/Folk/Guitar) 6-9pm
LUTHER WRIGHT (Bluegrass/Country/Guitar)
July 10 @ 6:00 pm – 9:00 pm
Fri.Jul.10
Luther Wright! (Bluegrass/Country Hero!)
6-9pm
www.lutherwright.com
Luther Wright has been writing, recording and performing music for over 20 years now. He started out in a band with his talented songwriter brother Geordie in the garage/punk, vigilante vegetarian outfit The Mugworts who honed their chops while traveling in Mexico and playing to gringos and locals alike. In 1994 he joined up with his friends Sarah and Mary Harmer to play lead guitar in the Canadian, pop-rock band, "Weeping Tile" (WEA/Atlantic). It was during the next 5 years of full-on touring and recording with that band that Luther, Weeping Tile drummer Cam Giroux and his roots compadres Sean Kelly and Dan Curtis formed the now-renowned, country/punkgrass road daemons, "Luther Wright & The Wrongs". Known on one hand for their brilliantly executed, country/bluegrass reworking of Pink Floyd's classic The Wall, Luther and the band have also recorded and released five all-original albums, Hurtin' For Certain (1997), Rogers Waltz (1999), the valentine gone awry, Guitar Pickin' Martyrs (2003), Instrumentality(2005), Man of Your Dreams (2008). Also to boot, they made two cds of original children's music under the guise of Butterfingers. From its release internationally in 2001, Rebuild the Wall (Universal/Backporch), opened up doors for 'the Wrongs to play over 500 shows of old-country, inspired music across the continent. Luther's music is used in the CTV television show, "Robson Arms", and his song "Tumbler Ridge" is part of the soundtrack in Ron Mann's documentary film about Woody Harrleson entitled, "Go Further". At the request of the Goodman family Luther contributed a version of "The City Of New Orleans", to a wonderful album that pays tribute to folk legend Steve Goodman. He is currently recording a new album produced by Chris Brown (Bourbon Tabernacle Choir/Chris Brown & Kate Femner) and touring steadily around North America as well as producing music locally and presenting shows when the feeling is right.
Fri.Jul.17 JOHN WILBERFORCE (Country/Rock Guitar) 6-9pm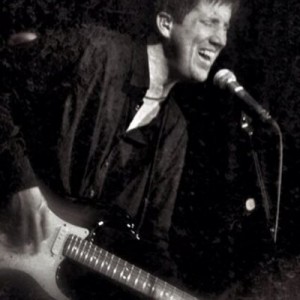 JOHN WILBERFORCE (Country/Rock/Guitar)
July 17 @ 6:00 pm – 9:00 pm
Fri.Jul.17
John Wilberforce (Country/Rock/Guitar)
6-9pm
www.reverbnation.com/johnwilberforce
John Wilberforce is a singer/songwriter, guitarist and bassist from Oxford Station, ON. He is currently in the studio recording pre-production demos for his up-coming full length CD.
He has worked with Shawn McCullough's Country outfit, DoubleBack and Keith Urban Tribute group URBAN, as well as with Wade Foster, Jeff Callery and more. He has toured like a man possessed but spends most of his time with studio production and session work. Great man, great sound.
Fri.Jul.24 DAY TRIPPER: Music of The Beatles 8-11pm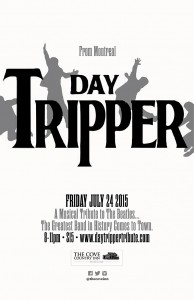 Day Tripper: Tribute to The Beatles from Montreal
July 24 @ 8:00 pm – 11:00 pm | $10
Fri.Jul.24
DAY TRIPPER: Musical Tribute to THE BEATLES from Montreal
One of Canada's great Featuring members of The Dears, Krief, Sunfields, Kandle & The Krooks, Spoon River and more…
8-11pm
$15
www.daytrippertribute.com
ACT 1 … BEATLEMANIA
1964… Four lads from liverpool ignite the stage of the Ed Sullivan theater. Their toe-tapping catchy hits, their casual wit and their unforgettable charm win the hearts of teenagers all over the world.
The cast captures the raw energy and playful spontaneity of The Beatle's earliest performances, as Beatlemania took the world by storm. Every nuance of these performances has been painstakingly recreated. Perfect replicas of the Fab Four's "Hard Days Night" suits, note-for-note 3 part harmonies and exact instrumentation leave even the most scrutinizing fans impressed.
The mannerisms, vocals, accents and personalities have never been so faithfully reproduced. You will feel what it was like to have been there.
ACT 2 … SHEA STADIUM
By 1965, The Beatles were on top of the world, in the midst of world tours, movie sets, dining with royalty, recording studios, they were jet setting across continents.
In the studio, they were pushing the creative limits of popular music into new found territory. Lyrics took on deeper meanings, and the addition of heavy orchestration and studio effects became more and more common. Technology at the time did not permit The Beatles to reproduce many of these newer songs on stage.
Using state of the art orchestral sounds and live effect processing, The Beatles Experience ignite the stage to recapture the days of Help, Rubber Soul and Revolver in stunningly perfect detail.
ACT 3 … SGT. PEPPER'S
By August 1966, frustrated with the hardships of touring and fuelled by experimentation, the Beatles decided to stop touring and focus their efforts in the studio.
Sgt. Pepper's Lonely Hearts Club Band completely re-invented the concept of pop music. Free from the constraints of having to perform their music live, The Beatles were able to let their creativity soar, creating sounds no one had ever heard.
Many of these songs remain, to this day, nearly impossible to perform live. Using state of the art orchestral sounds and live effect processing, The Beatles Experience reproduces every one of these songs perfectly, live before your eyes, without any prerecorded background music!
Songs like "A Day in the Life" and "Strawberry Fields Forever" sound so close to the album, you won't believe your ears.
ACT 4 … SOLO ACOUSTIC
By 1968, their songwriting became less collaborative and more personal. Many of the songs written for the 'White Album' were written while in India with an acoustic guitar.
Paul was showcasing his independence as a writer and performer through songs like "Blackbird" and "Mother Nature's Son", George was becoming every bit as credible a songwriter with classics like "While My Guitar Gently Weeps", and John was quickly becoming an unwavering political activist.
In this intense and intimate part of the show, share a rare one-on-one moment with each member, before John Paul George and Ringo take the stage together again, one last time.
ACT 5 … ABBEY ROAD
Although Beatlemania was coming to an end and The Beatles were growing further apart, many regard this stage of their career as their best.
The highly experimental White album, the back to basics rock and roll attitude of Let it Be, and their refined swan song Abbey Road encompass everything they had learned over their remarkable career.
High energy songs like "Back in the USSR", "Get Back" and "Revolution" and captivating performances such as "Dear Prudence" and "Let It Be" mark the climax of this incredibly intense show.
Experience The Beatles together again in their finest… and final hours.
Sat.Jul.25 STRINGTEASE (Gypsy/Folk/Blues) 6-9pm
STRINGTEASE (Westport, Gypsy/Blues/Folk)
July 25 @ 6:00 pm – 9:00 pm
STRINGTEASE (Westport, Gypsy/Blues/Folk) StringTease with Chuck Gobeil (vocal/mandolin, Carolyn Avery (vocal/accordian), Dave Pollard (vocal/acoustic guitar) and Dawson Willsey (vocal/upright bass). Come and get in a trance with their hypnotic trail of Gypsy, blues and folk sounds… 6-9pm