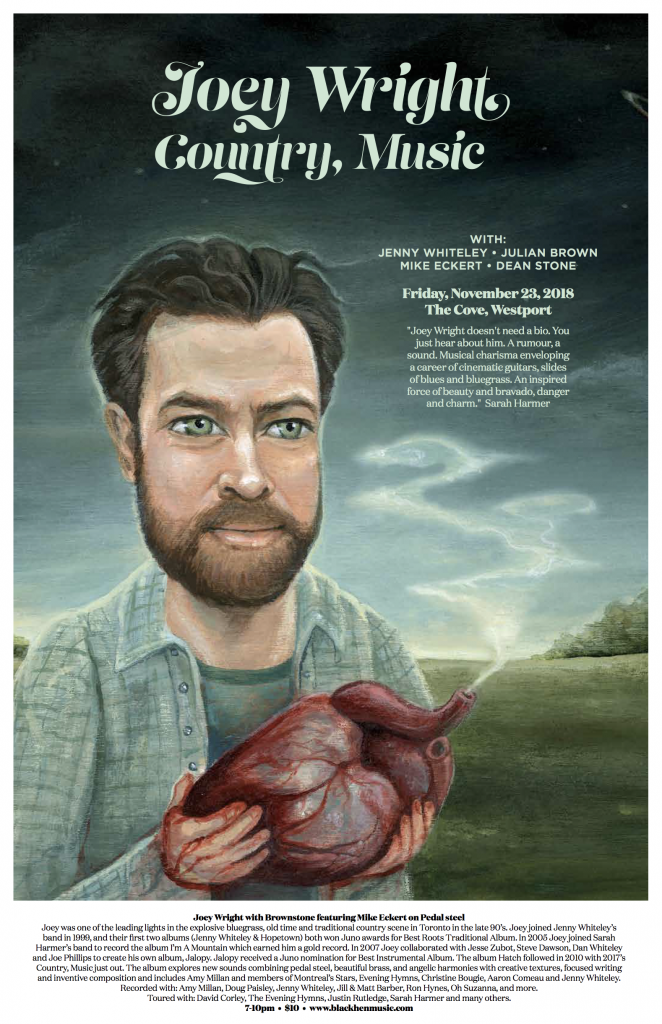 Joey was one of the leading lights in the explosive bluegrass, old time and traditional country scene in Toronto in the late 90's. Joey joined Jenny Whiteley's band in 1999, and their first two albums (Jenny Whiteley & Hopetown) both won Juno awards for Best Roots Traditional Album.
In 2005 Joey joined Sarah Harmer's band to record the album I'm A Mountain which earned him a gold record. In 2007 Joey collaborated with Jesse Zubot, Steve Dawson, Dan Whiteley and Joe Phillips to create his own album, Jalopy. Jalopy received a Juno nomination for Best Instrumental Album. The album Hatch followed in 2010 with 2017's Country, Music just out.
The album explores new sounds combining pedal steel, beautiful brass, and angelic harmonies with creative textures, focused writing and inventive composition and includes Amy Millan and members of Montreal's Stars, Evening Hymns, Christine Bougie , Aaron Comeau and Jenny Whiteley.
Cost: $10.
Date :
November 23, 2018 from 7 to 10pm
Event location :
The Cove
2 Bedford St.
Westport, Ontario K0G 1X0 Canada
Contact :
Website: http://www.blackhenmusic.com/