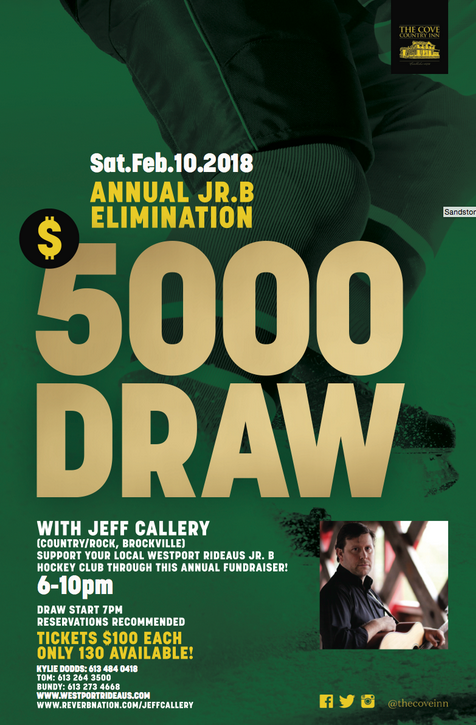 Support your local Westport Rideaus Jr. B Hockey Club through this annual fundraiser!Music starts 6pm;
Draw
start 7pm.
Tickets $100 each for the draw. Only 130 available! Contact Marty Hawkins, Tom Dodds or Bundy Seed.
ENTRY IS FREE!!!
Never afraid to put his music and performance out there for all to see and critique, Jeff has won and placed honorably in contests all over North America – both for his performance and songwriting.
In 1999 Jeff won the New York State Title for the True Value Home Hardware Country Star Search. In 2007, Jeff won the New York State Title for the Colgate Country Showdown and placed respectably in the National Semi-Finals of that same contest in West Virginia.
In 2008, Jeff had his first single cut as a songwriter by a finalist of the famed "Idol" franchise and it was included on her debut album – Tara Oram's Chasing the Sun – Canadian Idol finalist.
When asked about his music, he says he likes to think of it somewhere between James Taylor, John Mellancamp and Canadian hit band Blue Rodeo.
Date :
Saturday, February 10, 2018 from 6 to 9pm
Event location :
The Cove
2 Bedford St.
Westport, Ontario K0G1X0 Canada
Contact :
Phone: 613.273.363
Website: www.coveinn.com
http://www.westportrideaus.pointstreaksites.com/