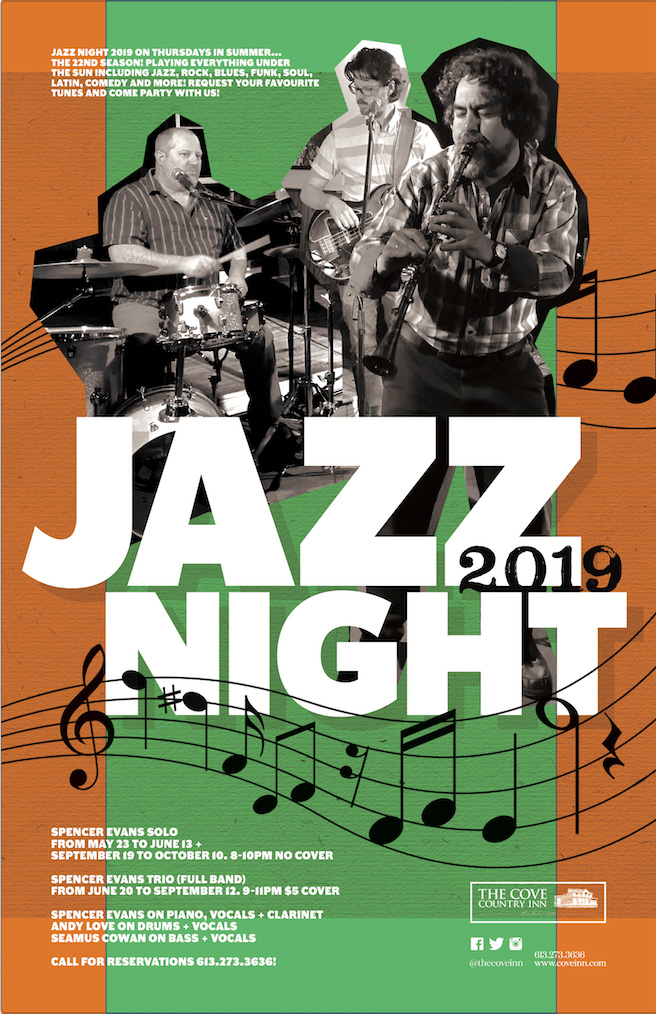 The Cove Inn hosts one of the most original and memorable Live Music Experiences you'll have! The Popular Spencer Evans Trio with Andy Love on drums, Seamus Cowan on bass and Spencer Evans on piano, clarinet and vocals has proven a formidable three performing all styles of music to huge crowds of all ages. The party has been going for over 21 years now! Join us for dinner too… The Trio plays select dates throughout the year and EVERY THURSDAY from Victoria Day Weekend to Thanksgiving Long Weekend. Call The Cove 1.888.COVE.INN to make reservations and confirm dates.
SPENCER EVANS was born in Picton, grew up around the Quinte area, and graduated from B.C.I. Spencer plays piano, clarinet, accordion, sings, dances, prances and has been a professional musician for the past 15 years. He has played Bermuda to Bosnia, New Orleans to the North Pole, and has recorded and toured with The Cowboy Junkies, Sarah Harmer and Pat Temple, and has performed with Jeff Healey, Dan Aykroyd, Willie P. Bennett, Jack Mahieu, Alex Pangman, Maria Muldaur, and Toronto's Swing Gang, among countless others. Spencer has appeared on the Tonight Show with Jay Leno, CBC Radio's The Vinyl Café with Stuart McLean, MUCHmusic and CMT. A resident of Kingston for several years, Spencer keeps busy playing with numerous local bands such as Bloom, Pico de Gallo, Ghetto Xpress, The River Cats and various jazzy combos.
SEAMUS COWAN plays the low bass and sings the high notes…Kind of strange but it works. He has played all kinds of music in his career so he fits right in.
ANDY LOVE has a solid synergy with the boys. His drumming is some of the tastiest around and his ferocity is difficult to tame, behind the kit that is. He has performed with Spencer for over 30 years now and has a brotherly connection with him on stage. He is also very lyrical in his playing style as well as the fact that he sings as well! Together, the trio are a powerful combination!
JAZZ NIGHT will continue EVERY THURSDAY from the May Long Weekend to Thanksgiving Weekend. The Trio plays select dates throughout the year and is available for special events and weddings and more! Contact Spencer Evans at spencer_evans@yahoo.com for more information.
Date :
Thursday, October 3, 2019 from 8-10pm
Event location :
2 Bedford St
Westport, Ontario K0G 1X0 Canada
Contact :
(613) 273-3636 or visit http://coveinn.com